Pom Klementieff Is Marvel's Newest Avenger—And Hollywood's Next Big Star
Get to know the French actress before she hits superhero levels of stardom.
---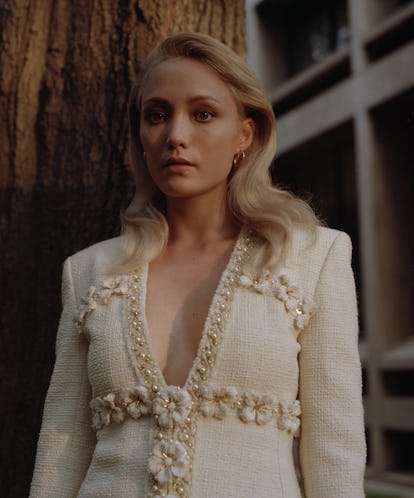 Fresh off her first blockbuster superhero movie, Pom Klementieff has already mastered the art of the inconspicuous alter ego. Despite being the latest member of the Guardians of the Galaxy world, and soon-to-be Avenger, she's able to navigate through Manhattan's West Village undetected, weaving through the perennially tourist-filled Washington Square Park with nary a selfie request or covert Snapchat.
Of course, it helps that for her breakout role in this spring's Guardians of the Galaxy Vol. 2, Klementieff was costumed as Mantis, a black-haired, antenna-sporting, pupil-less alien. In real life, the French actress is blonde, decidedly low-key, and definitely antenna-less, yet there is still an otherworldly air to the actress, an intangible yet palpable feeling: this girl is going to be a star.
Klementieff arrived at her W photo shoot alone, having biked over from Brooklyn where she was residing for the week, and she wanted to get one thing straight: she's not Canadian, despite what some mis-reported Internet headlines might say.
I tried to get the Canadian passport, but they never let me," explained the 31-year-old actress, whose mother is Korean and father is Russian and French. "I was born in Quebec, because my dad was working there as a consul, so it's like it doesn't count." Officially, Klementieff spent her first year in Quebec, two years in Kyoto, a year on the Ivory Coast, and eventually relocated to France, where she spent her formative years, and eventually kickstarted her acting career.
"Acting was something that I wanted to do when I was little, but I never really tried and thought that it wasn't possible," she said. "But I thought, I'd rather try and do things, because anything can happen in life. I didn't want to have any regrets." So, at age 19, she joined the Cours Florent drama school, and from there landed an agent. Her first film role came shortly after, a small part in the French film Après lui, in which she played Catherine Deneuve's daughter. "She's such an icon, and she was really sweet," Klementieff said of working with the actress. "She was really fun, actually. She always brings a CD of the Bee Gees with her. So we played the Bee Gees and we danced."
From there, the actress scored a few roles in French films before making her American film debut in Spike Lee's Oldboy, alongside Josh Brolin and Elizabeth Olsen. It was then that Klementieff officially made the move to Los Angeles. Two years later, her biggest role to date would come: beloved comic book alien Mantis in this year's Guardians of the Galaxy, Vol. 2.
"And then my life changed," Klementieff said of being cast in the film. "All of a sudden, people have more interest in meeting with you. There are so many people who love these movies and it has such a big following around the world."
Not to mention, it was a personal dream of the actress's, on two counts. "It was my dream to be in a Marvel movie one day, and to also play an alien," she explained. "No, it's true. I've always been a fan of the Marvel universe, so i was so proud to be a part of it. Especially working with James Gunn, who made something really special and a movie about superheroes that you can really connect with. And it's so fun, too, right?"
Definitely fun—enough to gross over $860 million worldwide, making it the fourth most financially successful movie of the year to date.
The 21 Best Jeans to Buy This Fall
Despite coming into the well-established franchise as a newcomer, Klementieff said the cast opened her with open arms: "I had a bit of that [apprehension] at first, but then we did the table read and everyone is so nice. I mean, Chris Pratt is the nicest. I love Zoe [Saldana], and Karen [Gillan], and Dave [Battista]. Everyone was so welcoming, and no one had an ego."
It helps that her character in the film, Mantis, is impossibly likeable, a bubbly breath of fresh air in an already bubbly and fresh movie. "The quality of James Gunn's movies is that he really loves his characters, and even if they are aliens, they are written as humans," she said. "You can really connect to them. They all have their own backstory that you can relate to."
Klementieff was recently confronted with just how beloved her character has quickly become at last month's San Diego Comic Con. "I saw someone dressed up as my character and I really wanted to take a picture with her, but the security guys were like, 'We can't stop,'" she recalled. "I was just like, 'I see you!' But my manager took a picture and I posted it on Instagram, because she really did a great job. But people were not like jumping on me and tearing off my clothes."
That part comes next year, when the actress officially joins the Avengers. Currently, she's on break from shooting Avengers: Infinity War, due out next year, which is filming in Atlanta for the good part of 2017. "I met Chris Hemsworth, Robert Downey Jr., Tom Holland, and Mark Ruffalo, and I'm like, 'Oh my God, I'm a part of this movie.'" she said. But don't run wild with any fan theories quite yet—like a true Avenger, Klementieff is tight-lipped when it comes to the film. "I mean I can't really talk about it," she said when asked who she is most excited to share screen time with. "The thing is, the Guardians are still together, so it's not me with random new people. We're still a team and a family."
What she can talk about, however, is her latest film, Ingrid Goes West, in which she stars as Harley Chung, an Insta-famous celebrity that Elizabeth Olsen's character quickly bonds with—at least, until you ask who her over-the-top character was based upon. "Oh my God, I can't tell," she said, laughing. "I mean, you saw what her name is…" Fair enough.
"I go through Instagram and I see some pictures of girls and am like, 'What?'" she continued. "It seems like an advertisement, or it's too many selfies. But I had fun with that role."
Of her own Instagram presence, the actress prefers to keep it low key. "I don't want to post too much, because I still want to keep some privacy in my life."
Still, there are some true "pinch me" moments she can't help but share, like attending this year's CFDA Awards on the arm of Joseph Altuzarra, or attending her first Chanel show last December. "I had just landed, and went to straight to a fitting and then the show," she said of the latter. "I was so jet-lagged and eating amazing pastries and thinking, 'What am I doing here?'"
As for the notion of French girl style, a troupe seemingly no one, not even a superhero can escape from? "It's kind of a fantasy. I'm trying to figure out what it means, but I think it just means not overdoing it. It's more about being confident, in a way. Nothing too artificial. Nothing fake," she said.
Despite her strong French roots—again, not Canadian—and past few years in Los Angeles, Klementieff is thinking about moving to New York, hence the biking to today's shoot.
"It's a new challenge to discover New York; its all new to me," she said. "Riding a bicycle changes everything. I realized something weird, which is that I don't like to feel my own weight for too long. Being underground is depressing to me; I like to be above ground and going faster than a normal person."
Spoken like a true superhero.
Related: Aubrey Plaza and Elizabeth Olsen Sound Off on Hollywood, Dark Humor and the Pitfalls of Instagram
Scarlett Johansson's Come-to-Jesus Moment as a 7-Year-Old Kid
The Most Iconic French Girls of All Time, From Brigitte Bardot to Jeanne Damas
French actress Catherine Deneuve at the Cannes Film Festival in May 1966. Photo courtesy of Getty Images.

Getty Images
Françoise Hardy has been cited as an inspiration for many fashion figures such as André Courrèges, Paco Rabanne, and Nicolas Ghesquière. Photo courtesy of Getty Images.

Getty Images
Brigitte Bardot, here in 1960, was a French actress, singer, dancer and fashion model, who later became an animal rights activist. Photo courtesy of Getty Images.

Getty Images
Carla Bruni-Sarkozy exits the The Metropolitan Museum of Art following the The White House Symposium on Advancing Global Literacy Meeting on September 22, 2008 in New York City. Photo courtesy of Getty Images.

Getty Images
Charlotte Gainsbourg attends the Cesar Film Awards 2013 at Theatre du Chatelet on February 22, 2013 in Paris, France. Photo courtesy of Getty Images.

Getty Images
Eva Green started her career as a model in France, eventually becoming Tim Burton's newest muse. Photo courtesy of Getty Images.

Getty Images
Since breaking out at age 14, Vanessa Paradis has been the face of Chanel since 1991. Photo courtesy of Getty Images.

Getty Images
Melanie Laurent attends 'L'Attrape-Reves' Paris Premiere at UGC Cine Cite des Halles on October 20, 2016 in Paris, France. Photo courtesy of Getty Images.

Getty Images
Ines de la Fressange attends the Schiaparelli show as part of Paris Fashion Week Haute Couture Fall/Winter 2015/2016 on July 6, 2015 in Paris, France. Photo courtesy of Getty Images.

Getty Images
Soko attends the Gucci Cruise 2019 show at Alyscamps on May 30, 2018 in Arles, France. Photo courtesy of Getty Images.

Getty Images
Audrey Tautou arrives at the H&M fashion show during Paris Fashion Week Fall Winter 2015/2016 on March 4, 2015 in Paris, France. Photo courtesy of Getty Images.

Getty Images
Lou Doillon attends the Saint Laurent show as part of the Paris Fashion Week Womenswear Fall/Winter 2017/2018 on February 28, 2017 in Paris, France. Photo courtesy of Getty Images.

Getty Images
Lea Seydoux attends the 'Louis Vuitton Masters: a collaboration with Jeff Koons' dinner at Musee du Louvre on April 11, 2017 in Paris, France. Photo courtesy of Getty Images.

Getty Images
Constance Jablonski attends Harper's Bazaar: 150th Anniversary Party at The Rainbow Room on April 19, 2017 in New York City. Photo courtesy of Getty Images.

Getty Images
Marion Cotillard attends the Chopard and Annabel's Gentleman's Evening at the Hotel Martinez during the 70th Annual Cannes Film Festival on May 24, 2017 in Cannes, France. Photo courtesy of Getty Images.

Getty Images
Jeanne Damas attends the Tory Burch Regent Street opening on May 22, 2017 in London, England. Photo courtesy of Getty Images.

Getty Images
Caroline de Maigret attends the CHANEL Metiers D'art Collection Paris Cosmopolite show at the Tsunamachi Mitsui Club on May 31, 2017 in Tokyo, Japan. Photo courtesy of Getty Images.

Getty Images
Clemence Poesy attends Vogue Foundation Dinner during Paris Fashion Week as part of Haute Couture Fall/Winter 2017-2018 at Musee Galliera on July 4, 2017 in Paris, France. Photo courtesy of Getty Images.

Getty Images
Gabrielle Chanel, known as Coco, the French couturier. Photo courtesy of Getty Images.

Getty Images
Carlyne Cerf de Dudzeele attends the Glamour dinner for Patrick Demarchelier as part of the Paris Fashion Week Womenswear Spring/Summer 2014 at Monsieur Bleu restaurant on September 29, 2013 in Paris, France. Photo courtesy of Getty Images.

Getty Images
Laetitia Casta attends the Nina Ricci show as part of the Paris Fashion Week Womenswear Fall/Winter 2016/2017 on March 5, 2016 in Paris, France. Photo courtesy of Getty Images.

Getty Images
Astrid Berges-Frisbey attends the Chanel show as part of the Paris Fashion Week Womenswear Spring/Summer 2019 on October 2, 2018 in Paris, France. Photo courtesy of Getty Images.

Getty Images
Isabelle Hupert attends the 16th Sidaction as part of Paris Fashion Week on January 25, 2018 in Paris, France. Photo courtesy of Getty Images.

Getty Images
Portrait of actress Juliette Binoche. Photo courtesy of Getty Images.

Getty Images