Alberta, Canada, Is Your Unexpected New Summer Destination
The underrated Canadian west is fast becoming a hot summer spot.
---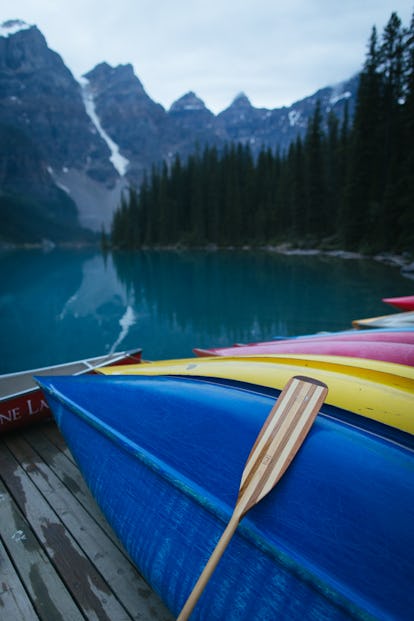 Canada has a lot to celebrate as of late—besides ringing in its 150th birthday this year, Alberta, one of its 10 provinces, is currently celebrating Stampede, a Summer rodeo festival held in Calgary, one of Alberta's largest cities. The festival, which first launched in 1912 to honor soldiers returning home from WWI, is known for its daily rodeos, concerts, performances, and wild culinary offerings. This year over a million people will travel to Calgary and join celebs like Samuel L. Jackson, Katy Perry, Prince William and Kate Middleton, Stevie Wonder, and Prime Minister Justin Trudeau to enjoy performances by Usher & The Roots and Nelly Furtado and try outlandish treats such as "unicorn white hot chocolate", maple walnut cotton candy, and rolled ice cream.
But even if you don't make it to the festival, there are plenty of reasons to make Alberta your summer vacation destination. Situated in the heart of the Rocky Mountains, Alberta is host to over 600 lakes, glacier parks, and breathtaking mountain ranges. For those in search of a quintessential summer, exploring and relaxing in the great outdoors, surrounded by waterfalls, cavernous mountain ranges, look no further than this under-the-radar mountain destination. Here, your ultimate guide to the perfect summer in Alberta.
To Do
Start your Alberta journey in Calgary, the city in which you will land. Begin by exploring downtown Calgary; walk along the Bow River, and through the East Village to where the Calgary Stampede takes place. It's hard to miss: just look for super-sized stages, food tents, and swarms of people. Make sure to check out Inglewood, a cute downtown area that looks like it's right out of a 1980s western show, where you'll find vintage stores, record shops, and eccentric boutiques. Then you'll want to tap into your more adventurous side. Head north to Lake Louise, a picturesque lakeside region that has every outdoor activity you can think of, from white-water rafting, horseback riding, archery, shooting, paddle boarding, mountain biking, camping, kayaking, canoeing, and fishing. Lake Louise is the center of it all, with picturesque nearby towns such as Banff.
Besides being famous as the location where the TV series Fargo is shot, the mountain town of Banff, a one-and-a-half-hour drive from Calgary, features unspoiled rolling hills, glacier-fed lakes, and world-famous hot springs. Cyclers should take Legacy Trail, a paved mountain roadway 26 km long, and the hikers who have the rustic Tunnel Mountain Trail, a route easily accessed from downtown Banff with stunning views of the valley at its summit. Make sure you explore the town's landmarks, too, like Banff Ave Brewing Co, or Rose and Crown, a central pub with an outdoor patio that has incredible views of the mountain range. And check out the local jewelry shops on Banff Avenue for indigenous, semi-precious stone rings and silver necklaces. For all activities, visit Travel Alberta, a site that gives you the low down on everything you need to know and helps you navigate the area.
To Stay
In Calgary, stay at Hotel Le Germain, a modern design hotel in the heart of the city. If you're looking to stay in the town of Banff itself, go straight to the Fairmont Banff Springs Hotel, a restored Hogwarts-looking castle lodged in the center of the stunning Rocky Mountain valley range. The hotel is a UNESCO world heritage site, so make sure to explore its salt water pools, intimate communal reading rooms, 27-hole golf course, and outdoor hot tubs.
For the adventurous mountaineer, head to Mount Engadine Lodge, a family-owned hotel two hours from Calgary in the remote back country of Kananaskis. Situated on the edge of an idyllic creek, the mountainous retreat is ideal for hiking, white water rafting, fly fishing, and trekking through nature. With limited wi-fi (or flat out none at all), you can truly unplug. After a day in nature, make sure to ask if Sarah Harvie is in—she's a reiki healer who is often on site to teach private yoga classes and lead transformative, self-meditation and massage sessions. There are four on site meals a day, with afternoon tea, and a packed lunch for hikers. Don't miss dinner – the chef prepares scrumptious communal meals. Afterwards, grab a cocktail in their game room.
For those looking for a more luxurious, laid-back trip, but who still want to experience the great outdoors, visit the Azuridge, a butler service hotel that sits atop the foothills of the Rocky Mountains, an hour away from Calgary. After your welcome drink, take a walk around their sprawling 13-acre property, go horseback riding through backcountry, and end your day with a personal hydrotherapy bath drawn by your butler using your choice of bath salts. There's probably no reason to leave the property at all, in fact, even for meals. Their restaurant is lodged in an all-glass space overlooking the grounds, where chef Yoshi Chubachi will cook you whatever you desire in front of a cozy fire place.
To Eat
Strict agriculture laws and a devotion to organic produce have helped the emerging Canadian culinary scene as of late, attracting world renowned chefs to Alberta. In Calgary visit The Nash for lunch, a hip downtown haunt located in a sun-drenched restored hotel from 1900. Order the beet salad, and don't pass up the bread; it's homemade, and the house specialty. For dinner go to River Café, a restaurant idyllically lodged in a park. And for dessert head to Jelly Modern Doughnuts, for everything from maple bacon to the classic red velvet flavors.
In Banff head to Nourish, an organic bistro known for their wholesome, vegetarian fare and extensive, creative cocktail list. Get the vegan mac and cheese; it tastes better than the real thing. For lunch in Banff, ride the newly built Banff Gondola and eat at Sky Bistro, where you'll enjoy a handpicked selection of locally-sourced ingredients while overlooking a 7,500 feet drop.
10 Must-Have Items to Celebrate Canada's 150th Birthday