Mia Vesper is the 25-year-old Designer Turning Vintage Tapestries into Modern Outerwear
Mia Vesper founded her namesake brand to take vintage textiles from Europe and the Middle East and turn them into modern outerwear. You may have spotted her outside the Marc Jacobs show last season.
---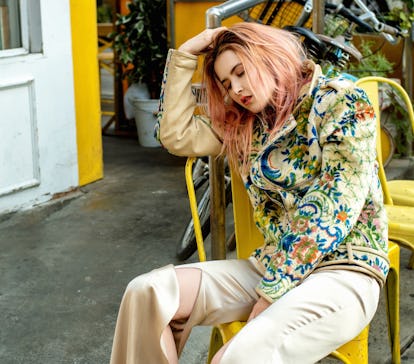 Curtis Xin Pan
On the final day of New York Fashion Week this February, everyone arrived to the always-anticipated Marc Jacobs show and, once again, received a show that they were not expecting. This year, however, in more ways than one. In addition to Jacobs' own groundbreaking social media-free, no-music, outdoor show, Mia Vesper, a 25-year-old designer, was also crashing the time slot with a guerrilla presentation of her own just outside the Park Avenue Armory.
"We generated a lot of commotion outside the show because press wasn't allowed inside," said Vesper later. "A lucky turn of events for us."
Vesper, who sports impossible-to-miss pink hair and is originally from Milwaukee, moved to Brooklyn and started her own budding namesake label in 2016. She was inspired by a stunning tapestry she found at a flea market (she's an avid vintage shopper) and decided that it was begging to be worn as a jacket. She's since developed an entire collection of hand-made transformed vintage textiles, sourcing her materials from around the world. She's self-taught, and each piece takes 20-30 hours of work, ranging in price from $1,600 — $3,000.
What lead you to tapestries and how were you first inspired to start making jackets yourself?
I made my first jacket because I wanted to wear it. I found the textile at a flea market and thought it should be worn. After posting the jacket to my Instagram and watching my followers freak out, I realized I had a business.
How do you go about sourcing your tapestries?
They're from all over the world, but mostly from Europe and the Middle East and range between the '40s and '70s. I buy them online, but I have to leave the specifics shrouded in mystery.
How do you choose which ones to use?
Tapestry clothing has been done before, but I think what makes mine sought after are the unusual colors mixed with classic sporty silhouettes. I try to stay away from anything too bohemian, for lack of a better word. I just look for pretty colors and a tight weave!
How long does it typically make to construct each jacket?
I research them for months sometimes before purchasing, and I speak to the vendors of each tapestry. I wait weeks for them to arrive and then have to clean them myself and drape them around my house to dry. Each jacket requires individual materials like leather and lining, and also requires individual patterning. The actual sewing takes 20-30 hours depending on the weight of the jacket. Sometimes I think my sample-maker must really loathe me. It took a long time to find someone to take on the project because I really had to find someone who loved a challenge.
Are there tapestries you've found with any memorable histories?
I have a few tapestries that were hand-painted in the '20s. I can't bring myself to cut them up yet.
What was the reaction to your "unofficial Fashion Week presentation" outside of Marc Jacobs' Fall 2017 show?
It was amazing. We generated a lot of commotion outside the show because press wasn't allowed inside (a lucky turn of events for us). I was nervous about being disrespectful at first, but several people working the show came up to me to congratulate me and I knew I'd made the right call. And the next day I was approached by people I may never have otherwise convinced to open my emails!
Style icons/inspirations:
Ursina Gysi, Linda Rodin.
Where you shop for vintage clothing in New York:
Beacon's Closet, of course; Worship in Bushwick; The Crown Jewel, and a place I've never revealed to anyone before because everything is so cheap and amazing: New Brooklyn Fashions on Broadway in Bed Stuy.
What you like to style your coats with:
I have two major modes: One is sort of sporty leaning toward skate vibes, though I don't skate. And the other is skimpy and often sequined. I wear my jackets almost every day when weather permits, so the answer is really with anything.
Most prized possession in your closet:
Vintage Fendi jewel belt I found on eBay.
Lusting after for spring:
Twins Muay Thai boxing shorts and the sold out oversized Margiela belt.
Fashion pet peeve:
Cheap H&M felt hats; the quality is just so noticeable. Also when people say "I could never pull that off!"
How do you hope to expand in the future?
I plan to keep vintage tapestry clothing as my permanent collection, but I want to expand to other textiles too. You can expect to see spring styles (lots of sequins!) on my shop miavesper.com and at Flying Solo in Nolita.
This interview has been edited and condensed.
Watch Butterflies of Paris: How Street Style Stars Do Paris Fashion Week