Ben Barnes Dishes on Westworld Season Two and Netflix's The Punisher
At a party for a new fragrance, the actor stayed tight-lipped about Season Two of HBO's hit sci-fi show. Who else stayed mum? Hillary Clinton's model nephew Tyler.
---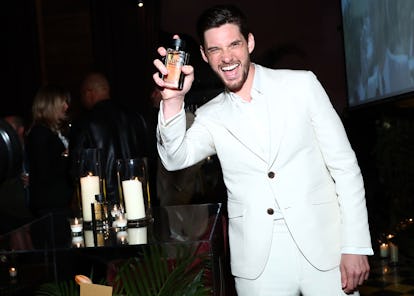 Astrid Stawiarz
It takes a certain man—a certain, tidy man—to wear an all-white suit. And apparently, Ben Barnes is just that guy. "I'm not drinking red wine, you'll notice," the actor quipped. He had instead opted for tequila, one of the many offerings on hand at the Rose Bar in New York City Wednesday night, where Salvatore Ferragamo was throwing an Italian apertivo to launch its new fragrance, Uomo Salvatore Ferragamo.
As the face of the fragrance, Barnes was the guest of honor at the star-studded soiree, which brought out the likes of Will Peltz, Hilary Rhoda and Sean Avery, Ellar Coltrane, and Hilary Clinton's newly-minted model nephew, Tyler Clinton, who was conspicuously tight-lipped. Not only was Barnes himself in attendance, so was his larger-than-life on-screen self, as a giant projector screen played the fragrance's short film campaign, directed by Francesco Carrozzinni, on loop.
"I don't go to any parties unless there is a 200-inch or larger screen projecting images of me, preferably in slow motion," Barnes said, swiveling in his seat to take a look at the film. "I got to drive this little sports car in Beverly Hills, and it was fun. They just wanted a sense of a man actually enjoying himself, because I think men can be very afraid of enjoying themselves. Fragrance campaigns tend to be shirtless dudes on a rock looking at you like he wants to kill you. They were like, 'We want the opposite of that,' and I was like, 'I can do that.'"
The Brit is wrapping up a seventh month stint in Brooklyn, where he has just finished shooting Marvel's newest Netflix series, The Punisher. "I've never spent more than three days in my life in New York, but now I've been here for seven months," Barnes said. "So now I've had my fill, I've dug deep. I enjoyed how quickly I found it reminded me of London in a lot of ways. I used to find it kind of intimidating, but once I worked out the subway system, I realized it was quite easy. Then you find the place you get coffee in the morning, a supermarket so you don't have to Postmates every day, and start to understand how the city works and feel a bit more like the patchwork of it. A lot of time, our lifestyle as actors can be very disjointed and its disquieting when you don't know what your structure is going to be, and once I got used to [Brooklyn], I loved it. I could just zip into Manhattan and see plays, and listen to music, and get drunk—all that type of stuff."
Of filming the superhero show, Barnes said, "There was a lot of night work and lot of action and a lot of cold nights, and a lot of the aggressive passion. You have to give it anything when you are around that energy."
The show is set to debut later this year, with most details kept under wraps. Luckily, Barnes is used to keeping cinematic secrets, thanks to his role in HBO's Westworld. Just try prying details on season two out of him. "This is the problem about working for HBO and Marvel: you talk about it on pain of death," Barnes said. "As far as I know, I'm finished with Westworld, and as far as I know, we've wrapped on season one, and I don't know what's happening after that. And that's all I'm allowed to say."
He's let off the hook when my phone abruptly starts ringing—the bi-weekly call from my alma mater asking for donations. Before I can hit ignore, he grabs the phone and answers it. Unfortunately it's too loud in the space, and the call is disconnected before whatever lucky volunteer freshman in Pennsylvania can realize he's speaking to a Marvel star. Barnes noted my phone background, a paparazzi picture of Victoria Beckham wearing a shirt that says "Fashion Stole My Smile," that made the rounds online last month, and asked if I wanted to see his own background, a Gene Wilder quote. As he pulled out his phone, however, a new message alert obscured the screen. Susan Sarandon had just texted him.
""Write that! I'll sound so cool," Barnes exclaimed. "Do you know why? Her son is DJ'ing here. And she played my mom in a film called The Big Wedding. The critically acclaimed, box office smash hit The Big Wedding." Pause. "It was a disaster," he deadpanned.
But enough to forge lasting bond, apparently, as lo and behold, moments later, Sarandon herself waltzed in.
Watch all of W's most popular videos, here: