Justin Trudeau and Ivanka Trump Attend Come From Away, a Broadway Show About Accepting Foreigners, Together
They put aside political differences for the night.
---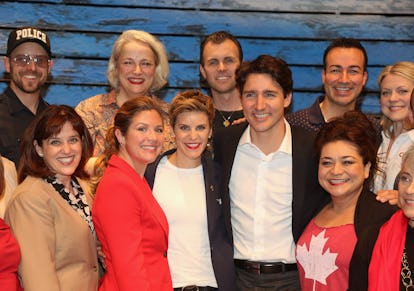 Bruce Glikas/Getty Images
Broadway has become an unlikely political hotspot. Last night, Canadian Prime Minister Justin Trudeau and First Daughter Ivanka Trump went to see Come From Away, a new musical about the events of the 9/11 attacks, with themes that coincidentally seem to echo a few current political issues. Overall, the evening went much better than Vice President Mike Pence's trip to Hamilton.
The New York Times' review of the show paints it as a "portrait of heroic hospitality under extraordinary pressure." The musical tells the story of a town in Newfoundland, Canada, that accepted 6,700 airplane passengers who were on planes stranded there following the 9/11 attacks.
The play's subject matter is significant in light of recent events concerning the U.S.'s policies regarding the welcoming of refugees. In January, President Donald Trump issued a now-blocked travel ban preventing citizens of seven predominantly Muslim countries from entering the United States temporarily, and barring refugees from Syria indefinitely. (A new iteration of the ban was just blocked by a federal judge in Hawaii this week.) While Ivanka Trump made no statement in support or against her father's executive order, the Internet slammed her for tweeting a date-night photo with husband Jared Kushner, senior adviser to the president, shortly following the news. In contrast, Justin Trudeau responded to the travel ban by tweeting, "To those fleeing persecution, terror & war, Canadians will welcome you, regardless of your faith. Diversity is our strength #WelcomeToCanada," making his accepting stance on the situation pretty clear.
The pair watched the show along with Nikki Haley, the American ambassador to the United Nations, and they sat right behind Jean Chrétien, a former prime minister of Canada, according to The New York Times. Trudeau even took the stage before the curtain rose to address the audience. "There is no relationship quite like the friendship between Canada and the United States," he reportedly told the crowd. "This story, this amazing show, is very much about that, and it's about friendship as well."
Thursday morning, Trudeau tweeted several photos taken onstage with wife Sophie and Come From Away's cast and crew—in none of which Ivanka appeared.
"We're always going to have differences in approaches on certain issues," Trudeau later told CBC with regard to the countries' different policies on refugees and immigration. "The fundamental hopes for the future and the responsibilities of keeping people safe and building a better future for our kids is something we can always agree on."
I Am an Immigrant: Fashion's Biggest Names Issue a United Statement: