The Complete Guide to The Disaster Artist's Countless Cameos
A definitive breakdown of all of the famous faces that pop up in James Franco's The Disaster Artist.
---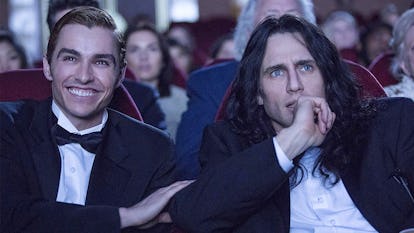 A24/Warner Bros.
With a headline cast that includes the likes of James Franco, Dave Franco, Alison Brie, Seth Rogen, Ari Graynor, Josh Hutcherson, and Paul Scheer, The Disaster Artist is a star-studded a portrait of the making of Tommy Wiseau's The Room (a film so bad it's become cult famous 14 years after its initial release). But there are also so many cameos in The Disaster Artist that spotting them becomes its own fun sideline during the movie.
Many celebrities make appearances in The Disaster Artist as themselves—Kristen Bell, Lizzy Caplan, Adam Scott, J.J. Abrams, Bryan Cranston, and Judd Apatow all have a self-aware cameo in the film, some of which are a meta-commentary on The Disaster Artist itself. But what makes watching The Disaster Artist so much fun is tallying up how many of your favorites appear onscreen as the film progresses. These actors, no matter how fleeting their screen time, are all connected in some way or another—many have starred in films together, produced projects together, made cameos on each other's TV shows. It's impossible to finish the film without feeling like you've just completed a treasure hunt for all of your favorite comedians, and it really is the ultimate treat for anyone who fancies themselves a fan of comedy.
Many of the bit players are friends or former co-stars of the Franco brothers, Seth Rogen and Judd Apatow; and if you blink twice you just might miss some of the wackiest, most outrageous and hysterical "under-five" performances (that's SAG speak for a role that contains under five lines of dialog) of the year. In honor of the supporting players of The Disaster Artist, this is your official cameo breakdown.
ZOEY DEUTCH
In The Disaster Artist, Zoey Deutch makes a quick appearance as Bobbi, an acting classmate of Tommy and Greg. You might recognize her from Bad Grandpa or Why Him (with Franco, of course, as well as Cranston and Megan Mullally, who both show up later). Though most recently she turned up in Ed Sheeran's music video for "Perfect," and will star in the upcoming Flower alongside Kathryn Hahn, Adam Scott, and Tim Heidecker.
MEGAN MULLALLY
Playing Greg Sestero's mother in The Disaster Artist, Megan Mullally's screen time is contained to the first act of the film, but of course you know her already from Will & Grace, Happy Endings, Children's Hospital and Parks and Recreation.
BRETT GELMAN
Brett Gelman makes an appearance as one of the acting teachers in The Disaster Artist, but duh, he's the paranoid investigator in Stranger Things season two, the star of his wife Janicza Bravo's film Lemon, the sleazy radio producer boss on Love, and the American brother-in-law on Fleabag.
SUGAR LYN BEARD
Sugar Lyn Beard auditions for the role of Lisa, which ultimately goes to Ari Graynor's Juliette Danielle. She previously also acted alongside Graynor in For A Good Time Call… as a baby-voiced phone sex operator, had appearances in the Joseph Gordon-Levitt film 50/50, Showtime's Weeds and Mike and Dave Need Wedding Dates (with Zac Efron, who also has a bit part in The Disaster Artist as Chris-R). But what's most instantly recognizable about Sugar Lyn Beard is her voice—she voiced Rini (also known as Sailor Mini-Moon) in Sailor Moon and most recently gave life to a baby carrot and some cookies in Seth Rogen's Sausage Party*.
SHARON STONE
The iconic Sharon Stone plays a vulture of a Hollywood agent for just a few on-screen moments, molding Greg Sestero into the actor he desperately wants to be.
JOHN EARLY
In The Disaster Artist, Early plays the assistant of Greg Sestero's agent (played by Sharon Stone), but is best known for his work on Search Party and his web series 555 with comedy partner Kate Berlant (which garnered a nomination for a Gotham Award earlier this year).
JUNE DIANE RAPHAEL
June Diane Raphael plays Robyn Paris, the actress who plays Michelle in The Room. You know her from her role as Brianna on Grace and Frankie, her appearances on Curb Your Enthusiasm and Lady Dynamite, and her podcast about bad movies How Did This Get Made?, which she co-hosts with her husband Paul Scheer (who plays Raphael the DP in The Disaster Artist) and Jason Mantzoukas, also a supporting character in The Disaster Artist.
MELANIE GRIFFITH
The Working Girl herself—and mother to Dakota Johnson—appears in the beginning of The Disaster Artist as the acting teacher who leads the class where Tommy Wiseau and Greg Sestero first meet.
CHRISTOPHER MINTZ-PLASSE
McLovin from Superbad turns up for a moment onscreen.
NATHAN FIELDER
The Canadian comedian known for his cringey comedy series Nathan For You takes on the role of Kyle Vogt, the actor who plays Peter in The Room.
BOB ODENKIRK
As a disgruntled actor teaching the Stanislavski method to Tommy, Bob Odenkirk's screen time in The Disaster Artist is quick and almost unrecognizable. He's better known for playing the scheming Saul Goodman on Better Call Saul and Breaking Bad, as well as for working with Tim Heidecker and Eric Wareheim on Tim and Eric Awesome Show, Great Job!.
JASON MANTZOUKAS
The co-host of How Did This Get Made? has also appeared in Sleeping with Other People, FX's The League, Comedy Bang! Bang! and lent his voice to the character of Jay Bilzerian on Netflix's cartoon series Big Mouth. In The Disaster Artist he plays a constantly bewildered rep for the company that Tommy Wiseau buys his moviemaking equipment from.
HANNIBAL BURESS
Hannibal Buress could be most identified for his role as Ilana's boyfriend Lincoln on Broad City, his hilarious standup routines or his short cameo in Spider-Man: Homecoming. In The Disaster Artist he plays the owner of Birns & Sawyer, alongside Jason Mantzoukas.
KELLY OXFORD
Best-selling author and actress Kelly Oxford plays the makeup artist for Tommy Wiseau, but documenting her parenting on Instagram and Twitter is why you know her.
CHARLYNE YI
With memorable roles in Judd Apatow films Knocked Up and This Is 40, and the lead in Paper Heart, a romantic comedy she penned herself and stars in alongside Michael Cera, Charlyne Yi again steals scenes as the deadpan costume designer for The Room.
RANDALL PARK
Randall Park plays a frustrated scene partner to Tommy Wiseau, but you can also catch him on ABC's Fresh off the Boat or HBO's Veep.
JASON MITCHELL
Jason Mitchell plays Eazy-E in Straight Outta Compton, a war officer in Kong: Skull Island and a World War II veteran in Mudbound, but in The Disaster Artist, he jumps in as one of Dave Franco's friends.
CASEY WILSON
Penny Hart from Happy Endings (where Megan Mullally appeared as her mom) and that crazed neighbor in Gone Girl (not to mention comedy collaborator of June Diane Raphael on Bride Wars and Ass Backwards) plays a casting agent who asks Tommy Wiseau to lose the accent, only to be horrified at his inability to do so.
ANGELYNE
The mysterious Los Angeles icon—whose life is being turned into a television show starring Emmy Rossum—shows up for a hot second through the window of a car.
JERROD CARMICHAEL
In The Disaster Artist, Jerrod Carmichael plays an ambitious actor friend of Greg Sestero who's "made it" in Hollywood. Elsewhere, he's the creator and star of The Carmichael Show and Ross in Jay-Z's "Moonlight" video, a riff on "The One Where No One's Ready" episode of Friends.
Related: Ari Graynor on the Meta-Absurdism of The Disaster Artist, and Its Depiction of the Troublesome Sex Scene in The Room