Emmy Rossum Will Star As LA's Most Glamorous Folk Hero Angelyne in a New Limited Series
Emmy Rossum will be playing her.
---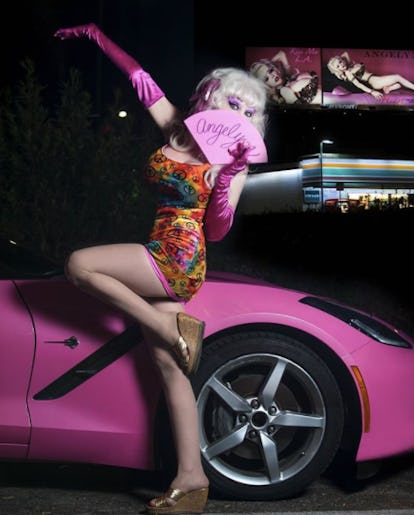 instagram.com/officialangelyne
The pioneer of celebritydom as we know it, Angelyne, is finally receiving the due she deserves. The Los Angeles icon, best known for her love of pink, Barbie doll-like appearance, and cruising the city's streets in her Corvette, will have her story told through an upcoming limited series, as The Hollywood Reporter notes. She will be played by Emmy Rossum in the show, helmed by Mr. Robot creator Sam Esmail. It was out of the actress' interest in Angelyne, one of the first people to be famous for simply being famous, that the series was born.
After reading The Hollywood Reporter's exposé on the L.A. fixture, which revealed her real identity as Renee Goldberg — the redheaded daughter of Holocaust survivors who settled in the Fairfax area in 1959, and later reinvented herself as the blonde bombshell — Rossum was inspired to tell her story. So she teamed up with her husband Esmail, who she met on the set of 2014's Comet, to do so.
"I have always been fascinated by the enigma that is Angelyne," Rossum told The Hollywood Reporter. "At a young age, I can vividly remember staring up at her on a billboard above me and wondering, 'Who is that woman?' Gary Baum's investigative journalism has finally unearthed the true, complex identity of the infamous woman who has fascinated Los Angeles for over 30 years. From the moment I read Gary's recent piece, I knew I had to tell this story. It's a poignant and bizarre tale about the hunger for fame, the sexualization of women and the erasing of past traumas."
The project does not yet have a release date but Angelyne is always ready for a red carpet closeup. Over the past year, the celebrity — who miraculously built a following without any knowledge of her background, ties to anyone famous, or actual projects to promote — has been modernizing her iconic presence. In March, she joined Instagram with a throwback picture and has been sharing photos of her famed pink Corvette and pink-tinted world ever since. Plus, in September, the billboard queen had a new one go up in her native city. When Rossum and Esmail's limited series debuts, she'll be even harder to miss.
Related: Grace Gummer on Mr. Robot Season 3 and the Most Outlandish Fan Theories She's Heard So Far
6 Rising Male Models from Famous Families Share Their Biggest Pet Peeves: