Hot Take: Lisa's Red Dress Is the Best Part of The Room
Lisa does look "so sexy."
---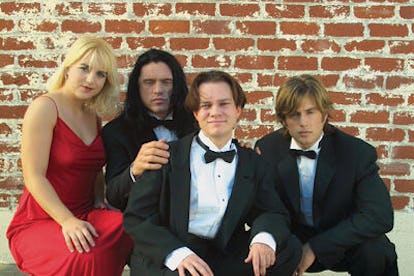 The Room, the cult classic, so-bad-it's-good movie, is 99 minutes of utter cinematic chaos. There's a barrage of uncomfortably long sex scenes, unanswered plot lines, and unexplainable—and now endlessly quotable—dialogue. And it all starts with a dress.
After sweeping shots of San Francisco set the scene, the film opens with Johnny, played by Tommy Wiseau, who also directed, wrote, and produced the film, presenting his "future wife"—not fiancée—Lisa, played by Juliette Daniels, with a red silk dress:
Lisa: Johnny, it's beautiful. Thank you. Can I try it on now? Johnny: Sure, it's yours. Lisa: Wait right here. I'll try it on right now. [Lisa returns, wearing the dress] Johnny: Wow, you look so sexy Lisa. Lisa: Isn't it fabulous?
And, scene (well, cut to one of the aforementioned uncomfortably long sex scenes). It's certainly not Sorkin-level dialogue, and sets the tone for the stilted exchanges to come for the next hour-and-a-half, but it does reveal one thing that the film truly got right: the red dress, which is actually great.
The Room is resurfacing in a big way this year, 14 years after its 2003 release, thanks to James Franco's The Disaster Artist, out today, which tells the story behind the making of one of the most notoriously good bad films of all time. And it's easy—and a lot of fun—to relish in The Room's outlandish ridiculousness, but to that end, why not recognize its one brilliant wardrobe choice.
Like many other aspects of Wiseau's film, costumes are not a strong suit. Lisa spends most of the film in unflattering knee-length skirts and odd halter tops (with all due respect to 2003 fashion), while the men of the film wear unfitted, baggy separates, most notable in the infamous scene where Wiseau's Johnny and pals inexplicably play football in incredibly ill-fitting tuxedos.
But while many of the costumes, and plotlines, are overly complicated, Lisa's red dress is beautifully simple: a floor-length, tomato red dress with a subtle cowl-neckline and slight ruching at the hips. And though most of the film now feels outdated—an answering machine informs the dramatic climax—that dress could very well be worn today without a second glance. Red, after all, was one of Fall 2017's biggest trends.
In fact, it's a similar style to looks we've seen worn by one of the year's biggest trendsetters: Bella Hadid. At the 2016 Cannes Film Festival, Hadid made quite a statement in a red silk Alexandre Vauthier Couture gown that featured a slit up-to-there and plunging neckline. Two years prior, Rita Ora wore the exact same dress to the 2014 MTV Movie Awards. Meanwhile, Amber Heard donned a Vivienne Westwood design to the 2016 Art of Elysium Gala that was practically identical to Lisa's, down to the neckline and spaghetti straps. Not too shabby.
Listen: Sure, The Room has plenty that it gets wrong, but Lisa's red dress is not one of them. The fact that it makes a comeback in the film's final scene, albeit rather unpleasantly, only underscores the fact that this garment deserves more respect than the film it's in. So, as The Disaster Artist reignites The Room mania, it's time that we all come to agree that Lisa's red dress is, in fact, "so sexy"—and quite possibly the best thing about the movie.
Related: Ari Graynor on the Meta-Absurdism of The Disaster Artist, and Its Depiction of the Troublesome Sex Scene in The Room
The Disaster Artist's Ari Graynor Explains "The Room" in 1 Minute