A West Wing Reboot By Aaron Sorkin Could Happen With Sterling K. Brown As President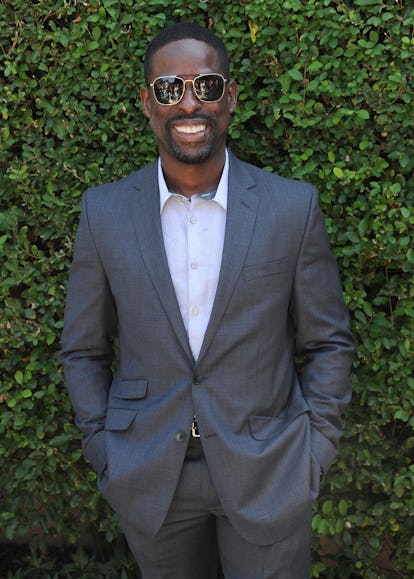 Gregg DeGuire/WireImage
It's been over a decade since West Wing wrapped, but the time for its comeback has arguably never been better given today's political climate. Creator Aaron Sorkin seems to be aware of that, as the prolific writer and producer and newly director is milking fans' thirst for a revival. Never mind that NBC Entertainment chairman Bob Greenblatt momentarily squashed hopes that a reboot was in the making earlier this year, telling Deadline in September, "I keep saying to [Sorkin], 'Do you want to do The West Wing again, wouldn't it be great to do it?' He says, 'You know I love that show and some day I'd love to revisit it, but it's not going to happen right now." Sorkin, now, has opened himself up to the idea and currently has an offer to bring back the beloved political drama to NBC.
"If I could think of a way of [reviving The West Wing] without it seeming like a Brady Bunch reunion, I would," he told The Hollywood Reporter Apparently, he's already lined up his dream cast: "Sterling K. Brown as the president, and there's some kind of jam, an emergency, a very delicate situation involving the threat of war or something, and [President] Bartlet [played by Martin Sheen], long since retired, is consulted in the way that Bill Clinton used to consult with Nixon." Brown is in, too, as he quickly replied on Twitter after the story broke.
As for the other cast members, Sorkin is hoping to bring back Allison Janney's C.J. Cregg and Bradley Whitford's Josh Lyman, according to THR, but completing that task is apparently what's been holding up making a reboot official. One person who most definitely will not be appearing on the show, however, is current president Donald Trump. On the topic of whether or not he'd reference the 45th president with a fictional character or not, Sorkin replied, "Trump is exactly what he looks like: a really dumb guy with an observable psychiatric disorder." Not to mention, references to Trump now belong more in the horror genre, as American Horror Story proved this past season.
For now, Sorkin has plenty to keep busy with, including promoting his directorial debut Molly's Game, which co-stars Jessica Chastain and Idris Elba and arrives December 25.