American Horror Story: Cult Episode 1 Recap: Donald Trump Drag, Clown Sex, Wine Pairings, the Premiere Has It All
This chilling horror story begins on Election Night, 2016.
---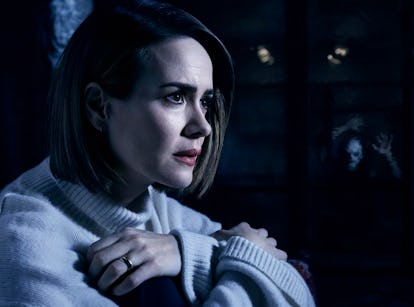 Copyright 2017, FX Networks. All rights reserved.
The seventh season of Ryan Murphy's American Horror Story: Cult uses Donald Trump's election to introduce a Manson-like cult of clown-masked murderers. The action takes place in a small, Michigan town that Trump won by a close margin, focusing on a liberal couple, Ally and Ivy Mayfair-Richards (played by Sarah Paulson and Alison Pill), and their young son, Ozzie; there is also as a creepy pair of local siblings, Kai and Winter Anderson (Evan Peters and Billie Lourd) who enter their lives. "Cult" ties in with "Freak Show," the fourth season of the anthology series, in which a 1950s sideshow act struggled to compete with the newly invented television, amid a series of murders by Twisty the clown. In this season, Twisty (played by John Carroll Lynch) is back in slightly different form. Besides that, the television-as-villain metafiction parallels between the two seasons are apparent, especially followed by last season's "Roanoke."
The episode opens with real archival footage from the election cycle of Donald Trump and Hillary Clinton, followed by a dateline for the night of the election. For those who saw the artist Pedro Reyes's pre-election project in Brooklyn "Doomocracy," the premise will seem familiar: With the sinister yet campy wink of, say, a murderous clown, the season opener plows through the liberal and conservative stereotypes that presumably led to the election outcome. At an election-night party of liberal coupled watching the results in terror, Ally curses Nate Silver; the neighbor couple fights because one partner was "too busy" on Etsy to vote; and the mere mention of Jill Stein chills Ally to the bone. (Jill Stein, but of course, has 40,000 votes in this town.) Ally shrieks about the fate of "Merrick Garland!" in a particularly funny bit. The Pinterest-perfect Mayfair-Richards house is replete with backsplash tiles and Trader Joe's reusable shopping bags.
In another part of town, the young alt-right, anarchist-type Kai Anderson screams with joy, his blue hair long and wild. At one point he literally humps his TV, as Mike Pence introduces the new president-elect. (The homoerotic undertones are not lost on this recapper.) Inspired, he blends a bag of Cheetos into an orange paste, and begins to paint himself like his idol. Upstairs, his sister, Winter, who worked on the Hillary campaign, even dropping out of Vassar to help out in Florida, moans to a friend on the phone: "Why didn't they send us to Wisconsin?" She says with dead seriousness that CNN should have issued a trigger warning before they announced the results. Her brother barges in and scares her in Donald Trump drag: Cheeto-faced and heavy-haired. This, the first episode bluntly hints, is the original clown. (Not that we watch AHS for understated nuance.)
After the teaser, we open on a young couple making out in a field, in a clear reference to the first episode of season four, except now taking place in modern-day. They talk about the infamous Twisty murders (from that same episode) that took place right here when… Twisty himself shows up. He soon hacks away at the guy, chases down the girl, and finally grabs her when… we find out Twisty is now a comic-book character, and this has been inside the head of Ozzie Mayfair-Richards as he reads late at night. Ally catches him and asks to see what he's reading, thinking it's porn. It's then we find out that Ally has a crippling phobia of, you guessed it, clowns.
Meanwhile, Kai is contesting the deployment of more police to protect a local synagogue in a local court. He gives a crazy-person speech about the politics of fear, how if the town lets things go to hell, then citizens will let the government do whatever it wants in exchange for protection. Kai's politics aren't exactly conservative—they're more like those of Heath Ledger's Joker from the Christopher Nolan Batman reboots. He wants chaos. The judge, a neighbor from the Mayfair-Richards' party, dismissively calls him a "4chan" guy.
In therapy, Ally wails to her psychologist, Dr. Rudy Vincent (Cheyenne Jackson), about her post-election hysteria. "Our housekeeper is gone!" she begins. "I was willing to white-knuckle it, but then I didn't have to because Barack was elected… It was as if the universe righted itself." Sarah Paulson gets to deliver eye-roll-worthy line after line.
But in seriousness, we find out she's had crippling anxiety all through adulthood. In college, after 9/11, her new relationship with Ivy got her through. Along with clowns, she has a phobia of perforated things. (I mean, sure?) Dr. Vincent advises her to cut out social media. He personally does TRX workouts instead. Oh, and he prescribes her some meds, too.
But later, in an empty supermarket, as Trump gives one of his first big speeches, Ally turns a corner to find… a cult of clowns. (Or, er, an insane clown posse?) The clowns have sex in the produce section, ride scooters through the aisles, and carry huge knives. Ally, in turn, wields a bottle of rose. These metaphors hit about as hard as Ally slams her car into a pole as she attempts to escape.
When Ally wakes up, she's home, and the police, of course, don't believe her. Ivy is troubled by Ally's downward spiral. Later, at the couple's hipster-y eatery, the Butchery on Main, Ivy levels with Ally, who has been MIA since the election. They decide they need to find Ozzie a new nanny so they both can focus on the restaurant. On the street, they get into a micro-argument about how (gasp!) Ally actually voted for Jill Stein. "You forgive me, right?" she asks Ivy—just as they get doused by a drink, courtesy of none other than Kai. He claims he tripped because they're blocking the sidewalk. "Enjoy your latte, bitch," he signs off, leaving the couple stunned.
Winter answers their ad for a babysitter. She obviously checks all the boxes—of her campaigning for Hillary, she boasts, "The proudest moment of my life was when Lena Dunham retweeted me." They hire her on the spot. But something sinister is brewing between Winter and her brother back at their house; he terrifies her yet maintains a strange hold on her. Winter has a dark side, if the Wednesday Adams-vibes didn't give it away. Kai is a more straightforward nightmare—he later harasses and attacks a group of Hispanic men in town, and gets a beating.
At the Butchery, Ivy serves up a tasting for Ally to try to heal their relationship. Ally sips wine while hate-reading Donald Trump's tweets. When she opens the lid of the meal Ivy just served her, she sees blood and fingers coming out of a perforated morsel. She looks up and sees a clown jerking off nearby, and goes into full freak out. But when Ivy comes back, the clown is gone. They both question Ally's sanity; she's been losing it since the election.
As of all this is going on, we learn more about Winter as evil babysitter. She questions Ozzie about who his "real" mom is and needles him about his dad. On seeing Ozzie's interest in Twisty, Winter all but forces him to watch murders on the dark web. She leaves, and Ozzie notices a strange, old-fashioned ice-cream truck across the street. The same cultish clowns Ally saw emerge, watching him.
On the way home, Ally and Ivy have an argument about the former not taking her medications, which she says is because she doesn't like controlled substances. "Says the woman who never turns down a wine pairing," Ivy retorts. They see police outside their house and freak out. It turns out their neighbors, from the first scene, are dead. Ozzie describes what happened after the truck pulled up: Winter made him go across the street and look in the window, where a Manson-like scene unfolded as a group of clowns assassinated the neighbors. But Winter assures his moms that he made it up, and shows them the comic: he's been reading too much Twisty. A cop also tells them it looks like a murder suicide, not a homicide. Is it fake news?
Later at night, sleeping in bed, Ally hears a noise in the house, and asks Ivy what it was. She turns and next to her instead is…a clown! End of episode.
"Cult" gives us Paulson playing libtard-meets-final girl, where the can-do naiveté of the last woman standing is swapped in for liberal elitism. AHS often mines history, true and imagined, but the choice of the months-old election results as catalyst for violence is a bold, if, at times, faltering, premise. It's a real tight-wire act. We'll be anxious to see how the show pulls it off each week.
Photos: Sarah Paulson Won't Be Typecast, On Screen or Off
Sarah Paulson wears an Alexander McQueen bra.
Photo by Mona Kuhn, styled by Patrick Mackie. Hair by Dennis Gots for Kerastase at The Wall Group; Makeup by Jo StrettelL for Lancome at Tracey Mattingly.
Sarah Paulson. Photo by Mona Kuhn, styled by Patrick Mackie.

Mona Kuhn
Sarah Paulson wears an Alexander McQueen dress and bra.
Photo by Mona Kuhn, styled by Patrick Mackie.
Sarah Paulson in Altuzarra at the 2016 CFDA Fashion Awards in New York, New York, June 2016. Photo by Getty Images.
Sarah Paulson with Holland Taylor in New York, New York, December 2015. Photo by Getty Images.
Sarah Paulson with Holland Taylor in New York, New York, October 2015. Photo by Bruce Glikas/FilmMagic.
Sarah Paulson and Cherry Jones during Cherry Jones Reception Hosted by Paula Wagner at CAMPANILE restaurant in Los Angeles, CA, United States. (Photo by E. Charbonneau/WireImage for CW Productions)
Cherry Jones, Christian Slater, Sarah Paulson and Jessica Lange
See what's trending on W video: