7 Women Artists Collaborate on One Must-Have Bracelet
Laurie Simmons, Cindy Sherman, Mickalene Thomas, Shirin Neshat, Wangechi Mutu, Rachel Feinstein, and Barbara Kruger have created a charm bracelet that's truly a work of art in collaboration with Liz Swig and designer Ippolita Rostagno.
---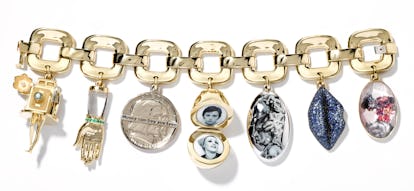 Photo by Josephine Schiele.
Like many women of her generation, the artist Laurie Simmons has fond childhood memories of a charm bracelet. "My mother wore one that told the story of her life," she recalled. "A bride and groom, a house, a car, a piano, three little ballet dancers representing me and my sisters…"
So when Liz Swig, whose company LizWorks curates creative partnerships, approached her about creating a charm for a bracelet by the jewelry designer Ippolita Rostagno, Simmons jumped at the chance—as did Cindy Sherman, Mickalene Thomas, Shirin Neshat, Wangechi Mutu, Rachel Feinstein, and Barbara Kruger.
The more difficult decision was what to make. "It had to be meaningful," said Rostagno, who, along with Swig, explored options with each woman until they landed on something that married personal life with professional. Sherman, who raises chickens at her house in East Hampton, decided on a golden egg—"a symbol of fertility, femininity, and now art," she said. When cracked open, it reveals two previously unseen early self-portraits.
Thomas made a form of her own lips using multi-colored sapphires. Feinstein went for one of her "Old Lady" portraits, intricately enameled on mirror. Mutu encased her 2010 collage "Pretty Double-Headed"—a work that references "the complexity of being an immigrant with visibility and voice" in a stone-faceted locket, she explained.
Neshat designed a gold hand, engraved with Farsi text; Kruger, a white-gold coin, rimmed in her signature red, that reads MONEY CAN BUY YOU LOVE. "It plays with the ideas of desire, charisma, and value," Kruger said.
And Simmons recreated an image from one of her photographs: a pair of legs with a camera on top, with a diamond representing the flash. Crafted by Italian artisans, the bracelet comes in an edition of 50. "As much as this is jewelry, it's really art," said Swig.