The 9 to 5 Sequel Will Reportedly Reunite Jane Fonda, Dolly Parton, and Lily Tomlin
All three leads of the original film are planning to return for the sequel.
---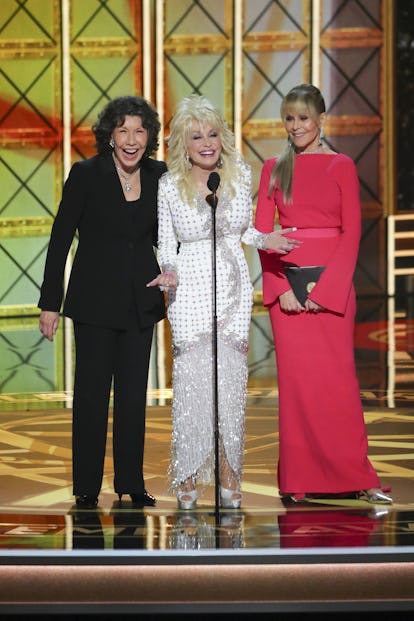 Photograph courtesy of Getty Images.
Finally, a sequel that actually feels necessary. Even though the reunion of best friends and co-stars Jane Fonda and Lily Tomlin on Netflix's Grace and Frankie is a dream come true, there's always been one major piece of the puzzle missing to really cater to their fans, and that piece would be Dolly Parton. Now, that void has been filled, as all of the leads from the original 9 to 5 film—Jane Fonda, Lily Tomlin, and Dolly Parton—are reportedly going to reunite for a sequel, according to Fonda herself.
During a Television Critics Association panel, Fonda told the audience, ""My role is as an executive producer, and I'm working with the writers, with Lily, and talking to the writers…Right now, Dolly, Lily and I are all intending to be in it."
The original film followed the lives of three office secretaries as they turn the tables on their sexist boss and take over the workplace for themselves. "I'm sorry to say the situation is worse today," Fonda said of sexual harassment in the workplace, hinting that in the 9 to 5 sequel, the #MeToo and Time's Up movements will likely be part of the subject matter tackled by the characters who return, and the new ones that will be written into the story. At the time, the original film's depiction of assault and sexism in the office was tinged with comedy (it is a revenge fantasy, after all), and featured a theme song of the same name performed by Parton, whose breakout performance in the film received both commercial and critical acclaim.
The 1980 film also sparked a short lived television series two years later, starring Rita Moreno, Valerie Curtin, Sally Struthers, and Rachel Dennison, and the producing team behind a reboot of the show was rumored to have been eyeing Rashida Jones to write it as of February 2018.
Until the timely sequel makes its return, fans of the trio will just have to hold out for more onstage awards show reunions, like the one between the co-stars on the stage at the 2017 Emmy Awards.
Related: Jane Fonda's Makeup Guru Shares the Tricks That Will Keep You Looking Young Forever