A Comprehensive Guide to All the New Onscreen Witches, From Sabrina to Suspiria
From the millennial Sabrina Spellman to the 70s dance coven in Suspiria.
---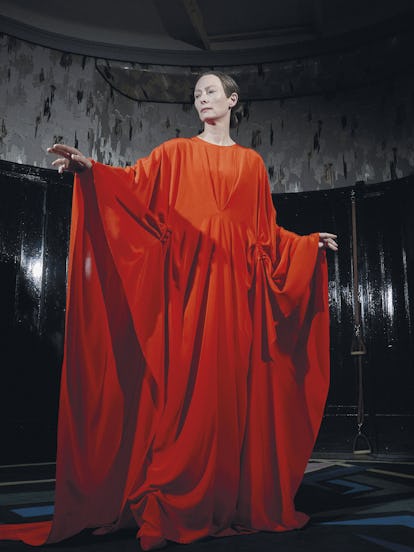 Alessio Bolzoni/Amazon Studios
Welcome to [W's Witch Week](https://www.wmagazine.com/topic/witch-week), a celebration of all things witchy. In the days leading up to Halloween, we'll be boiling up a wicked brew of all things occult, from pop culture's favorite new witches to the real women practicing Wicca today.
It doesn't take much to realize that something witchy is going on right now. Witches are trending in popular culture, as audiences witness a resurgence of spellbinding plots and characters seemingly everywhere this year. There are so many new witches to watch out for, and the trend is not limited to the return of television's campiest coven on American Horror Story this season—the big screen is getting in on the witch craze, and so are the streaming platforms, and it can seem like there is a lot of witch content to sift through until you find the one that's right for you. This curated guide to all things witch-related that you can catch on your television or on the silver screen this fall will help you decide the right ones to watch.
The Chilling Adventures of Sabrina
The return of Sabrina Spellman is something many have been waiting for ever since Sabrina the Teenage Witch went off the air in 2003, and 15 years later, she is finally back. The twist? This version of the series is so much darker than the half-witch, half-mortal we knew and loved from the late '90s TGIF lineup on ABC. In fact, it could be categorized as "satanic," meaning, Sabrina and her two aunts, Hilda and Zelda, are somewhat married to the dark arts. Tonally, Netflix's adaptation has more in common with Riverdale, which is to say, it can get a little corny (and exists in the same Archie Comics universe), but it can get fairly gory, as well. Also, Sabrina's cat Salem does not talk in this version of the story, but that does not make him any less important.
Charmed
Beware the power of three. Charmed makes its return this year on The CW, with an all new cast playing the trio of sisters who discover they are the "charmed" ones with magical witch powers. Melonie Diaz, Sarah Jeffery, and Valerie Cruz take over for Shannen Doherty, Holly Marie Combs, Alyssa Milano, and Rose McGowan, and in this installment, all of their names are still alliterative, but they start with the letter M instead of P (Mel, Maggie Vera, and Macy instead of Prue, Piper, Phoebe, and Paige), and the sisters are all of Latin descent.
Suspiria
Dakota Johnson plays Susie Bannion, a doe-eyed Ohio native who moves to Berlin to join a mysterious ballet company run by Madame Blanc (played by Tilda Swinton) in Suspiria, Luca Guadagnino's spellbinding revamp of Dario Argento's 1977 horror classic. Are the women running the ballet company witches? Well, it is made clear fairly early on in the film that they are actually a coven, but their motives remain to be uncovered by Susie and her friend Sara (played by Mia Goth). Just because a group of women running a dance company are technically a coven of witches does not necessarily mean that they are off-the-bat sinister, but with the help of a Freudian psychiatrist (also played by Tilda Swinton), the girls learn that they may have signed up for more than what they bargained for, culminating in a sequence of hair-raising events connecting art, dance, and some unexplained transference of energy.
Siempra Bruja
Siempra Bruja, or Always A Witch in English, is a Colombian series from Netflix. When Carmen (played by Angely Gaviria), a 19-year-old Afro-Colombian slave, is about to be burned at the stake for witchcraft in the Colombian city of Cartagena, she time travels from 1646 to the present, and embarks on a mission to save the love of her life. Based on Isidora Chacón's novel Yo, Bruja, Siempra Bruja will be released on Netflix in 2019, but the witchy pop culture trends surely will not have died down by then.
A Discovery of Witches
The Crown's Matthew Goode stars as a vampire who falls for a witch in this British drama series, based on the novel of the same name by Deborah Harkness. A Discovery of Witches is kind of like a blend of the spellbinding nature of Harry Potter, vampiric content from Twilight, and a dash of the sensuality from Outlander.
Light As A Feather
Hulu's Light As A Feather is a spooky account of a party game gone wrong. When a handful of teens play a game of "light as a feather, stiff as a board," they become haunted by the spirit of their dead classmate. Is it witchcraft? A curse? A demonic possession? Time will tell.
American Horror Story: Apocalypse
There is always a lot to try to keep track of when it comes to American Horror Story, but what you do need to know is that this season is just as much about witchcraft as the third installment of the anthology was five years ago. Nothing about the subtitle "Apocalypse" necessarily suggests that this season of American Horror Story would heavily focus on witches, warlocks, and everything related to the occult, but that is exactly what is going on in season eight. Old witches—the coven from American Horror Story: Coven, including those portrayed by Sarah Paulson and Emma Roberts—meet the newest addition to the series's collection of sorceresses in the bunker at the end of the world. Some of those new witches include Adina Porter, who plays a voodoo priestess named Dinah Stevens, and Cody Fern plays the grown-up Michael Langdon, a warlock Antichrist of sorts birthed in the first season of the show.
Related: Chilling New Chilling Adventures of Sabrina Trailer, Complete With Satanic Worship and Blood Ritual