Chilling New Chilling Adventures of Sabrina Trailer, Complete With Satanic Worship and Blood Ritual
Kiernan Shipka has bid farewell to Sally Draper.
---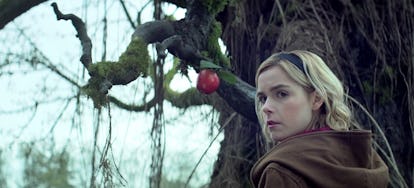 Courtesy of Netflix
As the Archie comics were to Riverdale, so the source material—and its '90s sitcom adaptation, Sabrina the Teenage Witch—is to The Chilling Adventures of Sabrina, Netflix's dark new adaptation of the already dark graphic novel starring Kiernan Shipka. (Shipka herself has made the comparison between The Chilling Adventures and Riverdale.) When its first trailer was released last month, it gave us all the moodiness and none of the plot—a tantalizing first look that left more questions than it answered. Now, its second trailer starts to fill in the gaps—and begins to give us a clearer picture of what, exactly, is so chilling in Greendale.
It starts by setting the scene: Sabrina Spellman, the titular half-mortal, half-witch, is about to turn 16. She has a boyfriend, Harvey—played by one-time Disney Channel teen idol Ross Lynch—a group of schoolmates, and two eclectic aunts who happen to worship the devil. (Also, they live in a mortuary.) And on her impending sweet sixteen, which she's marked in her calendar as her "dark baptism," she'll follow them into Satan's grasp, signing over her fate during a nighttime blood ritual in the forest, because how else does one make a pact with the underworld?
"In the town of Greendale, where it always feels like Halloween, there lived a girl who was half witch, half mortal, who, on her 16th birthday, would have to choose between two worlds: the witch world of her family, and the human world of her friends," Shipka, as Sabrina, narrates the first minute of the trailer. "And that girl was me."
Except, not so fast. Sabrina isn't so sure she wants to "forsake the path light of the light and follow the path of the night," as a deep voice intones during her 16th birthday ceremony, which appears to fittingly take place in a circle in the woods, complete with creepy chanting and bowls of communion blood. When, midway through the ceremony, she cuts the ritual short, fleeing the woods with a cry of, "I can't!"—well, that's when things get really dark and twisty. Cue a montage of satanic horns, exorcisms, spatters of blood, and covens of young witches, juxtaposed against Neil Sedaka's upbeat "Happy Birthday, Sweet Sixteen." As the trailer draws to a close, a blood-smeared Sabrina snarls, "My name is Sabrina Spellman, and I will not sign it away." Kiernan Shipka has bid farewell to Sally Draper in dramatic fashion.
Related: Beyoncé's Ex-Drummer Has Accused Her of Using Witchcraft to Murder Her Pet Kitten