Ross Lynch Has Really Got the Range, From Song-and-Dance Disney Star to Serial Killer
In the new movie 'My Friend Dahmer', the former Austin & Ally star proves he's more than just a Disney prince.
---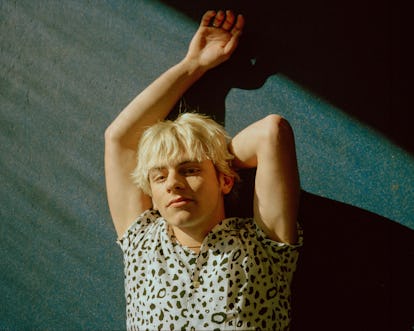 It never occurred to me that a Manhattan ice rink at 3:30 p.m. on a school day might not be the ideal place to meet the actor Ross Lynch but here we are, at the Chelsea Sky Rink just after school has let out, surrounded by six-to-eight-year-olds munching on pizza and looking downright thunderstruck at the Disney star in their midst. At six feet tall, with an unruly mop of bleach-blond hair and dark roots, and clad in a leopard-print button-down shirt under a green suede Burberry jacket, Lynch doesn't exactly cut an inconspicuous figure—even less so because the 21-year-old was, until just last year, the star of Disney's hit musical comedy series Austin & Ally. He's recognized almost immediately—at first by a rink employee, who asks for a photo and a couple signed portraits for his daughters, and then by the rest of the rink's youngest patrons, who have been, until now at least, his primary audience.
As Lynch bends down to lace his skates outside the rental shop, a couple elementary school-aged girls begin to gather—at a respectful distance, huddled together shyly—and Lynch's publicist, hovering nearby, corrals them into formation for a quick selfie. A young boy joins on the fringes of the group. Lynch straightens and steps into the fold, grinning widely; it must be draining to be so immediately and so constantly set upon, but he doesn't seem to mind, striking up conversations on the ice with several of the rink attendants as well as his contingent of young fans.
"Occupational hazard," I venture as he steps away from the group. Only sometimes, he says, shrugging slightly.
When we meet, Lynch, who is based in Los Angeles, is in New York for just a handful of days to do press for his new film, My Friend Dahmer, the serial-killer origin story based on Derf Backderf's graphic novel of the same title. It's the day before Halloween, and though he had intended to bring his own hockey skates, they didn't fit in his suitcase. Usually, he plays hockey a couple times a week—get him on the ice, he says, and he immediately wants a stick and puck, like a sports version of if-you-give-a-moose-a-muffin—which is just one of his kind-of-comical number of pastimes.
Here's a partial rundown of his various skills: Lynch is a classically trained dancer, surfer, snowboarder (a vestige of a childhood in Colorado, where he lived until he was 11); he can fly a plane (his dad is a recreational pilot); and he sings and plays guitar and drums (together with his siblings Rocky, 23, Riker, 25, and Rydel, 24, as well as their friend Ellington Ratliff, 24, they comprise the band R5, with two full-length albums to their name).
"My mom had us doing shit all day long," he tells me over coffee later that afternoon. "That's honestly why I'm so good at so many things, because it was like summer camp all the time." When he was young, Lynch's parents discouraged television, aside from the occasional family movie night. To entertain themselves, the Lynch siblings, stage-directed by the eldest, Riker, learned the dances from Grease, Michael Jackson's "Thriller", and Moulin Rouge!, and performed them for the family.
Despite the early exposure, Lynch resisted performing in front of a larger audience—in fact, his mom had to bribe him to participate in dance competitions as a child. "Once I did go out, I never went back," he tells me. (The week before, he had just returned from an international tour with R5.) "Had I known that that would be my life now, it would have been so funny," he adds, laughing.
The family relocated to L.A. in 2007 to support Riker's acting ambitions; he was cast as Jeff, a member of the a cappella group the Dalton Warblers, in Glee in 2010. The next year, Lynch got his own break as Austin Moon, a high school student who goes viral thanks to a music video he posts online, in Disney Channel's Austin & Ally. Austin spends the show's four seasons grappling with his newfound fame and exploding career, as well as his on-again, off-again relationship with his musical partner Ally, played by Laura Marano, who wrote the song that made him famous. The role didn't just put Lynch's various skills on display—a scene in the pilot episode has Lynch, as Austin, walk into a music store and declare, "I can play anything: Piano, drums, guitar, harp, I can even play a trumpet through another trumpet"—but it was a career breakthrough that brought Lynch a level of scrutiny from a young adoring audience he hadn't anticipated.
"When I first booked the role," Lynch recalls, "My dad was like, 'This is going to change your life.' And obviously it did, in a massive way. But at the time, I was just like, 'Cool, I got a gig, I get to go work.'" Six years later, Lynch's following on his Instagram account, @rossr5, numbers 4.3 million, and pre-teen tabloid sites like Just Jared and J-14 track his every move. (We soon have to depart the rink, lest we cause too much of a scene.) Despite the avid following, Lynch swears he doesn't have a second account, a finsta, a construct he says he has never heard of—instead, given the choice, he'd stay off social media entirely. "I try not to spend time on it, especially if I'm in the studio or working, because it really does kill all creativity," he says earnestly.
A biopic of the serial killer Jeffrey Dahmer—as a very different high schooler from Austin Moons—might not be the expected output for Lynch, but his R5 and Disney Channel fan base has followed him into the macabre. "Ross Lynch Has Compassion for Jeffrey Dahmer After Playing Him in 'My Friend Dahmer,'" reads a recent Just Jared Jr. headline, for example. (I ask Lynch if he empathized with Dahmer: "Oh, definitely," he says, unhesitating. "You've got to empathize with every character you play. But when I first read the script, what shocked me the most is that by the end of it, I was sad, really, for all parties.")
The movie largely takes place before Dahmer's first murder. Removed of victims' names and a few of the more specific, and specifically ominous, signifiers, My Friend Dahmer is really a parable about an outcast teen. "It's a nuanced and sad high school movie, a portrait of lonely, damaged youth that only gradually reveals itself as the origin story of a psychopath," reads a recent NPR review.
"I liked the fact that people were going to be shocked by it," Lynch says. That includes himself. "If you would have told me five years ago that I would be playing a serial killer right now, I'd be like, No way in hell," he says. Still, he anticipated the narrative around the film would focus on his sudden leap from Disney poster boy to young sociopath (which has unfolded as predicted). "It was intentional, but I never thought of it as a dire situation. I never thought it was like, 'Oh, my god, I've got to get out of this thing.' Because to me, [Austin & Ally] was just a job," he says.
He was also quite taken with telling a story based on real-life events (Backderf, the graphic novel's author, attended high school with Dahmer; the film was shot in part at his childhood home in Bath, Ohio). In preparation, Lynch watched video interviews with the cannibalistic serial killer nearly every day on set. After My Friend Dahmer premiered at the Tribeca Film Festival in April, Lynch's sheer physical transformation into Dahmer—the wide '70s eyeglasses, a slouched, slightly off-putting gait unrecognizable from the buoyant Lynch looping Mohawk turns around orange cones on the ice—won him praise for his performance. "Lynch is opaque in the spookiest way," wrote New York magazine critic David Edelstein, while NPR described him as "brilliantly unnerving." The film shows off his range in a way even Austin & Ally—for all the singing, acting, and dancing he had to do simultaneously—probably never could: "It's just given me much more broad opportunities," Lynch says of the film.
My Friend Dahmer is Lynch's first movie to come out since Austin & Ally aired its final episode last January, but it's not the first part he landed. That honor goes to Status Update, a teen romantic comedy in which Lynch plays a high schooler who finds a magical app that makes his every social media post become a reality. (Lynch's then-girlfriend, Mad Max: Fury Road's Courtney Eaton, was cast shortly after as the quintessential popular girl, Charlotte.) Status Update was written by Jason Filardi, the writer of the Zac Efron vehicle 17 Again—a film the Status Update team was apparently trying to reproduce. "They were like, 'Let's take Ross, and let's throw him in the same scenario,'" Lynch tells me, describing it as "another 180" from Austin & Ally.
Efron, for his part, was recently cast as Ted Bundy in Extremely Wicked, Shockingly Evil, and Vile, which, like My Friend Dahmer, is a serial-killer tale recounted through an onlooker's perspective. (In My Friend Dahmer's case, it's a high-school classmate, played by Alex Wolff, while in Extremely Wicked, it's Bundy's longtime girlfriend Elizabeth Kloepfer, who will be played by Lily Collins.)
I point out the parallels: "I know," Lynch says, with the faintest side-eye.
He's often asked about the possibility of an Austin & Ally reunion in the future, and his responses range from blunt (to GQ: "I think the odds are slim, if I'm going to be frank") to wry (to Entertainment Tonight: "We had this joke for a long time on Austin & Ally where we wanted to do like maybe 10 years later, an HBO special where it's gone completely explicit"). But for now, having banked two films, Lynch is renewing his focus on music: Over the past year, between Status Update, My Friend Dahmer, and a production of A Chorus Line at the Hollywood Bowl, he has had little time for the band. "We went through kind of a drought," he says. In September, R5 put out a new single and is now preparing for a follow-up; Lynch, who lost his phone in Poland recently, is also cultivating a new library of voice memos to turn into songs; and he and his brother, Rocky, are house-hunting for a place together, where they plan to build an in-home studio.
Simply put, there's a lot up in the air right now for Lynch. "The future's never been more uncertain, because I've realized that it is," he says. "Because everything is."
Johnny Flynn's first kiss eventually became his wife: