Michelle Kwan Wanted to Return to Figure Skating Before She Turned 40, and She's Now Doing Double Axels Again
The former figure skating champion and two-time Olympian on getting back on the ice, working with Vera Wang, and the new Margot Robbie film 'I, Tonya.'
---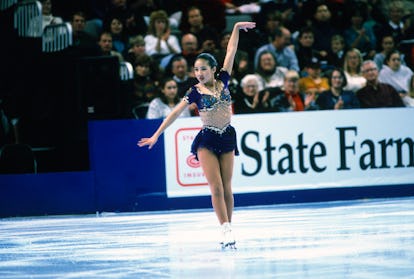 Focus On Sport/Getty Images
Just over a month ago, Michelle Kwan posted a short video to her Instagram. Shot at an ice rink, the clip showed Kwan pushing through a couple of back crossovers before dropping into a hydroblade, one hand on the ice and the other extended over her free leg. She hopped to her feet, slid to a halt, and gave a small bow. She was wearing a denim jacket.
"I need to ice skate more often I forgot how fun it is!! #goodtime #homesweethome #firstlove," she captioned the video, which has since been viewed more than 30,000 times. It might seem an odd sentiment for a five-time figure skating world champion and two-time Olympic medalist, but Kwan had spent seven years away from the ice, during which, she estimated over coffee on a recent October morning, she skated just 12 times. A week after the first video, she posted another, executing a double salchow jump and commenting, "Watch out grandma's back on the ice and trying to jump." Then, a few days after, a double axel, captioned, "Blades and body are still rusty from not jumping for 7 years but after 4 days of skating I'm making progress."
Kwan returned to skating in anticipation of this winter's Olympic Games, which begin in just 100 days, on February 9, in Pyeongchang, South Korea. To mark the countdown to the Olympics, Procter & Gamble released a new campaign, entitled "Love Over Bias," and announced a new roster of ambassadors like Kwan and her fellow Olympians Gus Kenworthy, Elana Meyers Thomas, and Aja Evans who had inspired the short film. But she said it was also out of admiration for the next generation of athletes—including three-time American champion Ashley Wagner, who competed in the 2014 Winter Olympics in Sochi, Russia; this year's U.S. national champion Karen Chen; and Mirai Nagasu, who is just the eighth woman to land the notoriously difficult triple axel jump in international competition—that she decided to get back out on the ice.
Plus, moves that had once been second nature only got more challenging with age, as well as her professional hiatus. "I said, 'You know, I should do it before I'm 40.' You don't realize how quickly age crawls up to you," Kwan, now 37, said. "Then, you're like,"—she pulled a sour face before continuing—"and the thing that used to be so easy was, like, triple jumps. Certain triple jumps," she corrected, noting she was never able to land a triple axel in competition. "I'm not going to attempt any really hard ones," she added.
Kwan has stayed in shape thanks to a rigorous Pilates and yoga regimen—she took up yoga shortly after retiring from skating because she "needed something else"—even though she bashfully admitted she had skipped her workout that morning. (She could be forgiven; it was Halloween, after all.) But, as she put it, "you can be in incredible shape," she said, "but once you're on the ice, there are so many things: It's rhythm, once you're up in the air, and falling." Falling, she added, had probably become her biggest obstacle: Whereas she used to bounce back up after taking a tumble, now, "I fall, and I'm like, 'Wow, that hurt,'" she said, laughing.
While she was off the ice—over the past seven years, she obtained a master's degree from Tufts University and worked as a senior adviser to the State Department in the Obama White House before signing on as an outreach coordinator with Hillary Clinton's presidential campaign—she kept up with the sport in large part through her sister, a skate choreographer and costume designer who worked on several of Kwan's costumes (including the red and blush-pink dress she wore for the now-famous Rachmaninoff short program that won her the 1998 U.S. National Championship). Kwan's mom also sewed her costumes from a young age, staying up till the early hours of the morning and perfecting rows of sequins.
Kwan was just the second skater, after Nancy Kerrigan, to work with designer Vera Wang, who was a competitive figure skater herself before she turned to fashion; Wang also designed Kwan's wedding dress and remains a close friend. (They had gotten dinner when Kwan was in New York just a week prior, she told me with a small smile.) Kwan's costumes tended to be clean and minimalist: At the 1998 Olympic Games in Nagano, Japan, she wore a periwinkle velvet dress for her free skate, for example. But more recently, she said she's seen the looks grow increasingly elaborate. "Even when I was working with Vera Wang—that was incredible—I preferred a simple, elegant look," Kwan said. "I didn't want to distract the beauty of what was on the ice."
At the 2014 Sochi Olympics, when Fox Sports hired Kwan to report on not just figure skating, but also sports like curling and hockey, figure skating emerged as the most popular sport in the United States—at least as measured by Facebook activity. And the sport seems more present in pop culture now than ever before: Not only did Gucci's most recent collection feature elements, like crystal-embellished bodysuits, that seemed pulled straight from Tara Lipinski's wardrobe, but next month, the new Tonya Harding biopic I, Tonya, in which Margot Robbie plays Harding opposite Allison Janney and Sebastian Stan, will premiere. So I asked Kwan, did she plan to see the film?
"I'm sure I'll watch it, but I kind of lived it, so…" Kwan said. "I was very close to it." The film's central drama—"the incident," as it's euphemistically described throughout I, Tonya, not without some irony—is the episode in which Harding's ex-husband Jeff Gillooly (Stan) took out a hit on Kerrigan, who was Harding's main American competitor, at the U.S. Figure Skating Championships in 1994 so she would be unable to compete at that year's Olympics in Lillehammer, Norway. Harding denied having prior knowledge of the attack, but the U.S. Figure Skating Association's investigation eventually determined she was aware of the plan; she was subsequently banned from the sport for life. Kwan, just 13 at the time, placed second in the competition after Harding.
"Hits close to home, you know? I mean, I was there," she said. "I hear the big buzz and the incredible acting, so it should be interesting."
In the meantime, Kwan will keep working on her triples.
Always Glamorous, Always Daring, Margot Robbie's Best Looks in 2016
Margot Robbie defined understated chic in distressed denim and a structured black coat at LAX.

Photo by Getty Images.
Margot Robbie took a cue from the Oscars and graced the red carpet in a stunning gold gown.

Photo by Getty Images.
Robbie was glowing in all white at the 'Manus X Machina: Fashion In An Age of Technology' Costume Insititute Gala after pary in New York City.

Photo by Getty Images.
Robbie again took inspiration from her surroundings wearing a Gucci dress which borrowed its silhouette from a Chinese cheongsam when she attended an event for 'The Legend of Tarzan' at the Chinese theatre in Hollywood.

Photo by Getty Images.
Margot Robbie sports polka dots and Gucci heels before a talk show appearance in Los Angeles.

Photo by Getty Images.
Robbie shines at the European premiere of the 'Legend of Tarzan' premiere alongside Alexander Skarsgard.

Photo by Getty Images.
Robbie shows off her girly side in a a flirty black and white skirt while in New York's summer heat.

Photo by Getty Images.
Glamourous and fun, Robbie promotes 'Suicide Squad' in New York City in Alexander McQueen unicorn dress.

Photo by Getty Images.
Robbie stuns in a fierce Gucci dress while attending the European premiere for her summer blockbuster film, 'Suicide Squad'.

Photo by Getty Images.
Robbie is joined by fellow stars Cara Delevigne and Karen Fukuhara in London.

Photo by Getty Images.
Watch: A to Z with Fabrice Calmels, Model and World's Tallest Ballet Dancer
A to Z with Fabrice Calmels, Model and World's Tallest Ballet Dancer