Kiernan Shipka Is Going To Make The Perfect Sabrina The Teenage Witch
Why we're here for this casting, and this show.
---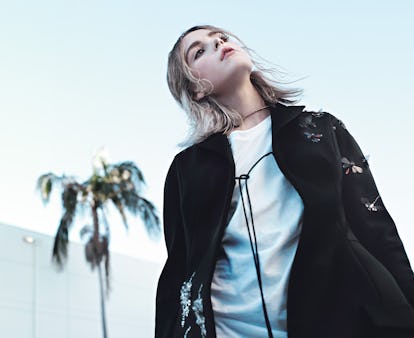 Kiernan Shipka has just been cast as Sabrina Spellman in Netflix's adaptation of The Chilling Adventures Of Sabrina. Like The CW's Riverdale, with which it shares producers, it will be a dark teen drama set in the world of the Archie comics, more Stranger Things than Sabrina The Teenage Witch. The TGIF show many readers may remember never got darker than a missed chemistry final or (gasp!) accidentally scheduling two dates on the same night, but in the Chilling Adventures series, which is set a town away from the fictional Riverdale and in the 1960s, there's dark magic, demonic possession, and even murder.
Shipka, best known for her roles as Sally Draper on another famously '60s-set show Mad Men and as BD on Feud: Bette and Joan, is the surest sign yet that this show is going to be your next obsession because, listen, she's absolutely perfect to lead a gritty version of Sabrina.
First of all, she has great style, which isn't so much a prerequisite for the show (which will, presumably, have a wardrobe department) as it is for the rest of us who are going to be seeing its young stars everywhere. Kiernan is cute as hell on a red carpet.
Second, she's used to adult dramas. That Cole Sprouse can pull of moody Jughead Jones after so many years in the Disney school of acting while always smiling is impressive, since lots of child actors develop bad habits after too long on a family sitcom. Not so much an issue for Shipka. Basically her main job on Mad Men was to be believably young (moody, vulnerable, shy, bratty), and she knocked it out of the park. There's a reason why the actor playing Bobby Draper was replaced every few seasons while Shipka is forever the one and only Sally. She even told W that she loves The Wizard Of Oz and Harry Potter, and wishes she could go to the prom. This show is basically making her magical high school dreams come true.
But mostly, it just speaks to the level of talent and care we can expect to see from the whole Sabrina team. The show will be executive produced by Roberto Aguirre-Sacasa, chief creative officer for Archie comics and a prolific TV writer who, not coincidentally, created Riverdale and wrote the Chilling Adventures comics. Since this new Sabrina adaptation is possibly a Riverdale spin-off, it was at first slightly suspect when the show landed at Netflix instead of The CW, but this latest casting indicates that the streaming service might want to go more high-brow than a teen network. Also, Shipka is friends with Lorde and if Netflix can't get Lorde to cameo as a fellow witch, then what is it even good for?
Related: Sabrina the Teenage Witch is Getting CW's Sexy, Dark Reboot Treatment
Kiernan Shipka: From Mad Men Tween to Full-Fledged Movie Star
Not even a teen yet, Shipka kept it simple at the 2011 SAG Awards in a navy dress with a tween-appropriate bow. Photo by Getty Images.
This Delpozo dress at Variety's pre-Emmy party in 2013 was the first of many of the cute, short dresses that have now become Shipka's trademark.
Photo by Getty Images.
Just a week later, Shipka showed off her newfound style again in shiny brocade Emporio Armani pants at the 2013 Teen Vogue Young Hollywood party.
Photo by Tommaso Boddi for Getty Images.
Shipka made another statement in Delpozo at the 2014 Costume Designers Guild Awards.
Photo by Getty Images.
Shipka kept it short in sheer Valentino at the L.A. premiere of "Divergent" in 2014.
Photo by Getty Images.
Shipka started off 2015 with flare, wearing Peter Pilotto to the AFI Awards.
On her way to becoming a front row fixture, Shipka headed to 3.1 Phillip Lim's show at New York Fashion Week with a trendy circle bag and eye-catching pants. Photo by Daniel Zuchnik for Getty Images.
Shipka caused a minor scene when she showed up to the 2015 Emmy Awards in both a dress and pants, making for double the Dior couture.
Photo by Axelle/Bauer-Griffin/FilmMagic.
Shipka went for the top button – and a rare shade of black – at the Hollywood Reporter's Beauty Dinner in 2015.
Photo by Getty Images.
Appropriately in Stella McCartney for the designer's pre-fall presentation at L.A.'s Amoeba Records, Shipka kept it interesting with a full head of curls.
Photo by Getty Images.
Five years later, Shipka again wore blue to the SAG Awards – this time going strapless in Erdem.
Photo by Getty Images.
At the Fendi Beverly Hills party, Shipka wore a cute jacket-and-skirt ensemble, an early ode to spring.

Donato Sardella/Getty Images
When you're a Dior darling, you can wear Dior to Coachella. Stella McCartney platforms not included.

Michael Kovac/Getty Images
A color and pattern aficionada, Shipka opted for textural black for the Dior Cruise show last year.

Mike Marsland/Getty Images
Then, embracing the pajama dressing trend, the young actress rolled out of bed in silken Prada for the Mad Men book launch.

Frazer Harrison/Getty Images
Spring came early in this Rosie Assoulin dress with metallic heels.

Jim Spellman/Getty Images
Shipka, in Prada, joined her equally chic castmates Lucy Boynton and Emma Roberts on a panel to discuss their new film, The Blackcoat's Daughter.

Desiree Navarro/Getty Images