A Deep Dive Into Alessandro Michele's Instagram: Donatella Versace's Dog, Florence Welch's Book Club, And Antiquarians Aplenty
Instagram references were (again) all over the Gucci show the designer just showed in Milan, and the platform turns out to be a perfect window into his fantastical mind.
---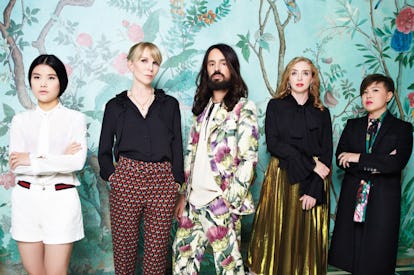 It is widely known that Gucci designer Alessandro Michele loves all things antique, adorable animals, and Jared Leto. Each of his collections — most recently Spring 2017, which he showed at Milan Fashion Week on Wednesday — features bedazzled Baroque and Renaissance motifs mixed with gender-fluid rebellious retro references, plus plenty of snakes, zebras, and florals that make up what is now referred to as the "Gucci Garden." And as for Leto, the kindred spirits can often be found taking selfies together around Los Angeles.
In addition to cultivating his own, now-signature aesthetic, Michele also incorporates the work of other artists each season, many of whom he finds on Instagram. For Spring 2016, he commissioned painter Helen Downie, who goes by @UnskilledWorker on Instagram; last season he flew Trevor Andrew a.k.a the GucciGhost from Bed-Stuy to Milan to spray paint his coats and accessories; and for Spring 2017, he incorporated the illustrations of Jayde Fish into his collection, which he also found via social media.
A deep dive into who else the designer follows on Instagram proves to be a perfect window into his fantastical mind. For example, in addition to adorable animal accounts like Priscilla and Poppleton, two baby pigs from Florida, and a handful of Boston terriers, Michele also follows the official Instagram for Florence Welch's book club, "Between Two Books." This is telling, as the soundtrack of his most recent show was Florence Welch reading "Songs of Innocence and Experience" by William Blake.
Despite the treasure trove that is Michele's Instagram (and his revealing Stories feed), he remains relatively "hidden" on the platform with roughly 88,000 followers. But if you want to get ahead of the Fall 2017 season, look no further than the 404 accounts @lallo25 follows on Instagram.
Illustrator Jayde Fish
Painter Helen Downie
"Fashion Pun-k" Angelica Hicks
Florence Welch's Book Club
The American Antiquarian Society
An aggregation of the finest antique jewelry.
Donatella Versace's dog, Audrey.
Plus, so many animal accounts. (Michele has two Boston terriers of his own.)
This artful accounts have not yet made it into Michele's collections, but you never know…
Watch The Myth Of Orpheus and Eurydice, below.