A Guide to Voting Selfies That Won't Get You Arrested
Justin Timberlake took a voting selfie that could technically land him behind bars. Don't be like him. Follow these rules.
---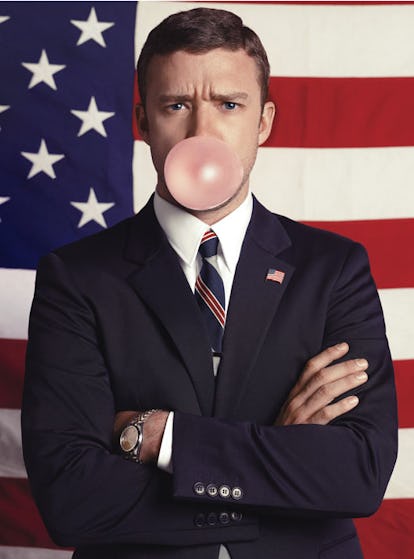 Michael Thompson; styled by Edward Enninful
Everyone has an opinion about selfie-taking etiquette. Including, as it turns out, the governments of certain states. Yes, there's a selfie so controversial that it could technically land you behind bars. That's the voting selfie.
Justin Timberlake, of all people, recently found that out the hard way. The pop star flew back to his home state of Tennessee yesterday in order to vote early. To prove it to the world he snapped a photo of himself in front of a voting machine and promptly posted it to Instagram.
"Hey! You! Yeah, YOU! I just flew from LA to Memphis to #rockthevote !!!" wrote Timberlake in his caption. "No excuses, my good people! There could be early voting in your town too. If not, November 8th! Choose to have a voice! If you don't, then we can't HEAR YOU! Get out and VOTE!"
The idea of Timberlake using his famous mug to encourage his 37.1 million followers to get out and vote may seem like something that should generally be lauded, and, yet, according to Tennessee state law, it's illegal.
"The Shelby County District Attorney's Office was made aware of a possible violation of election law," a rep for Timberlake's local district attorney has told numerous outlets. "The DA's office is currently reviewing these allegations."
As it turns out, in Tennessee taking any photo inside of a voting location could be punishable by a $50 fine or up to 30 days in jail.
Tennessee is one of at least 17 states that outlaws various forms of voting selfies. The list includes some of America's most populous states, including New York, Florida, and Illinois. According to The Associated Press, the letter of the laws vary from banning any photographer or recording whatsoever in polling places to taking photos of ballots (including absentee). The reasoning is that photographs of ballots could act as a handy receipt for nefarious vote brokers who have paid people to vote in a specific way. It doesn't seem like anyone has actually ever been arrested for a ballot selfie in recent times nor does it mean your vote will be voided, but the laws does empower election day workers to chide you for trying to take a photo in the first place.
Yet, there is some research that suggests people are more likely to vote if they see their friends and peers talking about actually voting on social media. In a way, a voting selfie seems like it could be one of the more noble types of selfies of all.
So the law may be a bit behind the times, and, yet, the tradition of American democracy has actually been a bit ahead of the times when it comes to realizing that people want visual confirmation to show their friends (and any strangers who happen to be looking their way) that they indeed actually go out and vote.
It's called the "I Voted" sticker, a tradition that dates back to at least the '80s and they're given out at polling places in many counties across the country. On November 8th, they'll likely be the hottest accessory trend of the moment.
In fact, back in the primaries, other celebs seemed to be aware of the illegality of actually pulling out the selfie stick in the polling place, and instead opted for the "I Voted" sticker selfie. Take Julianne Moore for example.
Amy Schumer.
Reese Witherspoon (who appears to still be in a polling place, but hopefully was in a state where that's legal).
Tyra Banks clearly has two rules for voting selfies: Smize, and don't take a photo of your ballot.
Kate Hudson was totally on trend during the 2014 midterms.
Besides from being 100 percent legal in all 50 states, the "I Voted" sticker selfie has clear advantages over the "Here I am actually awkwardly trying to get my face into the frame with my ballot at the actual polling place while trying not to take too long and hold up the line." Every great selfie is a result of taking your time and making sure your angles are on point.
Besides, if it's good enough Christy Turlington, it's good enough for you. That includes selfies, and, you know, the act of actually voting.
Watch Dylan Jagger Lee, Diane Von Furstenberg, Tory Burch and more discuss the importance of voting: