A History of TV's Best Worst Therapists, From Hannibal Lecter to Dr. Jennifer Melfi
Gypsy's Jean Holloway is just the latest in a long line of memorable therapists on TV offering questionable treatment. Here, we analyze everyone from Hannibal Lecter to Niles Crane to Dr. Jennifer Melfi.
---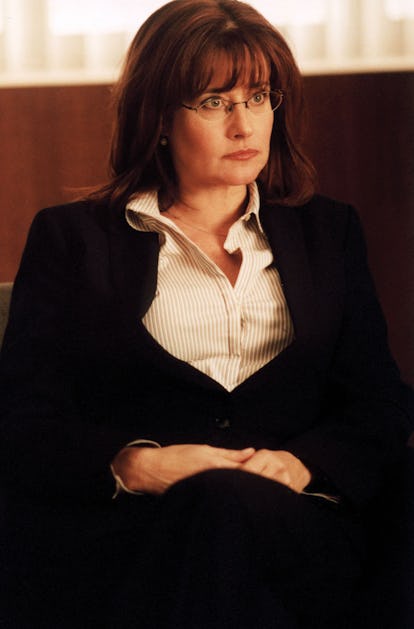 Snap Stills/REX/Shutterstock
We live in an age where it's probably easier to witness a prime therapy session on TV than it is to actually sit ourselves down on a decent therapist's couch. There's no denying how exhilarating it is to see the tender spots in the psyches of some of our most iconic characters get poked and prodded right in front of us (even Lucy dispensed psychiatric help to her best friend, Charlie Brown, for 5 cents per session). Over the years, fictional mental healthcare professionals on series from The Bob Newhart Show to Arrested Development to, now, Gypsy, which premieres on Netflix today, have analyzed our favorite characters to bits. And though a therapy session can be useful as a device to reveal a character's interiority, or perhaps to incite change, sometimes TV therapists don't really give the most sage advice or offer the best insights. Here, a history of the best—and, at the same time, worst—therapists on TV.
Dr. Jennifer Melfi, The Sopranos
Tony Soprano's psychiatrist, played by Lorraine Bracco may be the only person besides Tony himself who can begin to understand his monstrous and at times confoundingly empathetic behavior. After a panic attack, the mobster begins to see Dr. Melfi. Initially, he leads her to believe that he is a consultant for a waste management firm, haha, until he opens up and reveals the true stressors in his life.
Dr. Amanda Reisman, Big Little Lies
Real-life psychologists praised Robin Weigert's portrayal of Dr. Amanda Reisman in Big Little Lies, a therapist who helps Celeste (Nicole Kidman) understand her abusive relationship with her violent husband, Perry (Alexander Skarsgård).
Dr. Bob Hartley, The Bob Newhart Show
In one of the earliest portrayals of psychotherapy on prime-time television, Bob Newhart joined American homes as Dr. Bob Hartley in 1972.
Tobias Fünke, Arrested Development
The formerly licensed analyst and therapist (don't combine those two words in your head) spends years trying to become an actor after an ill-advised CPR attempt on a sleeping man.
Dr. Paul Weston and Gina, In Treatment
Dr. Paul Weston's home is the scene for weekly sessions between him and his patients, and since therapists go to therapy, too, his former mentor Gina dispenses advice to Paul in her home. They're what you might call "home office goals."
Dr. Andrea Bayden, Unbreakable Kimmy Schmidt
Tina Fey's caricature of Kimmy's alcoholic psychologist is known as both Day Andrea and Night Andrea. Sober Day Andrea is the one who keeps it together—and yet, somehow, Night Andrea is the one who actually helps Kimmy solve her problems.
Niles Crane, Frasier
Frasier Crane's younger brother Niles, played by David Hyde Pierce, is also a psychiatrist, and yes, he is still competing with Frasier with every fiber of his being.
Major Sidney Freedman, MASH
Allan Arbus's portrayal of war psychiatrist Sidney Freedman is as charming as it is sincere.
Dr. Benjamin Harmon, American Horror Story: Murder House
Some might say Dylan McDermott's Ben Harmon is the catalyst for much of the terror that haunts the Harmon family, since he begins seeing some pretty disturbed patients right out of the comfort of his own (haunted) home.
Dr. Hannibal Lecter, Hannibal
Psychiatrist by day, cannibal by night (well, also sometimes during the day). It's not the sort of Zocdoc review a potential patient would want to read before a session, but Anthony Hopkins's Hannibal is the only person who can get through to the sociopathic forensic specialist Will Graham, so at least he's doing something right.
Dr. Katz, Dr. Katz Professional Therapist
The animated psychotherapist analyzes comedians from Louis C.K. to Wanda Sykes, while wading through his own issues.
Dr. Tracey Clark, Ally McBeal
Playing Ally McBeal's wisecracking, unconventional psychotherapist won Tracey Ullman an Emmy Award for Outstanding Guest Actress in a Comedy Series.
Dr. Justina Jordan, You're The Worst
After she left Litchfield, but before she entered the Republic of Gilead, Samira Wiley made a stop in Silver Lake as a therapist tasked with listening to awful human Gretchen's weekly verbal assaults after she (mistakenly) tells her client she's allowed to say anything she wants in her sessions.
Dr. Jean Holloway, Gypsy
In Gypsy, a psychological thriller about countertransference out on Netflix today, Naomi Watts plays Jean Holloway, a therapist who becomes wildly, inappropriately involved with her patients.
Related: Analyzing Naomi Watts' Out-of-Control Therapist With the Creator of Gypsy and a Clinical Psychologist
Naomi Watts, Laura Dern, and Patricia Arquette open up about David Lynch: