Dascha Polanco Was as Surprised as You That Daya Pulls the Trigger In Orange Is the New Black Season 5
The actress, who plays Dayonara Diaz on the hit Netflix series, shares her thoughts on the new season along with her culture diet.
---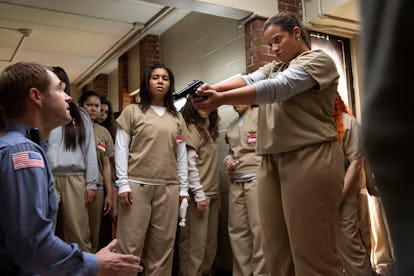 Cara Howe/Netflix
At the end of the fourth season of Orange Is the New Black, Dascha Polanco's character Dayonara Diaz, a young woman imprisoned at the Litchfield Correctional Facility, gets her hands on a gun. In the aftermath of the death of fan-favorite Poussey Washington, played by Samira Wiley (now in the new Hulu adaptation of The Handmaid's Tale), protests break out across the prison, escalating into a riot during which Daya obtains one guard's gun. At the close of last season, Daya trained her gun on the guard; this season, which debuted on Netflix this week, picks up in the same place—and, over the course of 13 episodes, unravels the ensuing riot during three days inside Litchfield.
It's no spoiler at this point to say Daya pulled the trigger within minutes of the season's opening—but the move was as much of a surprise to Polanco as to any fan of the show.
"I was like, 'Oh, she's not going to shoot,'" Polanco recalled thinking at the close of season three. "It was so unpredictable." The series, which began as a character study of a young white woman sentenced to 18 months for her part in a drug-trafficking operation, has evolved into an ensemble piece comprising a diverse cast whose stories have dovetailed with current events. Even before Poussey's death—smothered under a guard during a prison protest, her last words echoing those of Eric Garner—the show grappled with police brutality and Black Lives Matter, the privatization of prisons, and the inequities of the criminal justice system.
That outlook continues this season, according to Polanco: "This season is a season of resistance, of empowering," she said, adding that while the show never set out to make a political statement, it comes with the stories they tell. Here, as everyone else binges the new season, Polanco shares what she's been obsessed with in her culture diet.
What is the first thing you read in the morning?
My phone. Is that bad? Yes, that's bad. When I'm home, I have a calendar from The Secret—every day, you rip it off and you read what it tells you, you have some practices in positivity and the law of attraction and all that. When I'm traveling, I'm on my phone.
Has the calendar given you any particularly good advice?
It keeps me inspired and motivated and reminds me that it's not that bad and I could be in worse situations.
What books are on your bedside table right now?
I have like eight of them. I have Unlearning Stress [by James Rohr, L.Ac.]; I have Zen in the Martial Arts [by Joe Hyams]; I have The Seat of the Soul [by Gary Zukav]; I have The German Girl [by Armando Lucas Correa]; I have The Female Brain [by Louann Brizendine, M.D.]. That's about it for now.
Are you really into mindfulness?
Yeah. It sounds like it, right?
Yeah. What is it about that?
I'm very observant of people's behaviors. That was my major in college, psychology. That's what it was. Books of mind, understanding of the mind, and taking down either spiritual or just the power that we have beyond what we understand is what interests me. So I like to read about that, because it allows me to create these characters in a way that they can grow within me. I'm not your typical actor that went to school, to college where that was my major. This is something that I feel like I just know how to do so it keeps me sane. I don't understand myself sometimes. I like to read books like that—it's therapeutic.
What TV shows are keeping you up at night?
I had a moment of Sons of Anarchy. I know it's old, but, like, girl. I was stuck on that Charles Hunnam, honey. Love that. The Crown, I watched. American Horror Story. I'm a Ryan Murphy fan. I did O.J.; I can't wait to see Feud. I'm looking at 13 Reasons Why. Right now, since I'm working, I haven't been watching a lot of TV. I haven't had the chance. I don't know what else is coming up.B
The new Twin Peaks, Handmaid's Tale—and then there's your show.
My show! Oh, I have to watch Handmaid's Tale. Yes.
What's the last movie you saw in theaters?
Split.
Did you like it?
I loved it. I will tell you why: James McAvoy. Oh, my god. As an actor, I would love to do things like that. Or that actress who got to do eight different people, she played eight different clones [Tatiana Maslany in Orphan Black]. It's so great. I'm pretty hot on that. You go.
What was the last piece of art you bought, or ogled?
I wouldn't say it's art, but I bought a compilation of everything Robin Williams. Actually, the last art that I did admire was in Cuba when I went a couple months ago. It was from a local artist, it was just a landscape off a photo, but I thought he was super talented.
What was the last thing you saw at the theater?
Chicago.
What was the last museum exhibition you loved?
The last museum I went to was the American Museum of Natural History. It was dinosaurs or something—I don't remember. That's my favorite museum, because of the whale room and the butterflies. The last exhibit I thought was exciting was Jungle Island when I was in Miami. I went there and I got to play with lemurs; I got to see the crocodiles. I got to play with sloths.
Are they friendly?
Very. They're lazy. As long as they don't feel like you're getting their babies, they're like, Okay, do whatever you want. I fed the oldest turtle in the United States—I think. A hundred and something years old. They bite hard. I did not know turtles bite hard.
Did they bite you?
Girl. They bit the cucumber!
Are there any records or books or movies you're particularly anticipating right now?
Let me see. I'm going to get into reading more books that are based on Latinas or books that I could see myself playing so I could option and create my own work.
Amazing. Is there anything that hasn't come out yet that you're looking forward to?
Avatar, the second—or is it the third? Guardians of the Galaxy, all that stuff.
What is the last song that you had on repeat?
It's a Spanish song called "Escápate Conmigo," by Wisin and Ozuna.
What is the last concert you saw live?
I saw Nas—it was at Philipp Plein.
How do you get your news?
Kanessa [my publicist] texts me it.
Do you read your horoscope?
Yes, I do. I'm a Sagittarius. When I looked up the personality type, which Kanessa did send me for my sign, it was spot-on, seriously. I'm free-spirited, very generous, I over-give sometimes. It just was right on.
See a seven-year-old interview Katy Perry: