Philipp Plein, Designer and Professional Mischief-Maker, Is Still Really Into Prison Break
Fresh from a collaboration with the graffiti artist Alec Monopoly, the German designer shares his culture diet.
---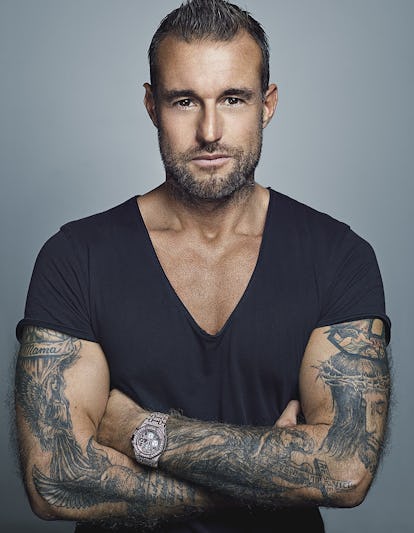 Steven Klein
The German designer Philipp Plein is no stranger to spectacle: Among his recent runway shenanigans are tapping Paris Hilton to star in his controversially titled spring 2017 carnival extravaganza, Alice in Ghettoland, and taking his bow at men's week in Milan by racing down the runway on a motorcycle. So it came as something as a surprise that, to debut his resort 2018 collection, Plein decided to simply stay at home, instead inviting the Cannes crowd to his nearby villa. Not that it was at all a staid affair: Hilton and a barefoot Winnie Harlow were just some of the models prowling the premises, known as La Jungle du Roi, with Harlow even falling victim to the spray can of Alec Monopoly, the L.A. graffiti artist Alec Monopoly whom Plein collaborated with this season, while making her rounds on the pool-surrounded runway. See what else Plein has been getting up to lately with his culture diet, here.
First thing you read in the morning:
CNN.com.
Books on your bedside table right now:
Sun Tzu's The Art of War.
The TV show keeping you up at night:
Prison Break.
Last movie you saw in theaters:
Last thing you saw at the theater:
Sleep No More.
Last piece of art you bought, or ogled:
One of Alec's sculptures that he recently presented at the Cannes show.
Last museum exhibition that you loved:
Release you're most eagerly anticipating:
The next season of Prison Break.
Last clothing item you purchased:
Vintage sneakers.
Last song you had on repeat:
"Big Boo" by Kill Jill with Killer Mike and Jeezy.
Last concert you saw live:
Kylie Minogue in Monte Carlo.
Favorite social media accounts to follow:
Last thing you do before you go to bed:
Kiss my girlfriend good night.
Philipp Plein's After Party and Dinner Included Paris Hilton and Table Top Dancing
Paris Hilton took selfies with anyone who asked at the dinner following Philipp Plein's New York Fashion Week debut.

Photo by Zak Kravitt
A hula hoop dancer performed in the middle of the table while guests ate at the dinner following Philipp Plein's fashion show at the New York Public Library.

Photo by Zak Kravitt
Kylie Jenner stopped by to sit in the front row at Philipp Plein's New York Fashion Week debut, but she skipped out on the afterparties.

Photo by Zak Kravitt
Cardi B wears one of the masquerade masks passed out at dinner following Philipp Plein's first New York Fashion Week show.

Photo by Zak Kravitt
A masked guest carefully examines a bread roll at the intimate dinner following the Philipp Plein show at the New York Public Library.

Photo by Zak Kravitt
A guest attends the Philip Plein Dinner and After Party during New York Fashion Week at the New York Public Library.

Photo by Zak Kravitt
Sebastian Faena and Paris Hilton, both scions of hotelier families, sat side by side at the Philipp Plein dinner at NYFW.

Photo by Zak Kravitt
Even the table clothes bore Philipp Plein's logo at the dinner following his New York Fashion Week debut on Monday night.

Photo by Zak Kravitt
Fat Joe kept to his trademark sweatsuit style, here in a gun metal grey, for Philipp Plein's New York Fashion Week dinner.

Photo by Zak Kravitt
Showgirls mixed among masked demons at the anything-goes dinner Philipp Plein threw during New York Fashion Week at the New York Public Library.

Photo by Zak Kravitt
Paris Hilton carefully placed her phone ontop of her other phone before the main course is served at Philipp Plein's New York Fashion Week dinner.

Photo by Zak Kravitt
Nicky Hilton Rothschild chats with Sebastian Faena, who walked in the show, over the first course at Philipp Plein's dinner.

Photo by Zak Kravitt
A guest in thigh high boots sits down during the Philipp Plein New York Fashion Week dinner at the New York Public Library.

Photo by Zak Kravitt
Paris Hilton takes a bite from her salad at Philipp Plein's VIP dinner following his debut show during New York Fashion Week.

Photo by Zak Kravitt
Paris Hilton stands in front of "Plein for President" signs at Philipp Plein's very patriotic afterparty at New York Fashion Week.

Photo by Zak Kravitt
A man in a casual demon mask has casual small talk at Philipp Plein's dinner during New York Fashion Week.

Photo by Zak Kravitt
Jeremy Meeks, also known as "The Hote Felon," opened the Philipp Plein show and enjoyed the glamor at the afterparty.

Photo by Zak Kravitt
This hula hoop artist went known stop with her tabletop performance during Philipp Plein's dinner at New York Fashion Week.

Photo by Zak Kravitt
Blogger Brian "Brianboy" Yamba was one of the more notable attendants from the fashion world who stuck around for the dinner following the Philipp Plein show.

Photo by Zak Kravitt
The man himself, Philipp Plein, holds court at the dinner following his first fashion show during New York Fashion Week.

Photo by Zak Kravitt
A guest poses in front of the chainlink fence that was installed in the New York Public Library at Philip Plein Dinner and After Party.

Photo by Zak Kravitt
Philipp Plein stands up on the table and grips a pole to address revelers at his New York Fashion Week dinner.

Photo by Zak Kravitt
A leather jacket-clad guest attends the Philipp Plein dinner during New York Fashion Week held at the New York Public Library.

Photo by Zak Kravitt
Rapper Young Paris, wearing a hat that read "Madonna Complex," attends the Philipp Plein dinner at New York Fashion Week.

Photo by Zak Kravitt
Fat Joe sits down to the table at the busy dinner Philipp Plein held following his runway show during New York Fashion Week.

Photo by Zak Kravitt
A cocktail and a mask left unattended on the table at the Philipp Plein dinner during New York Fashion Week.

Photo by Zak Kravitt
Paris Hilton and Sofia Richie, little sister of her once best friend Nicole, pose side-by-side at the Philipp Plein dinner.

Photo by Zak Kravitt
A guest takes off her mask for a second during the Philipp Plein dinner held on the second floor of the New York Public Library.

Photo by Zak Kravitt
A guest, clad in one of the designer's leather jackets, attends the Philipp Plein party during New York Fashion Week.

Photo by Zak Kravitt
It was a fashion party, so some of the food was left untouched at the Philipp Plein dinner during New York Fashion Week.

Photo by Zak Kravitt
See Paris Hilton Break Down Her 13 Favorite 2000s Trends, and Why They're Still Hot: