Tommy Dorfman on the 13 Reasons Why Phenomenon and Getting A Tattoo with Selena Gomez
The 24-year-old actor opens up about his hit Netflix show, meeting Selena Gomez, and the possibility of a second season.
Photographs by Mitchell Nguyen McCormack
---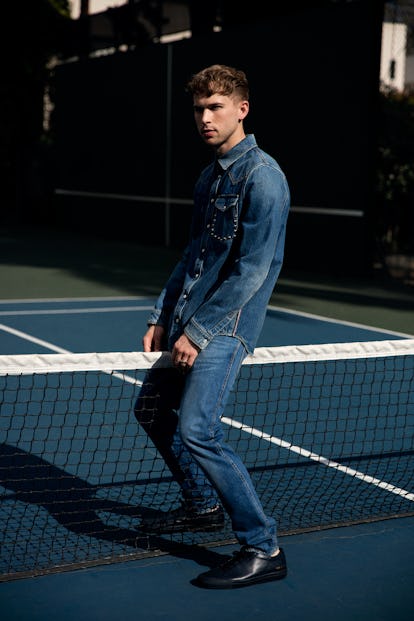 *Photo by Mitchell Nguyen McCormack, Styled by Suzi Rezler. Visual Editor: Biel Parklee. Grooming by Gina Kleinschmidt at The Only Agency. Post Production Duo Vision Studio.
It's hard to spend more than five minutes on the Internet lately without stumbling across something about 13 Reasons Why. There are countless think pieces, take-downs, fan pages, and, yes, memes, all dedicated to the hit Netflix series, produced by Selena Gomez and based on a young adult novel by the same name. The show, which centers around the topic of teenage suicide, has quickly become the year's most Tweeted about show since its debut in March, welcoming a new hit for Netflix, a new resume builder for Gomez, and a new star for the Instagram generation: Tommy Dorfman.
On the show, Dorfman plays Ryan Shaver, a classmate of main character Hannah Baker who is named as one of the thirteen reasons why she choses to end her life. In real life, Dorfman is a 24-year-old from Atlanta, Georgia who had just a few small acting credits to his name before he landed the role on the show. Here, the actor talks about his newfound fame, why the show resonates with fans, and how he ended up getting matching tattoos with Gomez.
Let's start from the beginning. How did you first get started in acting?
I grew up in Atlanta as the youngest of five. A couple of my siblings were doing artistic things for awhile. I always wanted to be a music video dancer. I was like obsessed with TLC, Destiny's Child, and 3LW. My sister, who was a musical theater geek, threw me into ballet classes, and that's how I started. I fell in love with story-telling and performance, and went to college for acting. Then a year later, I booked this show.
What was the casting process like for the show?
I guess traditional? It was my first job basically, so I had an initial audition and then I got brought in for Ryan, because I think everyone went in for Clay or Hannah [the leads] originally, and then were sort of brought back in for other things. I had five auditions over the span of three months. They were very thorough. I think it was a big risk because so many of us [actors] are so new.
Had you read the book beforehand?
I read the book when I was auditioning, but I have a lot of little cousins who are obsessed, so I knew of the book. Around my second callback, I was like, 'I need to read this.' And then I got my hands on the pilot and I remember reading it and being like, 'Holy s—, this is not a YA show.' I mean, in so many ways it is, but there's something really special about it. It had high schoolers doing things that high schoolers do. I never had a show like that growing up. For me, The O.C. and Gossip Girl were still these weird fantasy lands that I would never live in. I think the beautiful thing about our show, and what translated through the script when I read it, was I felt like everyone could relate. The town was just vague enough that you could put yourself there. And I think that's why the show has been so successful.
What about your character, Ryan, resonated with you?
He's so outspoken, and I was not that way. I definitely would have been considered an extrovert in high school, but I wasn't outspoken and academic in the way that Ryan is. For me, it was a way to relive high school from a different perspective. I was an outcast in the way the Ryan is, but I didn't have a whole lot of opinions of everything else that was going on. This was also the opportunity to play a gay kid in high school and not have it be about being gay. So many shows and movies that are being made today are all about coming out, which is an important story to tell and has been told, so to have the opportunity to play a character that is just comfortable with himself and advocates for gay people and doesn't have the sort of drama…and I think Tony's character [Christian Navarro] is like this too. He's not self-conscious about it, it's just part of his existence. We owe that to Bryan [Yorkey, who developed the story for Netflix] and the rest of the writers.
What was filming like, since so many of you are new actors around the same age?
The best way to describe it is like summer camp. There was nothing else to do but hang out. Everyone became friends in about week, and have remained friends ever since. It's a lot of people going through the same thing at the same time. I came in after they had all been shooting for a month, so I very much came in as the new kid in school. Everyone had their relationships developed, and I just kind of snaked my way in. Everyone on the show is so humble and sweet and kind and generous.
At what point did you meet Selena?
I met her towards the end. She was always sort of like a presence, and she was on set for the last couple weeks of shooting. Her passion inspired all of us, especially at the end. People don't realize that she's a human being, so it really didn't change the dynamic on set or anything. She's super inspiring and has a lot of experience to share and was very gracious.
And now you have matching tattoos.
And now we have matching tattoos!
How did that come about?
It was kind of on a whim. I kind of knew that I wanted to get it and we ran into each other earlier in the week shopping. I was like, 'Hey, I'm going to do this thing on Sunday with Alicia [Boe, who plays Angela on the show],' and she was down. So we just picked her up and we went. We are the same age, and obviously with very different life experiences, but you kind of go through the same thing at certain ages. And that's the same with everyone in the cast; we could just relate with each other.
Were you surprised at the tremendous response the show has received?
I don't have the words. I mean, it's obviously very meaningful because of the story we are telling, but I don't think any of us knew what we were getting into. That it was going to become this…
Phenomenon.
Yes, that was the word I was going to use, but was like, 'Can I say that?' Yeah, I think it has become this phenomenon. The show came out at 12 a.m. on a Friday and we were all together hanging out, and when I woke up the next day, I was just like, 'Holy s—.' I don't think anyone was prepared. I don't think you can be prepared for that.
What projects are you working on next?
Well, hopefully we'll have a season two… I think we'd all be grateful to come back for another season, and there's a lot more story to tell beyond the book. And I have another project in development that I can't talk about. I'm also trying to just live life. I know that sounds silly but its been a really cool change.
Watch W's most popular videos, here:
2016 Was the Year Selena Gomez Finally Embraced High Fashion
January 10th: At the start of the year, Gomez made an entrance at the 2016 InStyle And Warner Bros. 73rd Annual Golden Globe Awards Post-Party in a romantic pleated J. Mendel gown.

Photo by Getty Images.
January 12th: Two days later, she ups her sartorial game in a laser cut red leather dress at the 6th Biennial UNICEF Ball in Beverly Hills.

Photo by Getty Images.
February 15th: Selena Gomez stuns in a plunging blue sequined Calvin Klein gown at the Grammy Awards.

Photo by Getty Images.
February 28th: Continuing the metallic look, Gomez wears another shimmery gown at the Vanity Fair Oscar Party.

Photo by Getty Images.
March 8th: From Paris Fashion Week came some of Gomez's best looks of the year, including this all-black outfit, with the exception of a denim mini skirt.

Photo by Getty Images.
March 10th: Selena Gomez steps out in a leather and fur jacket layered over an embellished black dress leaving a radio station in Paris.

Photo by Getty Images.
March 10th: Earlier that same day, she wore an entirely different look consisting of an off-the-shoulder blouse paired with matching black trousers and statement round sunglasses.

Photo by Getty Images.
March 11th: Gomez nails a fashion-forward approach in an asymmetrical Marni skirt and Celine slingbacks leaving the BBC Radio studio in London.

Photo by Getty Images.
April 3rd: Selena Gomez arrives backstage at the iHeart Radio Music Awards in casual boyfriend jeans, a white crop top, and nude pumps.

Photo by Getty Images.
April 7th: Gomez makes a statement arriving at LAX in a black and orange bomber jacket and snakeskin patterned bag.

Photo by Getty Images.
May 2nd: In one of the most memorable outfits of the night, Gomez makes an impression in head-to-toe Louis Vuitton at the Met Gala.

Photo by Getty Images.
May 6th: Attending her 'Revival' Tour kickoff party, Gomez is the definition of sultry in a silk gown with a thigh high slit and feathery Manolo Blahnik heels.

Photo by Getty Images.
August 1st: Gomez touches down in Tokyo wearing bold sunglasses, a distressed denim jacket, and army-green sweatpants.

Photo by Getty Images.
November 20th: After a month-long hiatus to focus on her health, Gomez reemerges to accept her award at the AMA's in a princess-like Prada ball gown.

Photo by Getty Images.
November 28th: Selena Gomez is seen at LAX airport looking sophisticated in neutrals with beige leather pants and an oversized cream sweater.

Photo by Getty Images.