A Star is Born Trailer: The Lady Gaga Oscar Buzz Could Be Real
Oh, Bradley Cooper is pretty good too.
---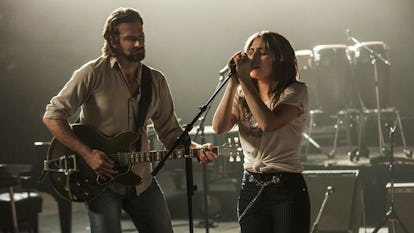 Warner Bros.
The buzz about A Star is Born and the performances of stars Lady Gaga and Bradley Cooper has been flinging around Hollywood, and thus the internet, for months now. So much so that Warner Brothers rescheduled the film's release for October, prime season to release a possible Oscar contender. This, of course, comes with the caveat that while people have "heard" it's great, no one can actually name anyone who's seen any of it. But select critics got a peek at the trailer back in April at CinemaCon, and it turned out from their reaction that all that buzz might be real. "First trailer for A Star Is Born gave me chills. Lady Gaga's Hollywood moment is far from over," Tweeted one critic. Another added that the film "is gonna shock y'all with how good it is."
Well, today the studio finally released the trailer (presumably the same one critics got a peek at) to the general public, and, well, yeah, from the two minutes and twenty-four seconds we get it certainly looks like it could be an Oscars player (or, at the very least, a Golden Globes musical/comedy categories player).
The trailer finds Cooper as an established country music star whose longtime friend Noodles (played by Dave Chappelle?!) seems a bit worried about him. Then he comes across a bar singer, played by Gaga, who is too afraid to perform the music she's written on her own and thinks she's too ugly for wider stardom. Cooper's character, of course, feels otherwise. Clearly, he sees a star and he's going to help birth it.
The film is the third Hollywood remake of the story since the 1937 original. Janet Gaynor, Judy Garland, and Barbra Streisand have all played he titular star before, and the first two were nominated in the Best Actress category at the Oscars for the role (Streisand was not, but did win the Best Original Song trophy that year as well as a Golden Globe for her acting). Interestingly, this version was only possible because a planned version starring Beyoncé with Clint Eastwood directing never came to fruition.
The film is Cooper's directorial debut, and he could earn his fifth and possibly even sixth Oscar nomination, as well.
In addition to Gaga and Cooper (and Chappelle), the film's cast features Sam Elliott as a road manager, comedian Andrew "Dice" Clay as Gaga's father, and Hamilton alum Anthony Ramos. Halsey also apparently has a cameo in the film as herself, while RuPaul's Drag Race alumni Willam Belli and Shangela also have parts (because, Oscar contender or not, Gaga does know her fan base).
The film premiers October 5.
Related: Lady Gaga's A Star Is Born Trailer Is Giving Critics Oscars Chills