Lady Gaga's A Star Is Born Trailer Is Giving Critics Oscars Chills
The film's first trailer (which you can't see yet) debuted at CinemaCon to rave reviews from critics touting Lady Gaga's performance as "powerful."
---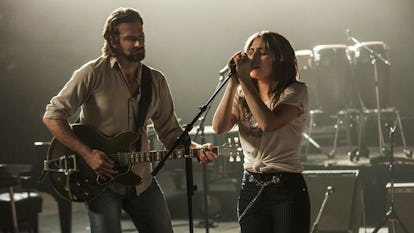 Warner Bros.
CinemaCon premiered the first trailer for Bradley Cooper's directorial debut, a remake of A Star Is Born, in Las Vegas, and critics are raving about the sneak peek and touting Lady Gaga's performance in the film as "powerful."
A Star Is Born's first trailer (which, unfortunately, hasn't been released to the public yet) is, according to some critics, so good it will "shock" you with how passionate the story is. Cooper called Lady Gaga "a revelation" in her role as Ally, and even some of the skeptics admitted that hearing her voice in the trailer gave them chills. Although Warner Bros. pushed the release date of the film from May to October, the critical reception of the first look indicated that A Star Is Born could be an awards contender—just like the three prior versions of the film, all of which received Academy Awards nominations, in 1938, 1955, and 1977. Its stars could have some future nominations on their hands as well, for Oscars and Grammys alike.
Before filming A Star Is Born, Lady Gaga reportedly struck a deal with Cooper: If she were to take on the role of Ally, an unknown talent who falls for Cooper's character, Jack, an aging country star who helps catapult her career, Cooper would have to sing live. This film does not give you the same Gaga you've seen before, in her outlandish and provocative costumes onstage or in Ryan Murphy's American Horror Story: Hotel, for which she won a Golden Globe. Billed as Lady Gaga (not Stefani Germanotta, as previous publicity materials for A Star Is Born stated), she gives a stripped-down performance as a club singer who eventually skyrockets to fame and notoriety. The singer told Cooper, "What I cannot stand in movies is when it's playback and you can see they're lip-synching. We're going to sing live. You're going to become a musician, and you're going to make me as comfortable as you can onscreen." Though Cooper was fearful of getting on stage to sing live for the camera, the two performed scenes of the film in front of audiences at actual music festivals like Coachella and Glastonbury.
"It wrapped itself around me," Cooper said of the film as he presented the first look onstage at CinemaCon. "I've always wanted to tell a love story, and this project was around before and it always stayed with me. And to me, music is the most purest way that you can communicate love, because you have to be relaxed," he told the crowd.
Related: Lady Gaga's Style Evolution, From a Meat Dress to Custom Versace