Lady Gaga Says She Will Not Be Billed as Her Real Name, Stefani Germanotta, for A Star Is Born
Despite rumors that she's reverting back to her birth name Stefani Germanotta.
---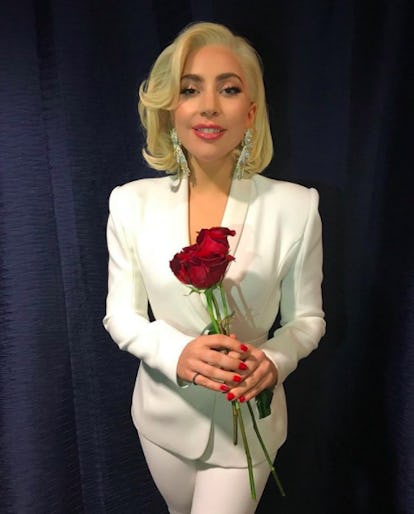 instagram.com/ladygaga
Lady Gaga has put to rest rumors that she'll be dropping her stage name for her next project. "I've seen a lot of rumors on the internet that for A Star Is Born I'll be billed as Stefani, but that's not the case," she tweeted today, "It's Lady Gaga, baby! ?"
The confusion over her name began after actor Bradley Cooper, who is directing and co-staring in the upcoming reboot of A Star Is Born, did an interview about his directorial debut with Entertainment Weekly. In the intro, the publication reported that Gaga is going by her birth name Stefani Germanotta in the credits. To bolster that thought, Cooper refers to Gaga as Stefani throughout the conversation. "I wrote the music, Stefani wrote a lot of the music," he says. "There's no singing in playback, which was terrifying, but it's key to the movie! It makes all the difference. Stefani was adamant about that: she said, 'We have to record everything live,' and I'm so glad she did." In another part where he describes the music, he mentions "a song [Stefani] had written with Mark Ronson called 'The Shallow.'"
Cooper did, however, use Gaga's stage name when talking about how only an actress with as much star power as someone like Gaga could handle the part. "There's always been a meta element to the tradition of A Star Is Born, in that it has to be somebody like Judy Garland, Barbra Streisand, or Lady Gaga playing the role," he said. "In that sense, you'll be blown away by what Stefani's created."
While the film isn't out until May 18, Lady Gaga will still be making plenty of appearances in the meantime with that name. Currently, she's in the middle of her world tour behind her recent album Joanne, which debuted at number one on the Billboard album chart — the one that Gaga purchased a physical copy of at a Walmart with her film crew for her recent Netflix documentary about her life and her struggle with chronic pain stemming from fibromyalgia. These days, however, Gaga is much celebrating to do, between her feature-length starring debut and her reported recent engagement to CAA talent agent Christian Carino.