Lady Gaga Gets a Tattoo, Buys Her CD at Walmart, and Hangs Out with Florence Welch in First Gaga: Five Foot Two Trailer
The first trailer for "Gaga: Five Foot Two," Lady Gaga's upcoming Netflix documentary, shows the pop star prepping for her Super Bowl halftime show and more.
---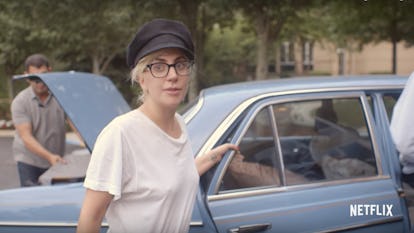 Netflix/Youtube
In just a few short weeks, little monsters and Pinot Grigio girls wondering how Stefani Joanne Angelina Germanotta — alias Lady Gaga — spends her day will wonder no more. The first trailer for Gaga's upcoming Netflix documentary has finally made its debut, and if the minute-long teaser is any indication, the full doc will give viewers an extremely intimate look into the pop star's whirlwind life.
The action-packed promo for Gaga: Five Foot Two starts with a jarring series of scenes in which Lady Gaga walks from a quiet hallway to the center of a pack of screaming fans, then back to a silent car, checking the box right away on the "public vs. private persona" juxtaposition required in every artist-focused documentary. Much of the rest of the clip revolves around her latest album, Joanne: She hangs out with Florence + the Machine's Florence Welch — with whom she recorded "Hey Girl," a song off the album — gets a tattoo in honor of the album, and causes a scene when she brings her film crew inside a Walmart to buy a physical copy of Joanne.
There are also plenty of scenes from before and during this year's Super Bowl Halftime Show, which Gaga headlined. She's shown running around a dressing room in a pink football helmet and performing her now-iconic jump off the Super Bowl stage. But don't worry: Lady Gaga also enjoys her fair share of downtime, in which she makes phone calls where she declares that she's "gonna fight like f—ing hell for them to f—ing love this," and suggests that she and her friends "get stoned in Grandma's car." You know, just normal pop star things.
The 31-year-old previously spoke to Entertainment Weekly about the premise of the doc, which was produced by Heather Parry of Live Nation Productions. "[You will see] a woman who's an artist, creates all day, thinks all day, and also has the experiences [as] both an artist and a celebrity. Those two things collide for me, and you'll see how they're conflicted," she said. "I am 100 percent at my lowest common denominator. Nobody [is] explaining what I am or putting a label on me as a female artist in this film. That's what this documentary is about."
Gaga: Five Foot Two premieres on Netflix on September 22.
Related: A Comprehensive Timeline of Gigi Hadid and Lady Gaga's Love for Each Other
Lady Gaga's Style Evolution, From a Meat Dress to Custom Versace
A brunette Gaga performing at Lollapalooza, in a homemade disco bra.That DIY aesthetic was only a small taste of what was to come.

Getty Images
One of the earliest incarnations of the Lady Gaga persona: snood, sunglasses, David Bowie makeup, and platinum blonde hair.

Getty Images
Lady Gaga and her "hair bow" debut on Good Day New York in 2008. Most of her costumes at this time where largely handmade.

Getty Images
Lady Gaga at a Fashion Week event in 2008, complete with towering shoulder pads and signature snood.

Getty Images
Gaga at a concert event in Germany, wearing one of her crystal stalagmite encrusted dresses.

Getty Images
Sporting rainbow colored locks, leopard briefs, and thigh-high boots at a Tokyo airport.

Getty Images
Gaga on the VMAs red carpet, wearing the first of one of many VMA looks that will go down in fashion history.

Getty Images
Meeting the Queen of England in Edwardian-themed red latex gown and crystal encrusted eye makeup.

Getty Images
At the 52nd Grammy Awards wearing custom Armani Prive and a matching, hand-held sculpture.

Getty Images
Leaving her concert at the O2 Arena in Germany at the height of "Bad Romance" fever.

Getty Images
Wearing her infamous meat dress at the MTV Video Music Awards.

Frederick M. Brown/Getty Images
At the VMAs in an Alexander McQueen look, wearing the infamous Armadillo platform heels.

Getty Images
Leaving dinner in Paris dedecked in diamonds and blush pink silk.

Getty Images
Accepting the Grammy award for best pop vocal album wearing archive Mugler at the beginning of her "Born This Way" era.

Getty Images
A chic, fully monochromatic look ("teal blonde" hair included) at Narita Airport in Tokyo.

Getty Images
At the CFDA awards sporting a teal bob. She won the Fashion Icon Award that evening.

Getty Images
A radiant brunette Lady Gaga at Harrods for the launch of her fragrance, Fame.

Getty Images
Lady Gaga wearing archive Versace with the designer in Milan.

Getty Images
Fairytale princess Gaga in an Alexander McQueen gown.

Getty Images
Channeling a rave-disco incarnation of Botticelli's Venus at the VMAs.

Getty Images
Lady "Godiva" Gaga arriving on the American Music Awards red carpet atop a mechanical horse and wearing Atelier Versace.

Getty Images
At an event in Japan in promotion of her album Artpop.

Getty Images
A street style moment in London complete with "Botticelli babe" waves and prismatic eyeglasses.

Getty Images
Sporting ultra long white-blond locks and a pink fur coat leaving her apartment in New York.

Getty Images
Wearing a lavender Atelier Versace gown at the 86th Annual Academy Awards.

Getty Images
Wearing a star-spangled, custom white Valentino gown with diamante eyebrows to match at the Kennedy Center Honors.

Getty Images
Entering the era of polished, elegant, and jazz Gaga for her collaboration album with Tony Bennett.

Getty Images
Wearing a custom, glittering Azzedine Alaia gown to the 87th Annual Academy Awards.

Getty Images
Lady Gaga at the Songwriter's Hall of Fame induction, channeling John Lennon by way of Alexander Wang.

Getty Images
Full Bowie-glam in a custom Marc Jacobs look for the 58th Grammy Awards, where Gaga performed a tribute to the late performer.

Getty Images
See What's Tending in W Video: