Jewelry designer to know: Abakus's Marsha Chun-Matsubara
We always look forward to appointments with Abakus jewelry designer Marsha Chun-Matsubara. Not just because we love seeing her extraordinary assemblages of exotic and found materials (you may recall seeing Abakus's cuffs in our recent...
---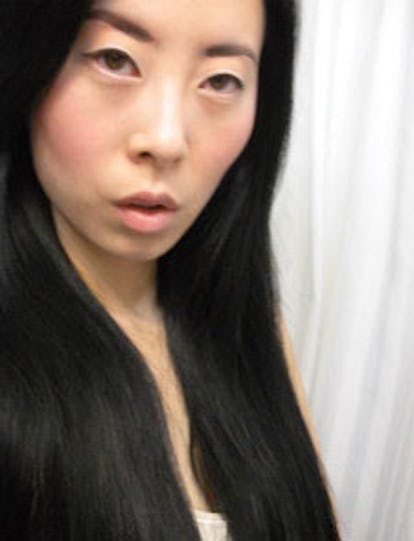 What's the craziest item you've made? Ha-ha! I have a few, but my "Zipper Sushi Brain" bib necklace [below] would have to be the craziest since it was hand sewn through multi layers of coiled zipper while stabilizing the steel zipper teeth. My fingers were raw and bloody for three weeks.
Who are your clients? My private clients are mostly from the Upper East Side, Boca Raton and Palm Beach. My uptown clients are not typical UESers—they're very edgy and know how to tear up Park Avenue. I also consider Patricia Field and her team my clients since they've used my jewelry in Ugly Betty and the movie Confessions of a Shopaholic. They actually just borrowed some for the Sex and the City sequel. I also sent my work to Eric Damon for Gossip Girl, so we shall see…I love Chuck and Blair!
From left: 18K gold plate and python cuff, $550; pearl and python cuff, $685.
Tell us about the new collection you're doing, it's a more commercial one, right? Designing object d'art pieces is great, but they do take a certain level of confidence to wear. I wore my "Rice Blast" necklace out and no one talked to me, everyone talked to my necklace! My new collection is called "The Dark Side of Pale"—it's visually powerful but more conservative. You can wear it to a museum or the grocery store.
How did you get started? My parents say that when I was four, I wore a small, heavy bike chain around my neck. Later, when I really wanted my ears pierced I stuck Chiquita Banana stickers on my earlobes. When I was about seven, my mother was teaching me how to use an abacus. I was so frustrated that I threw it and all the beads scattered. From then on, I used the wooden beads to make necklaces. That's where I got the name for my line.
You've actually had a lot of jobs in finance, right? It's been an eclectic odyssey. I studied fashion design at Parsons but after graduation, I ended up working in finance because it was somehow was easier to find a job. I spent years hopping back and forth from finance to fashion—I worked at a venture capital firm, then an investment bank, then Fendi, then HSBC, later Comme des Garcons. I also worked at a French cosmetic packaging firm called Alcan. I got terminated for a conflict of interest because I asked the Hong Kong factory to produce my Abakus logo tag…oops! My director's last words were, "I'll probably see you on TV or something."
What does your family say? There comes a point when you realize that you cannot always please your parents and decide not to pursue law, etc. Believe it or not, they have no clue what caliber of work I'm doing right now. I don't want them to worry. I'll tell them around Thanksgiving when I visit Minnesota.
To order, go to abakuscollection.com and contact the designer directly.