ABC Turns to Luc Besson and Jean Dujardin to Make The Frenchest Crime Procedural Ever
This is what happens when you lose Shonda Rhimes.
---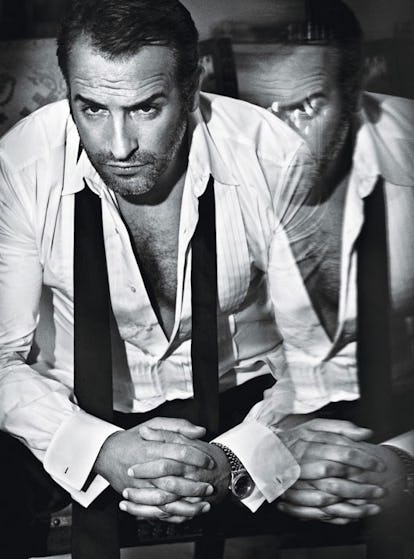 ABC is at a crossroads. Shonda Rhimes, the alphabet network's go-to super producer of dramas, recently signed a longterm deal with Netflix. Existing shows like Grey's Anatomy (and its potential future spin-offs) and How To Get Away With Murder will remain on the network, but the time is now for executives to start plotting out their post-Shondaland game plane.
So, who do they turn to? Well, apparently Luc Besson.
Yes, Luc Besson, the stylish French aueteur behind films like The Fifth Element, Lucy, and, most recently, the curious Valerian. The network has reached a put-pilot order for a series called The French Detective. Jean Dujardin, who, as you may recall, won the Academy Award for Best Actor in 2011 for The Artist, is on board to star. The series will be based on James Patterson's Luc Moncrief series of mini-novels about, well, a French detective who joins the New York Police Department only to find that everyone around him starts dying.
This is where we should stop to tell you that this is something that is actually being reported in Variety, and not something concocted by a weird game of mad libs.
While it seems like a lazy assumption to make that people who love French cinema and people who enjoy broadcast network police procedurals are two circles of a Venn Diagram that never actually intersects, it does sound like an odd idea. Somehow this might be crazy enough to work.
While Dujardin may be best known to Americans for that silent film that took the awards season by storm six years ago, he's done plenty of work in thrillers, comedies and spy films in his native country. Besson may likewise be pegged on these shores for the world's foremost purveyor of particularly artsy sci-fi films, but he's also the creator and producer of the super popular (in Europe, at least) Taxi series, which was sort of like France's version of The Fast and the Furious. He's also a producer of NBC's Taken, based on the Liam Neeson film he also directed. So they both have the crowd pleasing genre-work in their blood.
Besides, it's about time for the networks to take more chances with their drama procedurals. While the rest of television zooms ahead in quality and bringing award winning actors and visionary film makers with it, the network procedurals are content with doing things like, say, sticking Jeremy Piven in a room and making him solve crimes with some app.
It could very well prove to be a smart play, and yet if you told us a day a go that Luc Besson would be one of the first people ABC turns to for its post-Rhimes programming we likely would not have believed you.
Jean Dujardin Takes W's Screen Test: