How to Pitch Shonda Rhimes a Netflix Show
Six elevator pitches for Shonda to stream with.
---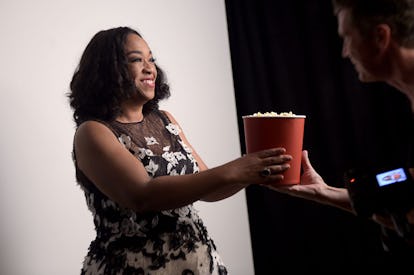 Jason Kempin
Sunday night, as Americans came together for the one thing that unites us—the weekly installment of the dragon incest TV show—the news that Shonda Rhimes had signed a multi-year deal to develop programming for Netflix began to reverberate through the twin corridors of people who stand to make money from massive television production deals and people for whom Grey's Anatomy represents their most enduring emotional relationship.
Shondaland's signature innovations—translating the daytime soap sensibility into the glossy language of primetime drama, simmering plot strains at length into an addictive melodrama marinade—made her shows bingeable a decade before the word. It was inevitable that Netflix would want Rhimes to produce the sort of cult-primed TV that is their brand, and that Rhimes would be attracted to a (slightly) more liberated narrative form.
But how will Rhimes's appointment-viewing, live-tweet-bait fare transpose to the streaming world? Considering the untold riches of her deal, she will need to produce the goods. Here, we pitch her some ideas on how to marry what she does best with the best that Netflix has to offer. Call us, Shonda.
The Pitch: Master of Television
Aziz Ansari's hit genre-agnostic series gets Shondalanded! Dev is now Deva, a strong-willed, single woman living and building her career in New York, where she's already the head of a major television production company that just ended its 12-year network run and inked what must be believed as a wildly lucrative deal with the industry's leading streaming service. Master of Television is about that totally universal experience of enduring professional tribulations and romantic foibles and always coming out on top.
The Pitch: Shonda Rhimes Presents: The Crown
This historical drama revolves around the political intrigue, rivalries, and romance of Queen Elizabeth II's reign and the events that shaped the second half of the 20th century. Katherine Heigl returns as a young Elizabeth who must manage the issues of state and country while also negotiating matters of her love life. Season highlights: Winston Churchill (Patrick Dempsey) is elected prime minister for the second time; King George's disgraced brother (Eric Dane) arrives, shaking up Buckingham Palace; as the Soviets test the H-bomb, Churchill and Phillip brood handsomely but ineffectually, of course, so it's up to the Queen to pick up the pieces. Except the Queen is written off by mid-season.
The Pitch: House of Cards
This one's easy. Think The West Wing plus Scandal minus The West Wing.
The Pitch: Shonda's Table
Find out what's inside the kitchens and minds of the international culinary stars who are redefining food and softly lit interpersonal workplace dramas. Each episode serves up an intimate visit with one of the world's most innovative and equally attractive chefs, right in their own restaurants. Sometimes it's almost like they are all attractive in the same ways, like their faces are the same? It's unsettling but also kind of impressive? Plus, lots of furtive sex during work hours.
The Pitch: Shonda-er Things
Netflix's surprise smash sci-fi homage is back, but with the Shonda touch. Now that all the child actors have become comfortable with the spotlight, they've been gradually written out of the show in increasingly implausible plot developments and replaced with unrepentantly ambitious, thirty and forty-something characters charged with palpable sexual tension.
The Pitch: Shonda Rhimes's The Defenders
The Shonda Rhimes Cinematic Universe finally converges in this late-summer adaptation of the popular Shonda Rhimes comic books, which Shonda Rhimes wrote and illustrated. After separate but concurrent introductory series, our ragtag heroes—a chief of general surgery, a D.C. fixer, a professor of defense law—must come together to have interpersonal workplace drama and barely contained sexual tension in order to save the city. The stakes have never been higher, as a world still free of malpractice suits hangs in the balance.
Watch Kerry Washington's W screen test: