Shonda Rhimes Declares ABC Handled, Moves to Netflix
The Grey's Anatomy and How to Get Away With Murder creator is streaming now.
---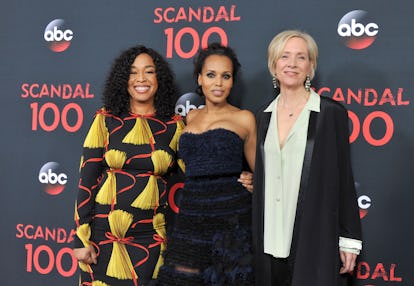 Gregg DeGuire/Getty Images
In the name of taking more risks, Netflix's founder Reed Hastings said in May he thought the streaming service should have fewer hits, more misses. "I'm always pushing the content team: 'We have to take more risk, you have to try more crazy things. Because we should have a higher cancel rate overall,'" he said, according to Vanity Fair, offering up the platonic ideal of the humblebrag. "We've cancelled very few shows," he added. (This season, Netflix has declined to renew Gypsy and Girlboss, while both 13 Reasons Why and GLOW have been picked up for new seasons.)
And while Netflix's latest recruit might not be particularly known for missing the target when it comes to new shows, she's certainly known for "taking risks" and "trying crazy things." (Just ask Olivia Pope or Annalise Keating.)
On Monday morning, Shonda Rhimes announced she would be taking her talents to Netflix, inking a four-year contract with the streaming service and giving Netflix even more reason to humblebrag; chief content officer Ted Sarandos called Rhimes a "true Netflix-er" (whatever that means—does she also forget to return her red envelopes?).
Rhimes, for her part, said she was enticed by the "opportunity to build a vibrant new storytelling home for writers with the unique creative freedom and instantaneous global reach," according to the New York Times. She will also bring executive producer Betsy Beers along for the ride.
With the move, Rhimes bows out of a 15-year relationship with ABC, where she still has a full slate of Thursday night programming—including Scandal, now entering its final season, How to Get Away With Murder, and the interminable Grey's Anatomy, now entering its 14th season with no signs of slowing yet. At ABC has also been developing yet another Grey's Anatomy spinoff and a new legal drama For the People, slated to air this fall. (Earlier this year, Rhimes did confront a rare cancellation: The Catch was axed earlier this year after just two seasons.)
In its bid for bigger and bolder and more cancellations, Netflix has recruited marquee talent both behind and in front of the camera. Though Gypsy failed to get pick-up, it starred Naomi Watts; Ozark, whose fate is still uncertain, features Jason Bateman and Laura Linney; Baz Luhrmann and Lana Wachowski both developed series for the streaming service; and, just before the deal with Rhimes was announced, the Coen brothers revealed their newest project, The Ballad of Buster Scruggs, which they would write, direct, and produce at Netflix.
"We are streaming motherf—ers!" the duo wrote in a press release.
Though ABC and Rhimes have publicly declared no hard feelings, it comes as a blow to the network, where Rhimes's TGIT has been a runaway hit. (Did it sound like we were complaining that Grey's Anatomy is still running? We weren't.) TGIT will proceed unhindered at ABC, albeit without Rhimes's unique oversight. At Netflix, Rhimes has a bit more freedom to experiment with episode and series lengths without the pressures of network television. An anthology? No problem. A limited series in which each episode is precisely five minutes longer than the previous? Consider it handled.
Viola Davis opens up in an exclusive screen test: