Drew Barrymore and Jill Kargman's Sister Act
The two reflected on mutual successes at ACRIA's 20th anniversary holiday dinner.
---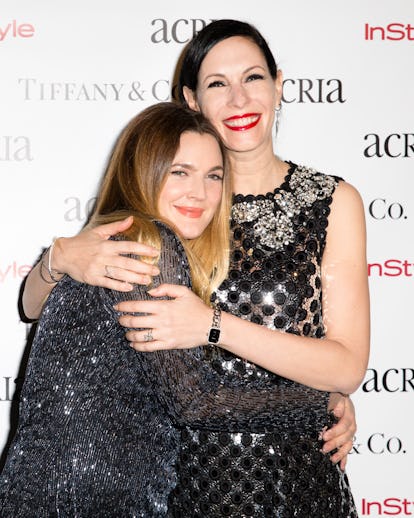 In the middle of the iconic Cunard Building in Lower Manhattan on Thursday night – in between bold face names, couture gowns, and contemporary art up for auction -Drew Barrymore and the writer Jill Kargman were mid conversation.
"We go where it's cold—it's a long family tradition," said Barrymore of their holiday plans. "Everyone's skiing, but I'm not. We're doing Zumba while everyone else is skiing."
"We're off-beat traditional," chimed in Kargman.
It turns out the actress and writer are in-laws—Barrymore is married to Kargman's art consultant brother, Will Kopelman – and they spend the holidays together.
The two of them were at the annual holiday dinner hosted by ACRIA, where Barrymore was the recipient of the inaugural Elizabeth Taylor Award for her activism on behalf of AIDS-related causes. It's been a busy year for Barrymore – which included a new movie, Miss You Already – but she was enjoying a moment of role reversal with her in-law. In October, she published her memoir Wildflower, while Kargman adapted her hit book Momzillas into a sitcom starring herself for Bravo, which premiered this summer and will return for a second season.
"Well, and I say this with my sister-in-law here, writing a book," Barrymore said modestly. "I always wanted to and I finally did. And now Jill's acting and I'm writing so it's perfect!"
But Kargman wasn't satisfied with Barrymore's modesty. "Her book was a New York Times best seller!" she added. And Barrymore wasn't finished gushing herself.
"Well her books are amazing and she wrote her own show!" she retorted. "It's like in its second season! Yeah, we're trading places and high-fiving each other."
For Barrymore, receiving an award named after Taylor held special significance. The legendary late actress had also been a child star.
"She was a phenomenal human being who started out in her career so very young," she said. "But what she did with her life and the legacy she leaves behind is so much more powerful than acting. She was the most incredible, long-running, accoladed actress, and to somehow have that be in the shadow of the philanthropic things she did, that means she really accomplished things."
Perhaps Barrymore and Taylor have more in common than we thought.