What Is Action Bronson Doing in a Martin Scorsese Movie?
He's been cast in the upcoming Martin Scorcese film The Irishman alongside Al Pacino and Robert DeNiro.
---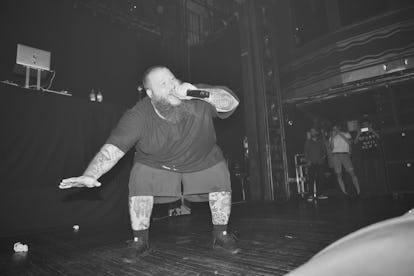 Photo by Alex Hodor-Lee for W Magazine.
Many of us know Action Bronson as a rapper and some of us may even know him as a chef, but now it's time to add one more skill to his eclectic repertoire. Action Bronson is now pivoting to acting, as he's been cast to appear alongside Robert De Niro, Al Pacino and Joe Pesci in Martin Scorsese's upcoming film The Irishman.
After playing the final show at New York's iconic Webster Hall in August 2017, Bronson continued to appear on Viceland in The Untitled Action Bronson Show, a variety series in which Bronson and his famous friends gather to perform and eat assorted delicacies. Now, the Queens born rapper is slated to appear in the Scorcese directed biographical crime drama The Irishman, which will be released directly to Netflix in 2019, and follows the story of mob hitman Frank Sheeran and Teamsters leader Jimmy Hoffa. Based on the book I Heard You Paint Houses: Frank 'The Irishman' Sheeran and the Inside Story of the Mafia, the Teamsters, and the Final Ride by Jimmy Hoffa, the film will also star Anna Paquin, Bobby Cannavale, Harvey Keitel, Ray Romano and Jesse Plemons. With DeNiro as Sheeran, Pacino as Hoffa, and Pesci as Russell Buffalino, the film will mark the first time those three Scorcese favorites have starred in a film together. It will be Scorcese's next highly anticipated film after his 2016 film Silence received an Academy Award for Best Cinematography.
While Bronson's role in The Irishman has yet to be announced, it really is no surprise that the chef-turned-rapper would now try his hand at starring in a feature film. In fact, The Irishman is not the only upcoming film Bronson has on his schedule—he is also slated to appear in the Netflix original Game Over, Man!, from the Workaholics trio. To get the Scorcese stamp of approval is just one more major step for Bronson in his really strange path to success
Related: Here Are the 16 Most Promising Netflix Original Movies Coming in 2018
See W's most popular videos: