Here Are the 16 Most Promising Netflix Original Movies Coming in 2018
Sure, these sound totally watchable.
---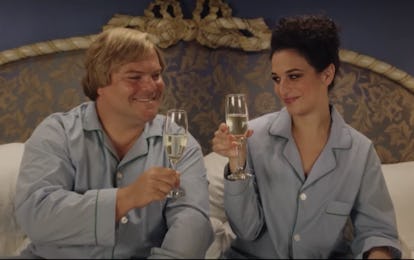 Netflix/YouTube
With plans to release 80 original films in 2018, Netflix is really stepping up its content game this year. From Jenny Slate and Lucy Liu to Alexander Skarsgård and Paul Rudd, at least one of your favorite actors found the time to tack on a Netflix original to their filmography for 2018. A handful of the new movies will have their official global premieres at Sundance this month, but will be available on Netflix shortly after, so you won't have to wait too long to see some of the festival's buzziest projects. And while not all of Netflix's 2018 originals have yet to be announced, the streaming giant will have something, or many things, for everyone, true to its plan for global dominance. Here, the 16 Netflix original films we're looking forward to this year.
The Polka King
In this semi-biographical film, Jack Black stars as Jan Lewan, the Pennsylvania Polka King who scammed his way to fame using a ponzi scheme that eventually landed him behind bars. Jenny Slate, Jason Schwartzman, and Vanessa Bayer also appear in this early aughts tragicomedy directed by Maya Forbes (Infinitely Polar Bear). Worth watching just for Jack Black's Polish accent, probably. (Date TBA.)
Come Sunday
Chiwetel Ejiofor, Martin Sheen, Condola Rashad, Jason Segel, Danny Glover, and Lakeith Stanfield star in this film about an evangelist minister who posits that there is no hell in the afterlife. The film has been at least five years in the making, and is being produced by This American Life's Ira Glass. Come Sunday will explore the catalyst behind a pretty unbelievable story, except it's actually based on true events. (Date TBA.)
The Open House
13 Reasons Why's Dylan Minnette leads this horror thriller about supernatural forces taking over a mother and son's new home. As far as the in-the-remote-woods genre of scary movies go, this actually looks good. But let's be honest, Netflix picked this up because it covers two of their most successful quadrants: horror and 13 Reasons Why. (Date TBA.)
Set It Up
Zoey Deutch, Glen Powell, Lucy Liu, and Taye Diggs lead this romantic comedy about office assistants who scheme to set up their bosses on a date. Joan Smalls, Jon Rudnitsky, Pete Davidson and comedian Jaboukie Young-White have also signed on for supporting roles. But it's Deutch's show, with the actress having already cemented her reputation as a leading lady with dark comedy chops in the upcoming teenage vigilante film Flower. (Date TBA.)
Ram Dass, Going Home
This short documentary about the 1960's counterculture spiritual leader Ram Dass living out his last days in Hawaii will stream on Netflix in April. And as far as Netflix documentary profiles go—and after the success of What Happened, Miss Simone?, about the life of the legendary Nina Simone—this acid trip of a story that follows Dass (who was close friends with Timothy Leary) could be a major contender for critical acclaim.
Step Sisters
From the director of Drumline, this collegiate comedy focuses on a black sorority leader who has to teach a rival white sorority how to step dance. Eden Sher from ABC's The Middle and CSI: Miami's Megalyn Echikunwoke star in the movie, which is slated to premiere on Netflix in March. It's like Pitch Perfect, but for step teams.
Eggplant Emoji
Arrow's Alexander Calvert stars in the Ben Stiller-produced Eggplant Emoji, a crude tale of a teen who accidentally cuts off his, uh, appendage, and needs to rush to surgically reattach it to his body. If Call Me By Your Name can mount an Oscar campaign behind a peach emoji, so too can Eggplant Emoji. (Date TBA.)
A Futile and Stupid Gesture
The National Lampoon history we've all been waiting for will arrive on Netflix at the end of January, with Will Forte in a starring role as the humor magazine's founder Doug Kenney, Joel McHale as Chevy Chase, Domhnall Gleeson as Henry Beard, Jon Daly as Bill Murray, Seth Green as Christopher Guest, and John Gemberling as John Belushi. Expect all of the major comedy players to be represented, from Gilda Radner to Lorne Michaels. Funny people playing funny people during a time when everyone, especially funny people, was coked up. What could go wrong?
How It Ends
Kat Graham, Forest Whitaker, and Theo James lead another post-apocalyptic thriller (we can't expect Netflix to only produce one of those this year) about a father journeying home to his pregnant wife amid a world in crisis. (Date TBA.)
The Ritual
Netflix will continue to fill its quota of offbeat horror films (think last year's The Babysitter with Bella Thorne, for example) with The Ritual, which centers on Rafe Spall and his college friends reuniting in the forest for a weekend until they discover they're being stalked. Similarly to The Open House, this does look scary, or at least frightening enough to make you want to root for the main characters and wish they would have just gone to Vegas instead. (Date TBA.)
The Other Side of the Wind
Orson Welles' unfinished final film will finally be revealed after a full restoration. Netflix obtained the global rights to the film last year, and Orson Welles, Peter Bogdanovich, and John Huston star in this satire of Hollywood focusing on a director in his twilight years that was shot between 1970 and 1976. Completing this classic film is a major step for Netflix to be seriously considered as a competitor against outlets that stream classic films, like Filmstruck and Mubi. (Date TBA.)
Game Over, Man!
If you like Workaholics, you'll love Game Over, Man!, probably. Adam Devine, Anders Holm, and Blake Anderson reunite as a trigger-happy trio in an irreverent heist comedy that also inexplicably features Shaggy (yes, that Shaggy) as a kidnapping victim. It's raunchy, sure, but what else would you expect from the Workaholics crew? (March 23.)
Mute
This futuristic noir thriller centers around Big Little Lies' Alexander Skarsgård as a mute man who must battle both Paul Rudd and Justin Theroux for the title of sexiest man alive. Just kidding, they're battling for the love of Skarsgård's life in a dystopian Berlin setting. (Date TBA.)
The Week Of
In The Week Of, Adam Sandler's daughter gears up to marry Chris Rock's son, and the two comedy legends naturally get into a fight during the wedding prep. Rachel Dratch and Steve Buscemi also co-star. Related: When is Adam Sandler's multi-movie deal with Netflix finally over? (Date TBA, and we mean both the movie and Sandler's deal.)
Cargo
This Australian post-apocalyptic thriller stars Martin Freeman on a journey to save his child is a remake of a 2013 short film from Yolanda Ramke and Ben Howling and is set to premiere later in 2018. Come for the narrative of Martin Freeman as a vengeful dad, stay for the loving shots of haunting panoramic landscapes.
Outlaw King
If you were looking for a historical drama about the Wars of Scottish Independence starring Chris Pine, Aaron Taylor-Johnson, Florence Pugh, and Ben Foster, then look no further than Outlaw King? Seriously, though, the upcoming 12th-century action movie about Robert the Bruce, King of Scots, does have serious pedigree. Will this film be the one that finally puts Chris Pine at the top of the Hollywood Chris ranking? (Date TBA.)