EXCLUSIVE MUSIC VIDEO PREMIERE
Premiere: Kat Graham Shares Her High-Fashion, Prince-Inspired Video for "Magic" (Exclusive)
Musician and former Vampire Diaries star Kat Graham on how her friendship with Prince led her in a bold new direction.
---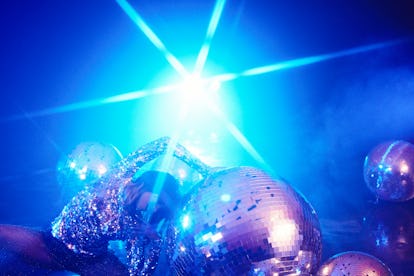 Courtesy Kat Graham
If you ask actor and musician Kat Graham when she wrote "Magic," a track off her most recent record, Love Music Funk Magic—the video for which premieres exclusively here on W—she might go all the way back to 2013. After all, that's when she first met Prince, and though her music has spanned an astonishing breadth of genres over the course of her career, her most recent album, Love Music Funk Magic is, in many ways, the logical culmination of their work together until his death in April 2016.
A cursory scan of her discography quickly reveals the full range of musical personae Graham has inhabited, and the full breadth of sounds with which she has experimented, since she began releasing music back in 2010. (Even before that, she featured, uncredited, on a handful of will.i.am tracks in 2007; she has, after all, been making music as long as she's been acting.) There was 2013's Against the Wall EP, for example, on which Graham sang full-throated pop hooks over production worthy of Lady Gaga; and on 2015's Roxbury Drive, which, fittingly, opens with a track called "1991," on which Graham channels '90s R&B legends with an assist from the acclaimed producer Babyface, whose credits include Boyz II Men's "I'll Make Love to You."
Throughout it all, Graham remained in touch with Prince. In 2013, after a lengthy phone call with the musician—during which he suggested Graham come to Paisley Park to work together—Graham received a follow-up call from his then-manager. She was already at the airport, about to go to Mexico to celebrate her birthday with some friends. "I got on another plane," Graham recalled over the phone recently. "I wound up spending my birthday in 2013 with Prince, in the studio." (Prince, however, famously did not celebrate birthdays.)
They remained close, exchanging music while Graham was still balancing work on the CW's Vampire Diaries; eventually Prince suggested she experiment with funk and disco, exploring a '70s sonic palette. She wrote "Magic"—and more of Love Music Funk Magic—in response, shortly after he died, alongside Babyface, who co-produced the album.
"I had this moment where I said, you know, I want to do and be the kind of artist that my friend saw me as, right, and I want to make the record he wanted me to make, and do the big afros and be this powerful black women in the entertainment industry and just let them have it," she explained. "In a lot of ways, this album was an homage to that."
On June's Love Music Funk Magic, Graham dives into this '70s funk wonderland filled with moody lighting and disco balls. Each of her sonic transformations has been equally accompanied by an aesthetic one, right down to the video for "Magic," which features Graham drenched in glitter and wrapped in fishnets, wearing pieces by the likes of Wanda Nylon, Alexandre Vauthier, and Yves Saint Laurent. (Celebrity stylist Jennifer Mazur, whose clients also include Camila Cabello, Alessandra Ambrosio, and Olivia Culpo, contributed styling.) According to Graham, it's intended as an homage to the pages of fashion glossies, a visual ode to the heyday of Studio 54. It's a collage of impressions in which Graham appears solo (not an intentional decision, she said, but one that reflected the song's themes of having to "stand with yourself" and "recognize your own power") cycling through a costume change seemingly with each flash of a strobe light.
Among all the looks in the video, however, Graham's favorite was actually the non-look look she shot last: She's nearly nude except for a skin of glitter shrouding her body, a beaded tiara on her head.
"It felt like the total representation of what I was trying to say and what I want women to feel when they hear this song. I want them to feel like a queen," she said. "It felt the most raw and what I would hope would be the physical representation of a woman, empowered." That is, covered in glitter.
Alexander Skarsgard's first kiss made him cry: