A Girls' Night With Nina Dobrev Involves Working Out and A Mission Impossible-Meets-Top Chef Kitchen Challenge
During a 24-hour whirlwind staycation celebrating Dobrev's new partnership with Reebok and Les Mills, the actress revealed her fitness and nutrition secrets.
---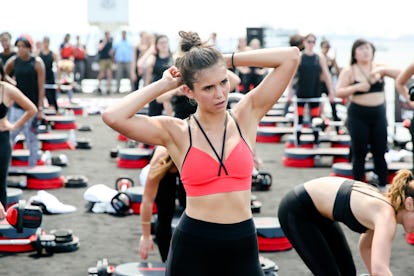 Angela Pham/BFA.com
It was the height of the afternoon during the second day of a three-day heat advisory, and temperatures were nearly at triple digits in New York. Nina Dobrev, the actress best known for playing Elena Gilbert in the CW series The Vampire Diaries, had already hosted a brunch for a group of fashion editors, led those same editors in an outdoor Les Mills Grit class—a high-intensity interval training workout. But despite the heat, despite the nonstop schedule, despite the fact that she hadn't showered, as she declared to the group of reporters sitting in a half-circle around her on an outdoor patio at Williamsburg's William Vale hotel, Dobrev was still, enviably, energized—not unlike when we caught up with the actress at Coachella earlier this year.
"Can we talk about these leggings?" she said, bounding up and pulling a pair of deep plum leggings off a nearby rack stocked with Reebok attire in an appealing array of sherbet orange, burgundy, and black. We were halfway through a 24-hour staycation with Dobrev, which involved food and fitness and something called a "pampering suite," where we now found ourselves celebrating her partnership with Reebok. There were plates of fruit, cups of genmaicha tea, and soft pretzels with mustard in one corner and matcha ice cream in another; outside, nail artists offered manicures; and upstairs, a Maria Tash pop-up gave piercings to the most adventurous staycationers (including Dobrev herself). Dobrev, who had just been announced the new ambassador for the American athleticwear brand Reebok and the New Zealand-based cult fitness program Les Mills, was still wearing her gym kit from the morning's workouts: a black tank, black leggings with mesh panels, one of those orange sherbet-colored sports bras, and a pair of black sneakers. "I wear these a lot, because they have the cool little shiny leathery vibe but they're black and simple," she said, pointing to a patent-looking panel just above the sole. "They kind of go with everything."
As a well-documented fitness aficionada, Dobrev has substantial expertise adapting her athletic look to the street. She hinted that, for dinner that night, she'd wear a pair of vintage-inspired Reeboks with a dress, a look that read "I try, but not too much," she said.
"I've always been very active," she continued. "My older brother is an athlete, and I don't think of working out as, 'Oh, I gotta do this because I want to look a certain way.' It doesn't feel like a job." She paused. "I mean, sometimes it does," she said. "Today, when we were sweating, it was a little…" She trailed off. The heat wave. We understood.
Our fitness soothsayer, Dobrev had unplugged from her phone for the day and was extolling the virtues of self-care. "You don't have that luxury all the time. We're constantly connected to all these devices, so your workout is a time where you're not reachable," she said. "You're doing something for yourself, and it's your you-time—or my me-time, in my case." But on a normal day—or during a normal staycation, with her actual friends and not us mere mortals and reluctant gym-goers—Dobrev would be in touch with her "squad" via a group thread, appropriately entitled "We Work Out." (Dobrev's squad, as seen on her Instagram, includes similarly fit women like Julianne Hough, whose wedding Dobrev recently served as a bridesmaid in.)
"Whoever wakes up first will put in the workout for the day and we'll all either say yay or nay," Dobrev said. (She's been working out every day while preparing for her new ambassadorship, and she cited the Plyo and combat workouts in particular, though "some people are very into it and some people like to bail at the last minute if it's a certain workout," she said of her Les Mills routine.) Post-workout, "we'll meet up in the evenings and open up a recipe book that I have in my kitchen," Dobrev continued. "Depending on what page we land on, we have to accept a challenge—it's almost like Mission Impossible." (Mission Impossible by way of Top Chef, celebrity edition.) "Then, we'll go to the grocery store together, buy all the ingredients, and destroy my kitchen attempting to make said recipe." Depending on the result, they may end up ordering takeout, she said, laughing—before they hit the hot tub, wine in hand, and catch up.
Dobrev seems to be selling herself short in the kitchen, though: Before a workout, she's taken to making her own protein balls, whose ingredients range from the on-trend—like almond butter, coconut, bacon, and bananas—to the nearly pharmacological—like collagen powder. ("There's so many amazing, yummy things in these tiny little balls," she said. "They're insane.") Afterwards, she refuels with a homemade smoothie, whose ingredients sound a whole lot like the protein balls but stuck in a blender with a bit of spinach for good measure.
"That's the trick to nutrition for me, has been eating things that make me feel like I'm cheating," she said, "But I'm not."
Related: How to Detox from Coachella According to Vampire Diaries Actress Nina Dobrev
Hiplet, a powerful fusion of hip-hop and ballet, is taking the fitness world by storm: