How to Detox from Coachella According to Vampire Diaries Actress Nina Dobrev
It's not easy having that much fun.
---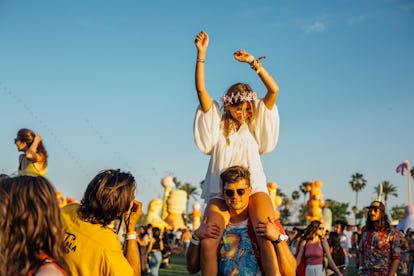 Photo by Emily Malan.
While it may look like fun and games, surviving Coachella isn't easy. Vampire Diaries actress Nina Dobrev can attest to this after her ninth year attending the music festival in California. And in 2017, not only did she attend the first weekend, but also the second—an unheard of feat for anyone, let alone a busy celebrity.
"I logged my steps from last weekend and I think we did seven miles the first day, eight miles the second day, and then seven miles the last," said Dobrev on Sunday morning, the final day of the weekend-long event. "We didn't even go for the full days—that's just like, 7 p.m. until midnight."
Somehow, Dobrev was still full of energy, and completed a full Les Mills Grit workout at the Reebok Classics Crib before a full day of walking and dancing. Did we mention it was almost 100-degrees?
"Coachella is all about detox and re-tox," she said, laughing after the workout. She sipped some water, but was ready for one last hurrah later that evening.
Her advice for the rest of the day was pretty straightforward: Go later, hydrate, and wear sunscreen. But seeing that she's a professional Coachella-goer, she also had some wisdom to share about post-festival recovery, too.
"First of all, I left super early in the morning to avoid traffic," she said of her detox routine. "That's part of the detox because sitting in the car hungover is the worst. Then, I drove straight to—I almost don't want to say it because it's going to give away my place—but I go to Korean day spas in L.A.
"I check myself in as though I'm checking myself into rehab," she said, joking. "I do steam room, cold pool, sauna, cold pool, steam room, cold pool—that four times. And then I get acupuncture massages. I lay there comatose for a while. I just try to get everything out of my system and relax."
In other words, your Coachella vacation might require another one after.
Coachella 2017: Crop Tops, Florals and the Best Street Style From the Ancestral Homeland of Festival Fashion
Watch W's most popular videos, below: