Activist Bethann Hardison: Why I'm Voting for Hillary Clinton
The former model and activist explains in a passionate essay why #ImWithHer: "I want someone representing me who I won't be ashamed of."
---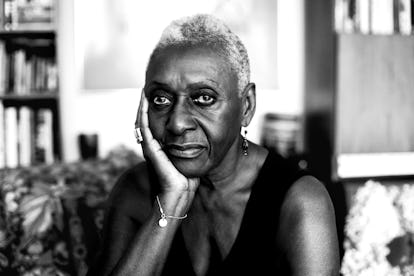 Getty Images
Bethann Hardison has always been a trailblazer in fashion. A former model – she walked the legendary Battle of Versailles show in 1973 – she has been a powerful advocate for models of color for most of her career, pushing for greater representation on the runway, in advertising and in magazine editorials, so that in 2014, the Council of Fashion Designers of America honored her with the prestigious Founder's Award for her dedication to "holding the fashion industry accountable." In the last several months, the likes of Maxwell Osborne, Kerby Jean-Raymond and Cleo Wade have written in W about the issues that most concern them in Election 2016 and today Hardison becomes the latest to add her voice to a loud chorus across the country saying, #ImWithHer. As told to Antwaun Sargent.
"I think voting is important in every election, but especially in an general election. We have to protect the rights we have established and those that have been won to build our country for everyone, not just the rich.
I think that everyone should learn a little bit more about what the government is and how politics works; it is not so much about voting for one politician or another but about voting for the issues and the things that we try to protect. I think the Supreme Court vacancy, a woman's right to choose, and the immigration issue are all on the ballot this election.
I grew up with a father who used to have me send telegraphs to Secretaries of State in the United States as well as leaders in other countries. At the time there was a lot going on with the Suez Canal and conflict in the Middle East, and my father thought that it was important to teach me the value of knowing things; that my voice was important; that everyone has a voice and must utilize it. So I was always mindful of politics and aware of the consequences and the opportunity that voting represents. When I turned 18, I went out and chose which direction I thought was the best way to go as far as political parties.
As a person of color, thinking about all the people before you that actually lost their lives trying to get the right to vote and those who were never allowed to, part of me feels like you vote taking that into consideration. The civil rights movement wasn't even long ago. I was a part of all of that. We fought for voting rights and integration into our society. I really do think every person of color should go to the polls and make a choice and exercise that right, just out of respect of those who have gone before you, who are no longer here and who fought for that right. In that way, voting for me is like a birthright.
I have heard a couple of young people who say they are just not voting. I think to myself, 'Wait a minute.' Don't take any part of the cake if you are not willing to help us clean the kitchen and throw in the ingredients. You just can't be in an environment and not recognize the value of your voice being heard.
I'm for Hillary. I've always followed her career and listened to her speeches, but when she ran before I surely didn't vote for her. I was thinking that I just didn't want a woman coming up in this nonsense—I wanted to protect them. For me, I thought let the boys continue to make a mess of politics. Then, I started to say, maybe it's not the worst idea after all to have a woman president of our United States. Women are brilliant but that one could become the president of our United States was new to my thinking. The only woman in my time who had run was Shirley Chisholm. Shirley was standing strong for what she believed. Was she going to win? It didn't matter. Now that Hillary has a real opportunity, I'm like gangsta with it.
I never thought I was a feminist, but now I know I am. So many things have happened this election that I believe were motivated by the fact that Hillary is a woman. I heard [Rudy] Giuliani ask, 'Are going to actually vote for a woman?'—I heard him actually say that! As far as I'm concerned my hat is off to Hillary, but more importantly, I am passionate about the issues. In her journey she has always been someone concerned with education and children. This is over decades. She also cares about race. She knows that there is a problem and we have to heal the country. When she says we have to heal the country I am sure she is thinking about Black Lives Matter. It's on her agenda.
She has always embraced and had people around her of different backgrounds. I've seen it because I've been around her when she was first Lady in the Clinton administration. She always struck me as someone who really cares about the people. I know Donald Trump, too. He used to hang around us. He wanted to be around Puffy and Russell [Simmons], because they were famous. It's also important, for me, that we elect a real politician. Someone who can go out in the world and represent us among other politicians. I want someone representing me who I won't be ashamed of.
When races like this one are very tight and someone says, 'I just have to follow my conscience and I'm going with the independent,' I think, 'C'mon pull your britches up and grow up!' It's like throwing away a vote. You have to use your intellect to motivate your conscience.
I hope that whoever wins the other side isn't contentious and tries to accept whatever the outcome. There are some serious people out there who are ready to do violent, serious things. I hope, who I'm voting for wins, but at the same time I am afraid to win. I really do hope we are, if you want to use a slogan, stronger together."
Voting Is My Power: Tory Burch, Diane Von Furstenberg, Martha Hunt, and More Fashion Personalities Urge You to Vote Nov. 8