Chewbacca From Solo: A Star Wars Story Is Actually a Natural Blond
Meet Joonas Suotamo, the seven-foot-tall Finnish basketball player behind Chewbacca's mask in Solo: A Star Wars Story.
---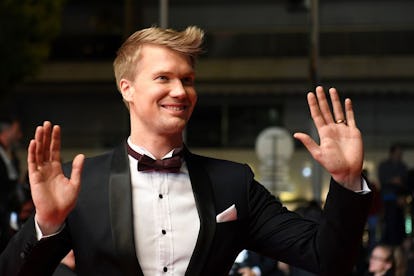 AFP Contributor/Getty Images
Chewbacca has always been known as the ultimate gentle giant in the Star Wars galaxy, and in Solo: A Star Wars Story, fans of the intergalactic space tale will get a glimpse into Chewy's backstory in order to understand where he came from and how he met Han Solo.
Now that the Wookie warrior has been reintroduced to an entirely new generation of Star Wars superfans, it's time people knew the man behind the furry exterior: Joonas Suotamo, the nearly seven-foot-tall former basketball player who stepped into Chewbacca's (very big) shoes and reprised the iconic role for Solo: A Star Wars Story.
Suotamo acted as a body double for Peter Mayhew in The Force Awakens, but in The Last Jedi and Solo: A Star Wars, it's all Suotamo in the role of the galaxy's most famous Wookie. Before he became Chewbacca, the 31-year-old Finnish actor was a professional basketball player for Finland's national basketball team, and prior to his professional sports experience, he was a power forward and center for Pennsylvania State University's college basketball team, the Nittany Lions.
The actor also credits his basketball career with assisting him in playing Chewbacca. He recently shared that his objective with playing Chewy is to "always appear like a creature," and thanks to his time spent on the court, which "gifted me the awareness of movement allowing me to use my body to portray alternatives to my own way of movement," he succeeds at that goal in Solo.
As comical as it may be to see the height difference between Chewbacca and Han Solo (played by Alden Ehrenreich, who stands at five feet nine, more than a foot shorter than Suotamo) in Solo: A Star Wars Story, Suotamo has fun with his astronomical stature on Instagram, posing in the occasional photograph with his upper body way out of frame. No one will ever have to spend time imagining what would happen if Chewbacca met Frodo Baggins (played by a five-foot-six Elijah Wood) or Samwise Gamgee (played by Sean Astin, who stands at five feet seven) from Lord of the Rings, because Suotamo has answered that question for us.
Suotamo also does his due diligence of keeping fans from having to wonder what goes on behind the scenes by providing all of the backstage content Star Wars superfans crave, especially noting what it's like when Chewbacca takes a break outside of his trailer.
The actor and his wife also recently welcomed a baby named Aatos, but he lovingly refers to his son as "Babybacca" on social media, which is almost as iconic as the name Chewbacca itself.
Related: Solo: A Star Wars Story Should Be More Donald Glover and Phoebe Waller-Bridge: A Love Story