Kiernan Shipka Keeps It Casual
The actress talks One & Two, Mad Men, and her personal style.
---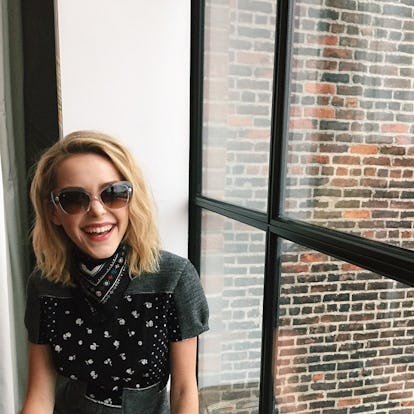 On screen, Kiernan Shipka has gone from super retro (Mad Men) to pared-down (One & Two). The 15-year-old actress's personal style, however, falls into neither category. W asked the Best-Dressed-List-Darling to share her style philosophy.
Define your style in three words: Fun, because I like to have a lot of fun with what I wear. I mean, to me that's what style is about. Casual—I'm a pretty casual person in the everyday sort of realm. And classic, because I really like pieces that I can wear over and over again.
Your style is so different from your character, Ava, in "One & Two." How did you find changing into her clothes? I always find wardrobe to be one of the most transformative aspects of my whole process in approaching a character because if I was trying to play Ava in, you know, new spiffy Madewell stuff, it wouldn't have felt right obviously! I think clothes are totally something that I love so when playing a character, what they're wearing and how they look, it totally affects my performance and how "in it" I am.
How does your personal style change when you're working on a specific project? Well Mad Men definitely influenced my style—it influenced me just liking fashion in general. Even if I didn't dress the same as Sally, it just totally influenced my actual interest and I totally went through super retro phases and all that kind of stuff. And then when filming One & Two we were filming on a farm for most of it so I kind of went in jeans and that was kind of that. Daily uniform: My uniform as of late has been overalls—they're very easy and simple and a good way to just kind of get out the door and look kind of fun.
Greatest hits: I wore a Delpozo to the Emmys 2013 that was one of my favorite looks ever, ever, ever, ever! I loved it. And as far as Sally goes, I mean when she wore the go-go boots that's such a memorable thing for me. I love that moment and I love that she got to re-wear them later!
Preferred footwear: Usually a sneaker, I'm definitely one to embrace the sneaker with dresses, jeans. I love my Adidas shell shoes—I wear them all the time.
Finishing touches: I really like lip stain. I put it on my lips and on my cheeks. As far as accessories, I love rings. I mean I'm a huge Catbird person! I'm totally into layering rings.
Nighttime look: Usually it's either, I mean it totally depends but I like dresses a lot so if I'm going out with friends its like a dress and maybe boots and a jacket. I have this Elizabeth & James bomber jacket that I pretty much wear with every dress especially out at night when it gets colder.
Best recent discovery: Ok I did not discover Paris, but I just recently went there for the first time and I discovered a lot of great places there—it was life-changing amazing! There's a restaurant called La Maison that was probably the best experience and Blé Sucré that was really good. I mean everything was just so good all of it.
Favorite stores: In L.A., I love Violet Grey and in New York I usually just kind of walk around SoHo and try to scope out what's cool or new and happenin' and I'm online a lot. The new Alexa Chung for AG stuff is really good!
Style icons: I've always loved kind of the Old Hollywood look, the Audrey Hepburn, Katharine Hepburn, Grace Kelly kind of vibe. I think that's beautiful and amazing. Currently I do love Alexa Chung I think her style is really, really sharp and she's so on point always.
Last purchase: I just got this Koh Gen Doh tinted moisturizer and they're just the best I love them so much I think they're great!
Lusting after: I've been big into backpacks lately. I'm kind of wanting a simple black backpack and t-shirts. I always find like just the more t-shirts the better.
Favorite haunts: In L.A. there's so many good places to eat—I could literally talk about this for way too long. There's this taco truck called Guerrilla which is really good. I love Sqirl, I love the patio over at Gracias Madre which is really fun. Usually when its way late I end up at Canter's with all my friends. Those are some of my favorites. Grand Central Market in general is really cool.
What's always in your bag: My Hello Kitty wallet! I also usually have like a Revlon lip stain and lip balm is always a must as well!
Photos: Kiernan Shipka Keeps It Casual
Kiernan Shipka in Valentino. Photo by Getty Images.
Kiernan Shipka in One & Two. Courtesy of IFC Midnight
Shipka getting ready for the Coach Highline Party. Courtesy of @KiernanShipka on Instagram.
Kiernan Shipka in Valentino. Photo by Getty Images.
Kiernan Shipka in One & Two. Courtesy of IFC Midnight