Actresses Will Dress in Black at 2018 Golden Globes in Show of Solidarity for Harassment Victims
The red carpet is going to be dark.
---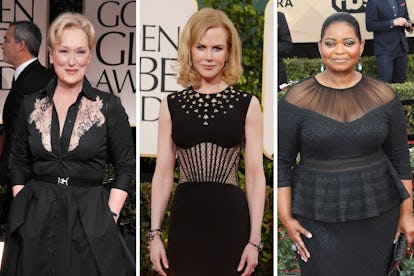 Expect to see dark hues trending during the 2018 Golden Globes red carpet — for a poignant reason.
Entertainment Weekly is reporting that "many major actresses" — such as nominees Jessica Chastain, Meryl Streep, and Emma Stone — are expected to dress entirely in black ensembles for the event, specifically to protest and show solidarity against harassment in Hollywood. (The Hollywood Reporter is writing that the looks will symbolize gender inequality as well: "There was discussion of crafting some sort of talking points.") "All female actresses attending the Globes are protesting by just wearing black gowns," one of EW's sources said, adding that this noir aesthetic might be seeping into later awards ceremonies as well. If indeed executed, this trend would mirror previous instances of coordinated dressing at awards ceremonies, as seen in the past with blue ACLU ribbons at the Oscars and Emmys.
It'll be interesting to see how the Globes, which airs on January 7, will address the post–Harvey Weinstein landscape in Hollywood, as this will be the first major ceremony to occur since the scandal broke. (For instance, the Screen Actors Guild Awards will be allowing only female presenters.) Many of the nominees, perhaps most prominently Chastain, have been highly vocal about how Hollywood needs to change in this new, post-Weinstein climate. "I was warned from the beginning," Chastain wrote in a tweet about Weinstein. "I'm sick of the media demanding only women speak up. What about the men? Perhaps many are afraid to look at their own behavior," she wrote in another. She later said her tweets got her in trouble with a famous actor.
Meanwhile, Streep also condemned Weinstein and the power dynamics of Hollywood men in another statement. "The disgraceful news about Harvey Weinstein has appalled those of us whose work he championed, and those whose good and worthy causes he supported. The intrepid women who raised their voices to expose this abuse are our heroes," she wrote in the fall. "The behavior is inexcusable, but the abuse of power familiar. Each brave voice that is raised, heard and credited by our watchdog media will ultimately change the game."
And Lord knows what Seth Meyers, the Golden Globes's host this year, will talk about in his monologue. If his Late Night "Closer Look" segments are any indication, hell will most certainly be raised.
Related: Salma Hayek Says Harvey Weinstein Threatened to Kill Her for Rebuffing Him