Golden Globes 2018: All the Snubs and Surprises From the Nominations
The Golden Globes once again filled their nominations with tons of snubs and surprises, including a seemingly random nomination for Helen Mirren.
---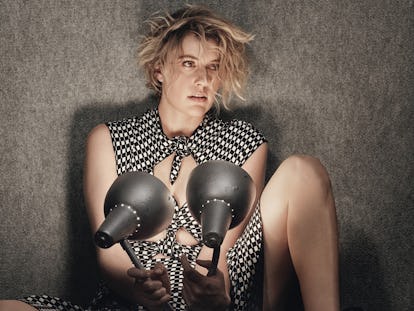 Photographs by Craig McDean. Styled by Edward Enninful.
The Hollywood Foreign Press Association is never afraid to make some interesting choices with their Golden Globes nominations. Even though the awards ceremony is seen as an important precursor to the Oscars, the body of 90-ish foreign entertainment journalists, are known for both throwing some curveballs into the Oscar prediction machine and almost taking delight in going in a completely different direction with their television nominations than the Emmys. Here, this year's biggest snubs and surprises.
Snubs
The Big Sick's Total Shut Out
This film came out of the Sundance Film Festival with so much buzz that there was once a world where we all thought a Ray Romano Oscars campaign could be possible. That might have been a bit too optimistic, but the film was a critical and commercial hit that has been recognized by various other bodies and is still expected to be a player in various Oscars categories, especially Best Original Screenplay. Yet, the Globes couldn't be bothered to recognize the film even thought it was considered a near lock in multiple categories thanks to the show's genre divisions: No Best Picture Musical/Comedy, no Best Actor nod for Kumail Nanjiani. No love for the screenplay, and, perhaps most alarmingly for Oscars predictors, no Best Supporting Actress nod for Holly Hunter.
No Love for Jordan Peele
You can't say the Globes snubbed Get Out. Both the film and lead actor Daniel Kaluuya got nods. Yet, there was no individual love for the film's creative force Jordan Peele in either the director or screenplay categories.
Greta Gerwig's Best Director Snub
Likewise, Gerwig's Lady Bird got lots of love, and unlike Peele, at least she got a writing nod. Like Peele, she was left out of the directors race, leaving the category 100 percent men (one again). The surprises in the race? Three Billboards Out of Ebbing, Missouri's Martin McDonagh and All The Money in the World's Ridley Scott (a film that no one is sure is even 100 percent completed yet).
Sufjan Stevens is Left Forelorn and Longing, Again
Sufjan's "Mysteries of Love" from Call Me By Your Name is a very good song from a very well-received movie, and the cult of Sufjan was very tickled by the idea of seeing him walk the red carpet at various awards shows. That still may happen at the Oscars, but the Globes passed him over in favor of a song by Nick Jonas from an animated movie about a bull. Police are not investigating this as a hate crime as of press time.
BPM (Beats Per Minute)'s Perplexing Snub for Foreign Films
After coming out of the Cannes Film Festival with four awards, Robin Campillo's French film about AIDS activists has been a near constant on every list of best foreign films (and winning several critics' circle awards in the category), but was perplexingly snubbed here.
Veep is Impeached
Veep has had a stronghold on television comedy categories since its debut in 2012, but for the first time ever the Globes decided they had enough and didn't nominate it anywhere.
Jake Gyllenhall is Left on the Outside Looking In
David Gordon Green's film about a Boston Marathon bombing victim's long road to recover features one of Gyllenhall's strongest roles in years, but the organization that once nominated him for 2010's Love & Other Drugs, didn't do the same here. At least the Gyllenhall family got some love. Sister Maggie was recognized in the TV categories for her work on The Deuce.
Surprises
No Offense to Helen Mirren, But…
Listen, everyone loves Helen Mirren. That's probably why she got the nomination, but has anyone even heard of The Leisure Seekers, the movie for which she's nominated for Best Actress in a Comedy/Musical? Apparently it featured Mirren and Donald Sutherland as a married couple who escape to the Florida Keys in an RV. Reviews from when the film premiered at Venice were decidedly mixed.
Christopher Plummer Pulls It Off For a Movie That No One Else Has Seen
You could add Michelle Williams nomination for Best Lead Actress for All The Money in the World in here too, because it doesn't seem that anyone outside of the Hollywood Foreign Press Association has even seen the film, likely because it's not even totally finished yet. Plummer, as we all know by now, was brought in at the last minute to reshoot scenes originally featuring Kevin Spacey in the role.
Downsizing's Hong Chau Gets the Film's Sole Recognition
Alexander Payne is one of the Oscar's (and Golden Globes') favorite directors, but his latest film Downsizing has been interestingly on the bubble despite solid reviews. It wouldn't be a surprise if the film walked away empty handed at the Oscars, so it's actually a nice surprise to see the film's breakout actress Hong Chau recognized here.
13 Reasons Why's Kathryn Langford is the Nomination of a Generation
The Globes seem to want Gen Zers know they're down (see also: Ansel Elgort's "not quite surprising, but almost" nomination for Baby Driver), so they've recognized Langford in the TV race for best drama actress. Likely in place of This is Us's Mandy Moore, who went unrecognized.
Kevin Bacon Gets Some I Love Dick Love
They say Bacon is well connected in Hollywood, but his nomination in Best Television Performance by an Actor (Musical/Comedy) certainly wasn't a foregone conclusion.
Related: 2018 Golden Globes: See This Year's Film and Television Nominees