Look Inside Behati Prinsloo and Adam Levine's $18 Million Los Angeles Mansion
It's as lavish as West Coast living gets.
---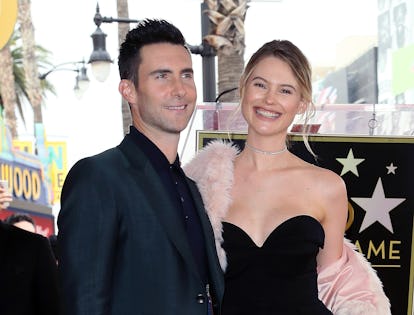 David Livingston/Getty Images
Behati Prinsloo is in the midst of a lot of life achievements. She recently had her first child, she just landed a major beauty campaign, and now she and husband Adam Levine have a new home. The pair just dropped $18 million on a Holmby Hills mansion, as Trulia reports, and it is as lavish as West Coast living gets. For starters, the home comes with a coveted pedigree: It was designed by famed architect Casper Ehmcke in 1966 and has all the touchstones of quintessential indoor/outdoor living. There's also the fact that the home has not one but two marble master bedrooms, a rarity.
The property welcomes in guests through a gate, where they arrive at a long walkway into the home, outlined by classic Hollywood palm fronds and tropical landscaping. The black- and white-checkered foyer is illuminated by a crystal chandelier — a feature that's repeated in the living room as well as the dining room.
With glass doors that open into the backyard, Behati and Levine's living room is centered around a fireplace. Naturally, it houses enough space for a grand piano, which the musician will no doubt get a lot of mileage from.
Meanwhile, the 9200-square foot home has plenty of room for the growing family which includes the recent addition of baby Dusty Rose. "I have a daughter, I have the most beautiful wife in the entire world," The Voice host said of his family as he was receiving a star on the Hollywood Walk of Fame back in February, as Us Weekly reported. "[Dusty's] unbelievable. I'm so in love with her. It's crazy." Aside from having two master bedrooms, the home also features another three bedrooms and bathrooms.
Plus, there's plenty of room for dining as well. In addition to a formal dining room, the estate also boasts a breakfast solarium.
The social couple will have no problems entertaining as Behati and Levine's new home comes equipped with a two-story guest house, a three-car garage, and ample parking on a motor court.
But the crown jewel of the $18 million home has to be the custom-shaped pool, which is fenced in with lush landscaping.
Related: Behind the Scenes with Behati Prinsloo
Get Up Close and Personal with Supermodels in W Video: