Behati Prinsloo Is the New Face of SK-II
She's set to star in the brand's #onebottleawayfrom Campaign
---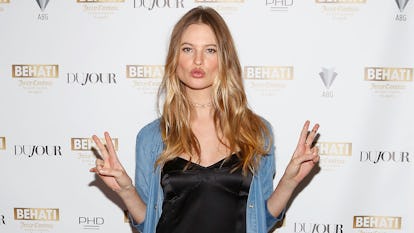 Taylor Hill/FilmMagic/Getty Images
After giving birth to her first child last year with husband Adam Levine, Behati Prinsloo is continuing her return to modeling in a big way. In fact, she's landed her first major beauty camapign as the new face SK-II skincare products.
The model will star in the luxury beauty brand's #onebottleawayfrom campaign, Elle reports. She joins actress Li Qin and singer Choi Soo Young, and the three stars will document their SK-II induced skin transformations over social media.
"It's a great partnership," the model tells PeopleStyle. "I'm super excited to be part of their 'One Bottle Away From' campaign. SK-II is such an iconic skin care brand, and for me being part of it is such an honor. I think for every girl out there, you always want to be part of something that you actually believe in."
She teased the partnership in an Instagram post on Tuesday, with a photo of her posing with SK-II's Facial Treatment Essence, a model/makeup artist/fan favorite. "Hi everyone ?? I've been using @skii #FacialTreatmentEssence over the past few weeks to prep for something exciting, stay tuned! #onebottleawayfrom #inpartnershipwithskii," she wrote.
In a video for the campaign, the new mom discusses how she plans to use SK-II's Facial Treatment Essence to help her prepare to go back to work. "I've been gone for a while getting used to being a mother. It has been an amazing journey so far," she says in the clip. "I'm going to be using a bottle of SK-II Facial Treatment Essence for the next few weeks to help me prepare for my comeback."
Though this is Prinsloo's first major campaign after becoming a mom, it's hardly her first time at the big-brand rodeo: She's a longtime Victoria's Secret Angel, as well as the face of Juicy Couture Fragrance.
Related: Behati Prinsloo Returns to the Runway for Versace's Fall 2017 Show
See What's Trending in W Video:
Behind the Scenes with Behati Prinsloo
"This is my 9th show. What are we gonna do for my 10 year anniversary? It's next year. Tick, tick, tick."

Photographer: Teddy Wolff
"It's boho psychedelic—what don't you like about this look?"

Photographer: Teddy Wolff
Behati Prinsloo at the 2015 Victoria's Secret Fashion Show fitting.

Photographer: Teddy Wolff
"I'm definitely gonna play with the fringe. I think it gives a more dramatic feeling and you kind of see the handiwork that goes into it."

Photographer: Teddy Wolff
Behati Prinsloo at the 2015 Victoria's Secret Fashion Show fitting.

Photographer: Teddy Wolff
"It's always fun when a costume feels like it's a part of you and you know, as you move, it moves."

Photographer: Teddy Wolff
"My favorite look I've ever worn was probably the one I opened with last year, the gold one. Or a big white one I wore one year that was so fun."

Photographer: Teddy Wolff
"I'm most looking forward to seeing The Weeknd perform."

Photographer: Teddy Wolff
Behati Prinsloo at the 2015 Victoria's Secret Fashion Show fitting.

Photographer: Teddy Wolff
"There's always shoes we want to keep or the wings, but they're such iconic pieces we can never keep them."

Photographer: Teddy Wolff
"I think my favorite part is when we are all hair and makeup done and have those moments with the girls, we can all hang out and get excited."

Photographer: Teddy Wolff
Behati Prinsloo at the 2015 Victoria's Secret Fashion Show fitting.

Photographer: Teddy Wolff