Adam Levine Is "Psyched" To Be the Face and Tattooed Body of YSL's New Fragrance
The lead singer of the Maroon 5 debuts his collaboration with the brand.
---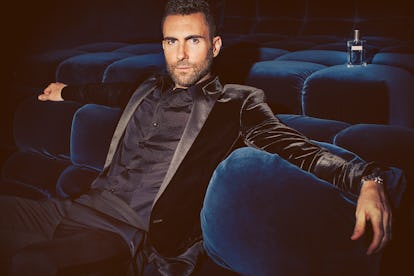 Courtesy of @YSL
Adam Levine is having quite a busy year–in the past few months, he has returned as a judge on NBC's The Voice for a record-breaking 13th season, dropped a new album, Red Pill Blues, with his band Maroon 5; and announced that he and his wife, the Victoria's Secret model Behati Prinsloo, are expecting a second child. Now, the singer is adding fragrance muse to his impressive resume.
As announced on Monday morning, Levine will be the digital-only face of YSL's new men's fragrance, Y. In a release, YSL announced that this fragrance includes notes of bergamot, sage, cedarwood, and is for the "multifaceted modern man." Judging the images that accompanied the announcement, that means a guy who can show off his tattoos in a white tank top at one moment, and look sleek in a velvet tuxedo jacket the next. No one does that better than Adam Levine, apparently.
In true rock 'n roll style, Levine explained "I'm psyched to be collaborating with YSL Beauty, a brand which has always appealed to me for its standout style and groundbreaking imagery." He added, "As a musician, I relate to the raw passion and strong sense of individuality of YSL; and being a part of the story of Y is exciting to me – it is not the story of one man, but of a whole creative generation. I'm excited to develop our relationship and see where it will lead." He also posted on Instagram that his 10 million-plus followers should "come back tomorrow for more." And so we will.
Watch: Pharrell Williams Gets Interviewed By a 7-Year-Old