Adam Sandler and Lakeith Stanfield Were Just as Stressed Out Watching Uncut Gems as You Were
At the National Board of Review Gala in New York where he was awarded with best actor, Adam Sandler tells the story of the first time his costar saw the movie.
---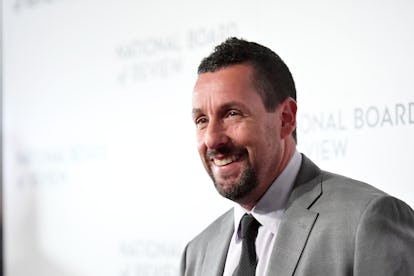 Uncut Gems co-stars Adam Sandler and Lakeith Stanfeld are well aware of how anxiety-inducing their film is.
At the National Board of Review gala in New York City last night, the film was a big winner. Sandler, who took home the best actor award for his role as Howard Ratner, joined fellow attendees Brad Pitt, Martin Scorsese, Robert De Niro, and Timothée Chalamet, who presented Uncut Gems directors Josh and Benny Safdie with best original screenplay.
On the red carpet ahead of the show, Sandler (together with his wife Jackie, who wore a bejeweled nameplate necklace bearing the name "Howard") said he's heard the general consensus about the film. He's seen the scalding hot takes online and the reviews about how, despite Uncut Gems being an overwhelming success, it is incredibly stressful to watch. There's even a chance he's seen the numerous tweets delivering that very same message.
While he was on set, Sandler said he had no idea Ratner's dealings with high-stakes bets, Kevin Garnett, and the gem in question would create such an intense filmic landscape.
"I didn't know when we were shooting that it was going to feel like it feels," Sandler noted. "I just was day-to-day shooting our scenes with the other actors—I don't think any of us knew."
As Sandler tells it, he remembers one fellow actor who was particularly unprepared for the nerve-wracking film: Lakeith Stanfield, who plays, Demany.
"When Lakeith saw it for the first time, I was with him," Sandler said. "Right after the screening, he looked so shook up. I was like, 'You alright?' He goes, 'Man, I didn't know any of that was coming.' Even though we knew the script, just the feel of it—the music, the way they cut it—those guys did their thing."
Sandler also said when he first read the Uncut Gems script, he didn't think it would take off and became a cultural touchstone of sorts, especially ahead of the 2020 awards season.
"I don't know how all this happened," he added, gesturing toward the Safdie brothers and writer Ronald Bronstein, who were doing interviews with press nearby. "These guys knew something. They were very sure of themselves and how good of a movie it was gonna be."