Adam Selman's Grand Slam
The stylist cut his teeth designing for Rihanna. Now he aims to dress you, too.
---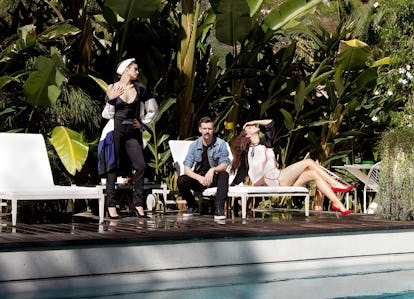 Name a pop superstar with seminal style and chances are Adam Selman played a hand in devising her look. Working for the costumer Zaldy Goco, he helped craft a goat-hair cage getup for Lady Gaga, which she wore on her first world tour. For Britney Spears, it was an S&M bodysuit that garnered her as much attention at the 2011 Billboard Awards as her smooch with Rihanna did. He even styled a music video for Dolly Parton. ("Such an amazing, itty-bitty woman," he notes.) It's a shame that Michael Jackson never got to wear the unabashedly bedazzled looks Selman made, also with Goco, for the King of Pop's ill-fated This Is It tour. "We were sewing his 'Billie Jean' jacket when we got the news," Selman recalls.
Since 2011, the designer has been Rihanna's go-to wardrobe man, teaming up with his boyfriend, the stylist Mel Ottenberg, to transform her into a full-blown fashion icon. "You can't give a person style," Selman demurs. "We just helped relate her stage look to her street look." It is that particular approach to dressing—equal parts glam and ease—that informs his first ready-to-wear collection. Despite his knack for knock-'em-dead stage attire, Selman, who studied fashion design at the Pratt Institute in New York, prefers "real dressing," as he puts it. "I don't want to make clothes that are so tricky people can't wear them." The line, which will be available at Opening Ceremony stores, includes a sporty silk baseball shirt and matching shorts, slinky spaghetti-strap slip dresses, charmeuse boudoir robes, and one-piece bathing suits—all simple basics with amped-up sex appeal, inspired by the photographer Francesco Scavullo's Cosmopolitan covers from the '80s. "Something about that vibe feels very now," Selman says.
But, practicality aside, Selman still loves a good show. His debut presentation, during New York Fashion Week, was pure retro-camp. In a parody of the opening scene from the 1976 film Lipstick—in which Scavullo, as himself, photographs a heavily made-up Margaux Hemingway—the makeup artist Aaron de Mey piled on the rouge in plain view of the audience, while Selman's pal the comedienne Amy Sedaris assumed the role of the fashion editrix, directing the models on how to pose. "I don't take fashion too seriously," Selman admits. "If it makes me laugh, it's good.
Photos: Adam Selman's Grand Slam
Selman, with looks from his spring 2014 collection.
Rihanna wearing Adam Selman at the Battleship premiere, 2012.
Selman and Rihanna, designing her River Island collection, 2013.
Rihanna wearing Adam Selman on her Diamonds world tour, 2013.
Rihanna performing in custom Adam Selman at the Victoria's Secret fashion show, 2012.