Adriana Lima Reveals the Secret to Long-Lasting Lipstick (and Other Supermodel-Approved Beauty Tricks)
The legendary Victoria's Secret Angel and host of new series American Beauty Star opens up about her obsession with boxing, floral fragrances, and more.
---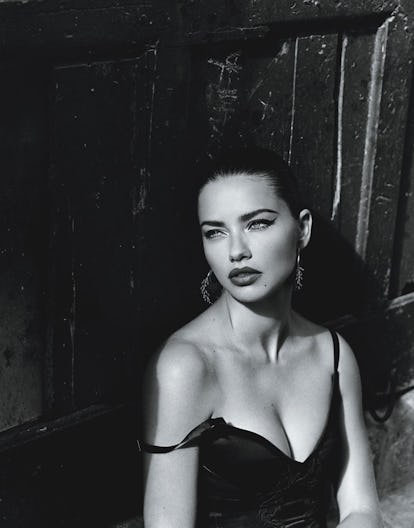 Photographer: Alasdair McLellan Stylist: Edward Enninful
Adriana Lima has walked in a record 16 Victoria's Secret fashion shows and been the face of Maybelline for years, so naturally she's picked up quite a few beauty tips along the way. Those tricks will come in handy with her latest role, as host of Lifetime's new beauty competition series American Beauty Star, which premieres tonight. In advance of the show, Lima offers an insider's guide to her makeup, skincare, and fitness routines, starting with rose oil and ending with the perfect red lip.
Describe your look:
In one word, timeless.
Good skin starts with:
Rose oil.
Best advice from your dermatologist:
Always take your makeup off before bed.
SPF of choice:
Sun Bum ($16,ulta.com)
Makeup miracle:
Red lipstick in various shades.
Most underrated product:
Albolene Moisturizing Cleanser.
Never leave the house without:
BB Cream, mascara, favorite lip color and fragrance.
A good hair day starts with:
Argan Oil.
Nails must be:
I have very dry cuticles so they always tell me to use cuticle oil.
Beauty from the inside out:
Carry fennel tea with you or eat cucumbers to help de-bloat when traveling.
Adriana Lima Takes the Best Post-Workout Selfies
Exercise obsession:
Drink of choice:
I love green juices with kale, spinach, green apples and lemon.
Product that you picked up from the pros:
Maybelline The Nudes Palette ($8, target.com)
A woman should smell like:
Flowers… pick your favorite floral scent and go for it.
Appointment you'd love to nab:
I'd like to finally have my makeup done by the amazing Sir John.
Spa-cation at:
I love Turkish Hamams.
Best advice from mom:
Be true to yourself. I think this translates in all aspects, including beauty.
Best-kept beauty secret:
For lipstick longevity, you apply it and blot three times for the color to stick.
Beauty myth you'd like to debunk:
That you need a facialist or dermatologist to have healthy and glowing skin.
Definite doppelgänger:
I've been told I resemble Ornella Muti!
Adriana Lima Just Walked Her 18th and Final Victoria's Secret Runway
Adriana Lima wearing white Victoria's Secret beaded corset and white Victoria's Secret body bare shimmer bikini (Photo by KMazur/WireImage)

WireImage
Adriana Lima wearing custom corset and pink embellished Victoria's Secret second skin satin string bikini (Photo by J. Vespa/WireImage)

WireImage
Adriana Lima wearing red embellished Victoria's Secret cherry blossom bra and red embellished micro fringe skirt (Photo by KMazur/WireImage)

WireImage
Model Adriana Lima walking the runway at the 2002 Victoria's Secret Fashion Show at Lexington Avenue Armory in New York City. November 14, 2002. Photo by Evan Agostini/Getty Images.

Getty Images
Adriana Lima during The 8th Annual Victoria's Secret Fashion Show – Runway at Lexington Avenue Armory in New York City, New York, United States. (Photo by Gregory Pace/FilmMagic)

FilmMagic
Adriana Lima (Photo by KMazur/WireImage)

WireImage
Adriana Lima during 9th Annual Victoria's Secret Fashion Show – Runway at The New York State Armory in New York City, New York, United States. (Photo by KMazur/WireImage for Full Picture)

WireImage for Full Picture
UNITED STATES – NOVEMBER 13: Adriana Lima walks the runway during the Victoria's Secret Fashion Show at the Lexington Avenue armory. (Photo by Richard Corkery/NY Daily News Archive via Getty Images)

NY Daily News via Getty Images
Adriana Lima (Photo by Kevin Mazur/WireImage for Full Picture)
Adriana Lima during 10th Victoria's Secret Fashion Show – Runway at The New York State Armory in New York City, New York, United States. (Photo by KMazur/WireImage for Full Picture)

WireImage for Full Picture
Adriana Lima at the 10th Victoria's Secret Fashion Show – Runway at Lexington Avenue Armory in New York City, New York. (Photo by Tom Gisondi/FilmMagic)

FilmMagic
UNITED STATES – NOVEMBER 09: Adriana Lima walks the runway during the Victoria's Secret Fashion Show at the Lexington Ave. Armory. (Photo by Richard Corkery/NY Daily News Archive via Getty Images)

NY Daily News via Getty Images
Adriana Lima at the Kodak Theatre in Hollywood, CA (Photo by Thomas Concordia/WireImage)

WireImage
Adriana Lima (Photo by Arun Nevader/FilmMagic)

FilmMagic
Adriana Lima (Photo by Arun Nevader/FilmMagic)

FilmMagic
HOLLYWOOD – NOVEMBER 15: Model Adriana Lima walks the runway at the 2007 Victoria's Secret fashion show held at the Kodak Theatre on November 15, 2007 in Hollywood, California. The show will be broadcast December 4, 2007 on CBS. (Photo by Mark Mainz/Getty Images)

Getty Images
HOLLYWOOD – NOVEMBER 15: Model Adriana Lima walks the runway at the 2007 Victoria's Secret fashion show held at the Kodak Theatre on November 15, 2007 in Hollywood, California. The show will be broadcast December 4, 2007 on CBS. (Photo by Mark Mainz/Getty Images)

Getty Images
MIAMI BEACH, FL – NOVEMBER 15: Victoria's Secret Angel Adriana Lima walks the runaway during the 2008 Victoria's Secret Fashion Show at the Fontainebleau on November 15, 2008 in Miami Beach, Florida. (Photo by Alexander Tamargo/Getty Images)

Getty Images
MIAMI BEACH, FL – NOVEMBER 15: Adriana Lima walks the runaway wearing the 2008 Fantasy Bra at the 2008 Victoria's Secret Fashion Show at the Fontainebleau Hotel on November 15, 2008 in Miami Beach, Florida. (Photo by Dimitrios Kambouris/WireImage)

WireImage
MIAMI BEACH, FL – NOVEMBER 15: Adriana Lima walks the runway at the Victoria's Secret Fashion Show at Fontainebleau on November 15, 2008 in Miami Beach, Florida. (Photo by John Parra/WireImage)

WireImage
Model Adriana Lima walks the runway during the 2010 Victoria's Secret Fashion Show at the Lexington Avenue Armory on November 10, 2010 in New York City.

WireImage
Model Adriana Lima wearing $2 million fantasy bra by Damiani walks the runway during the 2010 Victoria's Secret Fashion Show at the Lexington Avenue Armory on November 10, 2010 in New York City.

WireImage
Model Adriana Lima walks the runway during the 2010 Victoria's Secret Fashion Show at the Lexington Avenue Armory on November 10, 2010 in New York City.

WireImage
NEW YORK, NY – NOVEMBER 09: Model Adriana Lima walks the runway during the 2011 Victoria's Secret Fashion Show at the Lexington Avenue Armory on November 9, 2011 in New York City. (Photo by Dimitrios Kambouris/WireImage)

WireImage
NEW YORK, NY – NOVEMBER 09: Model Adriana Lima walks the runway during the 2011 Victoria's Secret Fashion Show at the Lexington Avenue Armory on November 9, 2011 in New York City. (Photo by Dimitrios Kambouris/WireImage)

WireImage
NEW YORK – NOVEMBER 29: Victoria's Secret Supermodel Adriana Lima shows the crowd some energy as she walks down the runway at the Victoria's Secret Fashion Show. THE VICTORIA'S SECRET FASHION SHOW, featuring the world's sexiest Supermodels, will be broadcast Tuesday, Nov. 29 (10:00 PM, ET/PT) on CBS. (Photo by Jeffrey R. Staab/CBS via Getty Images)

CBS via Getty Images
NEW YORK, NY – NOVEMBER 07: Victoria's Secret Angel Adriana Lima walks the runway during the 2012 Victoria's Secret Fashion Show at the Lexington Avenue Armory on November 7, 2012 in New York City. (Photo by Kevin Mazur/WireImage)

WireImage
NEW YORK, NY – NOVEMBER 07: Victoria's Secret Angel Adriana Lima walks the runway during the 2012 Victoria's Secret Fashion Show at the Lexington Avenue Armory on November 7, 2012 in New York City. (Photo by Kevin Mazur/WireImage)

WireImage
NEW YORK, NY – NOVEMBER 13: Model Adriana Lima walks the runway at the 2013 Victoria's Secret Fashion Show at Lexington Avenue Armory on November 13, 2013 in New York City. (Photo by Kevin Mazur/WireImage)

WireImage
NEW YORK, NY – NOVEMBER 13: Model Adriana Lima walks the runway at the 2013 Victoria's Secret Fashion Show at Lexington Avenue Armory on November 13, 2013 in New York City. (Photo by Dimitrios Kambouris/Getty Images for Victoria's Secret)

Getty Images for Victoria's Secret
Watch: Adriana Lima Reveals How to Take a Selfie Like a Supermodel