Adrien Brody, the Artist, Loves Face Swap and Erykah Badu
The Academy Award winner and burgeoning artist dives into his culture diet, here.
---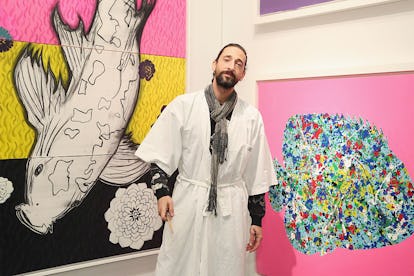 Hundreds of artists may have showed in New York this Frieze week, but it's safe to bet that Adrien Brody was the only one with an Academy Award. Still, with his ambitious exhibit "Hooked" at Art New York, Brody's hardly a fish out of water: It marked his second series of paintings, which stretch up to nine feet wide and depict a diverse array of marine life, including suicidal Starbucks mermaids. The fair closes today, but don't fret if you missed it; when it comes to Brody's projects, there are plenty more fish in the sea, starting with Manhattan Night, the film he starred in and produced coming out later this month. Between all that, he took time to share his culture diet, here.
First thing you read in the morning: My alarm clock.
Books on your bedside table right now: Red Light, a book on the sex industry by Sylvia Plachy (my mom), and Basquiat, by Marc Mayer.
The TV show that's been keeping you up at night:"Dice" on Showtime.
Last piece of art you bought, or ogled: Tom Sachs' wooden Honda generator at the Deitch show in New York.
Favorite time and place to make art: My studio in the countryside, before breakfast and late at night.
Last movie you saw in theaters: Captain America: Civil War.
Last thing you saw at the theater: A classical piano performance at Baryshnikov Arts Center.
Last museum exhibition you loved: "Unfinished," at the Met Breuer.
Release you're most eagerly anticipating: Manhattan Night, an indie film I produced and acted in that comes out May 20th.
Last song you had on repeat: Erykah Badu, "Phone Down."
How you get your news: Online and on apps.
Favorite accounts to follow: I don't follow, but I Face Swap just about anything when I'm bored.
Last thing you do before you go to bed: Kiss my girlfriend goodnight.
Watch W's most popular videos here:
Photos: Adrien Brody, the Artist, Loves Face Swap and Erykah Badu
Adrien Brody with his art at the opening of Art New York and Context art fairs at Pier 94. Photo by Mireya Acierto for Getty Images.
"Dropfish (Green)." 2016.
"Suicidal Mermaid," 2016.
"Koi in Four Seasons," 2016.
"Wild Alas Canned," 2016.
"Lucky Koi (Yin & Yang)," 2016.
"A Great White Shark," 2016.
"Impressionist Fish," 2016.