Lady Liberty
With her exotic looks, sharp tongue, and circle of highly influential friends, Afef Jnifen is a one-woman advertisement for Arab female empowerment. Christopher Bagley meets the Tunisian-born stunner.
---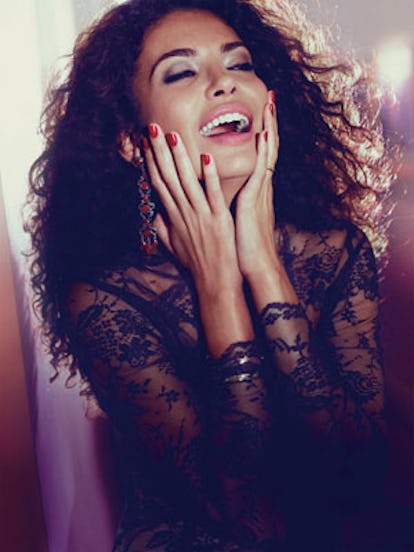 Early last winter, when protesters in Tunisia began gathering in the streets to demand the ousting of dictator Zine el ­Abidine Ben Ali, one woman was cheering them on from what might seem an unlikely perch—her elegant stone villa in Milan.
Afef Jnifen, a reed-thin beauty with a gleaming smile and a mane of thick brown curls, had made her own bid for freedom back in 1988, leaving Tunis to model in Paris just after the coup in which Ben Ali seized power. By then, Jnifen had already weathered one dramatic clash with the authorities, having been arrested by Tunis's police superintendent during the country's 1984 bread riots. As she was walking home from school one day, the officer tried to block her way; when Jnifen pressed ahead, he smacked her on the leg with his nightstick, and she hit him over the head with her purse—in which she was packing an ­extra-heavy bottle of Lancôme's Magie Noire perfume. Carted off to a holding cell, she was released the same day, thanks to the influence of a high-placed family friend. But when Ben Ali took over in 1987, Jnifen decided it was time to move on.
"I knew that if I stayed in Tunisia, I would always be getting in trouble," Jnifen says, sitting in the living room of her high-ceilinged Paris apartment. "I'm a fighter. And I wanted to be in a democracy, where I could say what I thought and didn't have to worry about my house being bugged. I could never live in a place where I didn't have freedom."
In the years since, Jnifen has put her freedom to use in a variety of ways: building ­careers as a model and an Italian-TV personality; acting as an occasional agitator for Arab causes; and marrying the dapper silver-haired ­yachtsman Marco Tronchetti Provera, one of Italy's wealthiest tycoons. And although Jnifen has never played any kind of official role in politics, friends say she's a one-woman advertisement for a certain kind of modern liberated Arab woman—one with enough charm to coax a laugh out of the Sphinx. "Afef is very strong and intelligent and aware but also full of sweetness," says her friend Naomi Campbell. "She's taken a lot of steps forward for her country and her culture."
Early on, Jnifen, 48, honed her social skills in places like Baghdad and Tripoli, where her father—a politically moderate but staunchly traditional Muslim—served as the Tunisian ambassador. In her early 20s, though, she delivered him a double whammy of disappointments, marrying a young Tunisian pilot and ­becoming a model, which involved frequent travel to Europe for jobs. Jnifen's friends recall a buoyant, party-loving prankster who enjoyed flouting protocol, particularly in the stuffiest of settings. At a Christmas party at the Palace hotel in Gstaad during the early eighties, Jnifen wore a trick bow rigged with a tiny water tube and took great pleasure in squirting fellow guests, including Hosni Mubarak's sons, Alaa and Gamal. "Afef loved being naughty, but of course, ­everyone would have talked about her anyway," says Jalila ­Hashemi, her ­sister-in-law at the time. "She has always had this special kind of animal beauty and intense charisma—it's a combination that literally stops people in their tracks." One such person was photographer Jean-Paul Goude—who, when he spotted Jnifen walking on the beach while he was shooting a Club Med ad with Carla Bruni in the Bahamas, put Jnifen in the ad and suggested she go to Paris and meet the designer Azzedine Alaïa. Soon she was a favorite model of the top designers, bouncing between Milan and Paris while working for Armani, Fendi, Gaultier, Cavalli, and others.
Jnifen out and about on Milan's Via Manzoni.
Her first marriage lasted only a couple of years, and Jnifen settled in Italy and in 1990 married lawyer Marco Squatriti, with whom she has a son. She became an unlikely TV star, hosting satirical talk shows and goofy variety programs such as Nonsolomoda, where her quick wit and fierce opinions made it clear she was no ordinary velina—the term for the sexy but often bubble-headed starlets who populate Italian television. ­Jnifen's new status as gossip-page fixture sometimes put her self-­assurance to the test, particularly after 2001, by which point she had divorced ­Squatriti and married Tronchetti, the longtime head of Pirelli, who had just engineered a bold takeover that gave him control of the sacred national giant Telecom Italia. The deal came under attack from multiple sides, and Tronchetti was eventually forced to sell; meanwhile, the union of the dashing mogul and the younger former model from North Africa gave rise to all the kinds of sniping you'd expect. (Gossips whispered that Jnifen had grown up dirt-poor and fabricated her diplomat's-daughter background—and that she was cheating on her husband.) Jnifen's friends see it as a textbook case of sour grapes, with some ugly racial overtones. "Look," Hashemi says, "Marco is this classy, wealthy, handsome man with a very important position in Italy. And this Tunisian girl took him away. It's as simple as that."
Jnifen had already been publicly denouncing anti-Arab discrimination throughout the 1990s when she heard more and more people spouting vicious generalizations about "a world they didn't even know," she says. Enter then Italian Prime ­Minister Silvio Berlusconi, who in the aftermath of 9/11 made one of his worst foreign policy gaffes, declaring in a speech that Western civilization was superior to Islam. Jnifen, who'd never met Berlusconi, lashed out in an interview with the Italian newspaper Corriere della Sera, comparing his comments to "a bomb that had been thrown into the Arab world."
Berlusconi saw the article, got Jnifen's number, and rang her up. "He told me, 'There is a lot of misunderstanding—I didn't mean it!' " Jnifen recalls. "And he said, 'I have a very good relationship with the Arab world.' I said, 'Well, not anymore!' " In an effort to stanch the tide against him, Berlusconi asked for Jnifen's help, and she signed on as his adviser, briefing him on Arab culture and coaching him through an interview with Al Jazeera.
"The truth is, Berlusconi is probably a nice person," she says. "But if you are sitting here with him, he will tell you something you want to hear, and then he will go across the room to another person and say exactly the opposite, just to make the other one happy. This is his specialty. He wants to have everybody happy around him, so he's saying things that he hasn't even thought about."
Jnifen, on the other hand, has never been one to downplay her convictions in order to appease anybody. She has often found herself estranged from her equally headstrong and stubborn father, whom she introduced to Tronchetti, 64, only after they'd been married 10 years. ("I always get married without telling my parents, and I get divorced without telling them," she says, grinning. "This is me. They're used to it.") Her father had hoped to see her finish university, start a family in Tunisia, and "live the normal life of a good bourgeois girl," she says. "But of course, that is too boring for me. And if my father were a girl in my position, he would have done the same thing I did." Today, she says, "my parents see that I've done my best to respect them. They know that I don't smoke or drink or do anything wrong and that I help a lot of poor people in Tunisia, so they're okay."
Jnifen has also won over many skeptics in Italy, in part by balancing her taste for high glamour with plenty of earthy touches: One day she's off to China with Tronchetti on their private jet; another day she's riding her bike alone around Milan in her trademark Uniqlo T-shirt and Lanvin flats. Still, don't expect to run into Jnifen on the subway anytime soon. Her summers are spent with Tronchetti at their house in Portofino and off the coast of Ibiza on their sleek 108-foot sailboat, Kauris III. The yacht is also a fixture at all the right Mediterranean hot spots and happenings; at Cannes, Jnifen keeps a room at the Martinez but essentially lives on the boat, and the action often follows her onboard.
Though the Italian press has been running plenty of glowing society-page items depicting ­Jnifen and Tronchetti as a latter-day Gianni and Marella Agnelli, Jnifen is quick to dismiss that idea. "In Italy, when something like this is said about you, that's when you become a target of everyone," she says. "I know Marella, and she is such a beautiful, chic lady. But I don't want to be chic. I want to be myself. I want to be a wild gazelle from the desert."
Campbell and other friends single out Jnifen's most striking attribute: her dynamic and vigorous brand of elegance, which is rooted in a palpable strength. "You know you can't cross the line with Afef," says Campbell, who often refers to Jnifen as "my sister." Jnifen is also a natural at bouncing with ease from one restricted social circle to another: In addition to high-flying friends such as Campbell and Roberto Cavalli, for whom she still models occasionally, Jnifen is very tight with the reserved and cerebral ­Miuccia Prada, with whom she has traveled to Qatar to look at Middle Eastern art. "Apparently Afef and I are very different," Prada notes dryly. "But I immediately sensed a deep kind of sympathy with her. She was very, very curious, and she's an expert on aspects of the Arab world I'm very interested in."
Jnifen says she remains ­committed to fighting negative ­stereotypes about Muslims but laments that progress has been slow. In Italy, she still finds herself patiently explaining that not all Arabs are terrorists, any more than all Italians are Mafiosi. "Sometimes there's not much you can do," she says. "If people are prejudiced, I'll ask them, 'Have you ever been to an Arab country?' No. 'Have you ever read any Arabic literature?' No. 'Do you know about Islamic art?' No. 'Do you have Arabic friends?' No. 'Okay, so where do you get your ideas about Arabs from?' And they'll say, 'Television.' So I am sad for them. Maybe I will never change their point of view, but I try." An Italian citizen since 1992, Jnifen says she's been offered roles within several government parties but doesn't find the country's current political landscape very inviting. "So I'm watching," she says.
Over lunch at L'Avenue in Paris, as a veritable conga line of bejeweled and well-groomed ­ladies—designer Elie Saab's wife, Claudine; a Qatari princess; actress Michelle Yeoh—stop by the table to exchange air kisses and chitchat in French, English, Arabic, and Italian, Jnifen tells me of a recent battle that ­resulted in a particularly sweet victory. Late in 2010, shortly before the revolt began in Tunisia, she got word that her vacation house near Tunis—which is next door to one of Ben Ali's homes in the exclusive suburb of Sidi Bou Saïd—was being confiscated by the government at the behest of one of the president's brothers-in-law. (House seizures carried out under false charges of malfeasance validated by corrupt judges were common during the dictatorship.) ­Jnifen hired lawyers, fought back, and after a few months, won the case. In the meantime, Ben Ali fled the country to hide out in Saudi Arabia. In June, ­Tunisia's new regime sentenced him in absentia to 35 years in jail, making it unlikely that he'll ever again be spotted in Jnifen's neighborhood.
And whatever happens with Tunisia's fledgling democracy—Jnifen wasn't thrilled to see the Islamist Ennahda party come out ahead in October's election—she's ecstatic that Tunisians no longer need to leave the country to have the freedom to make choices about their future. "Nowadays­ when I go to Tunisia," she says, "I'm smiling the entire time."
Jnifen's own lace top by Dolce & Gabbana. Hair and makeup by Patrizia Delcuratolo for MAC.